Inside: A fun collection of DIY wood slice ornament ideas that would make lovely Christmas decorations.
I thought I was green and resourceful, but my friend puts me to shame! Every year she upcycles and repurposes her pine Christmas tree. That includes cutting up some branches into wood slices to make ornaments for the following year.
Her tree is full of adorable wood ornaments made from Christmas trees past. She also passes some of these ornaments onto me for my crafting.
Handmade Christmas decorations made from natural materials are always unique.
Buy or Make Wood Slices?
We're a participant in the Amazon Services LLC Associates Program, an affiliate advertising program designed to provide a means for us to earn fees by linking to Amazon.com and affiliated sites. As an Amazon Associate, I earn from qualifying purchases.
You can buy wood slices if you don't have a ready supply of branches to cut up. The advantage of purchasing wood slices is they come in regular sizes and even thicknesses, are pre-sanded and can be bought pre-drilled.
The main advantage of making wood slices is that they are free and more eco-friendly. Plus, if you use branches from your garden to make Christmas ornaments, that feels special.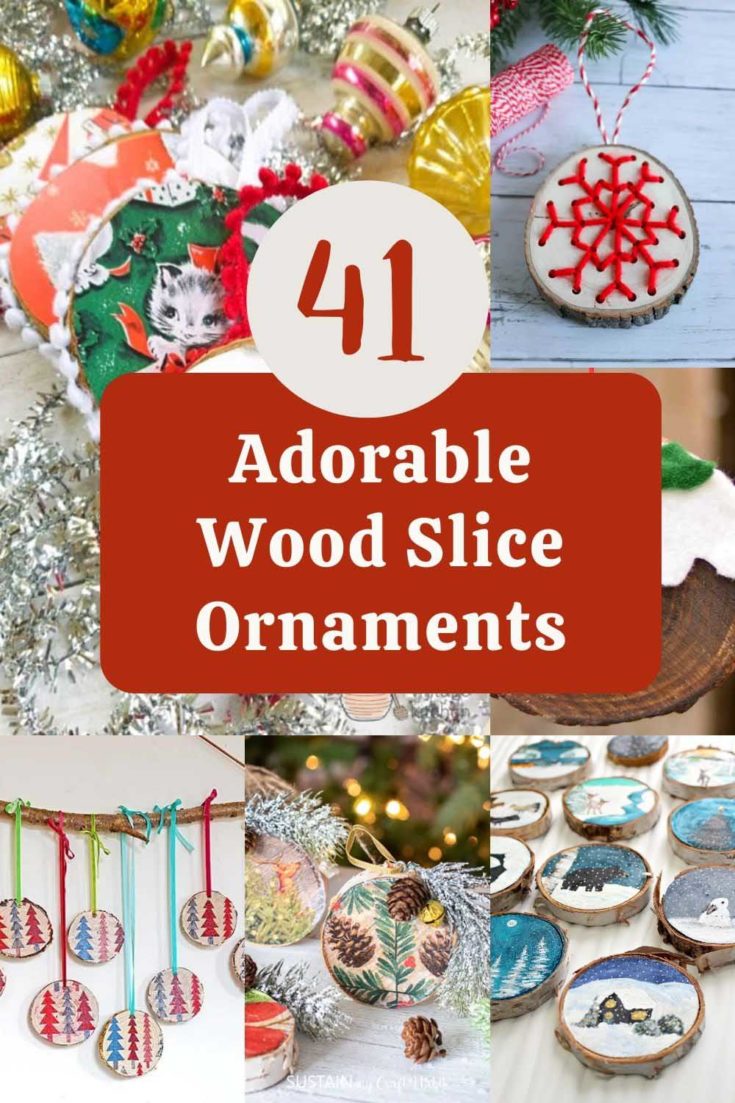 Things To Consider When Cutting Your Wood Slices
Avoid branches with knots as these will be harder to cut
Don't cut wet wood as the live bark edge is likely to separate
You can use a hand saw, band saw and chain saw
Sand the wood smooth, especially if cut with a chain saw
Store the wood slices in a cool airy room to dry them.
To speed up drying, use an oven or alcohol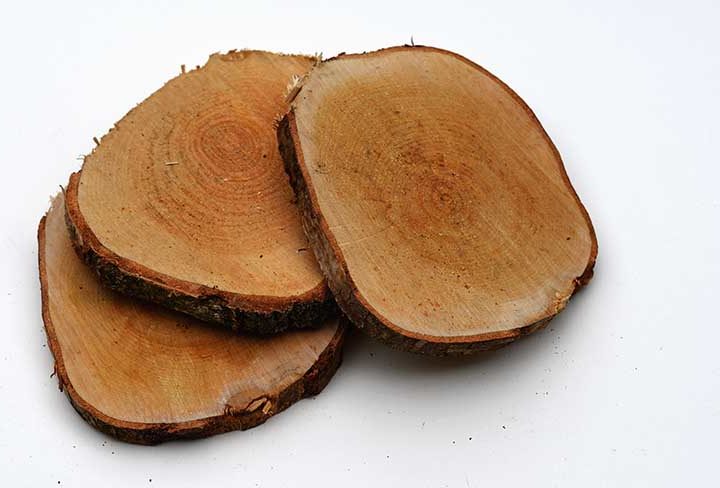 Decorating Wood Slice Ideas
There is more than one way to decorate wood slices. Some of the many ways to jazz up a wood slice into an ornament include the following different crafts:
Painting
Colouring with sharpies
Marbling
Stamping
Stencilling
Decoupage napkins
Photo transfer
Wood burning
Embroidery
Adding felt pieces
String Art
The Best Wood Slice Ornament Ideas
You'll be amazed by what you can make for your Christmas tree with all these adorable DIY wood slice ornament ideas. They are affordable, easy crafts for adults and kids with step-by-step tutorials.
Wood slices aren't just for Christmas, try a painted Valentine's decoration or use them to make plant shelves.
If you liked these Christmas wood slice ornament ideas, check out these wine cork Christmas crafts and these cardboard Christmas decorations.