Inside: The best, most beautiful, fun and easy air dry clay ideas for adults and kids. Many would make wonderful handmade gifts or craft ideas to sell.
As a child, there was no tech to keep me occupied; we didn't even have daytime telly. My mum used to sit my sister and me down at the kitchen table with plasticine and a few basic tools. We'd spend hours moulding and shaping.
As an adult, I still love to mould and shape, but this time it's with air dry clay, and I make beautiful, useful things for my home or to gift.
Air dry clay is a fantastic affordable material for various crafting ideas and projects. It's straightforward to use and is non-toxic, so suitable for kids too.
Air dry clay looks and feels like traditional clay but doesn't need to be fired in a kiln or heated in the oven. It hardens naturally in the air. Then, it can be sanded and painted.
Like traditional clay, it is versatile; it can be moulded, rolled, cut and embossed with textures. It comes in various colours, but most projects use white clay and decorate with paint. Even a version of air dry clay comes in a terracotta colour.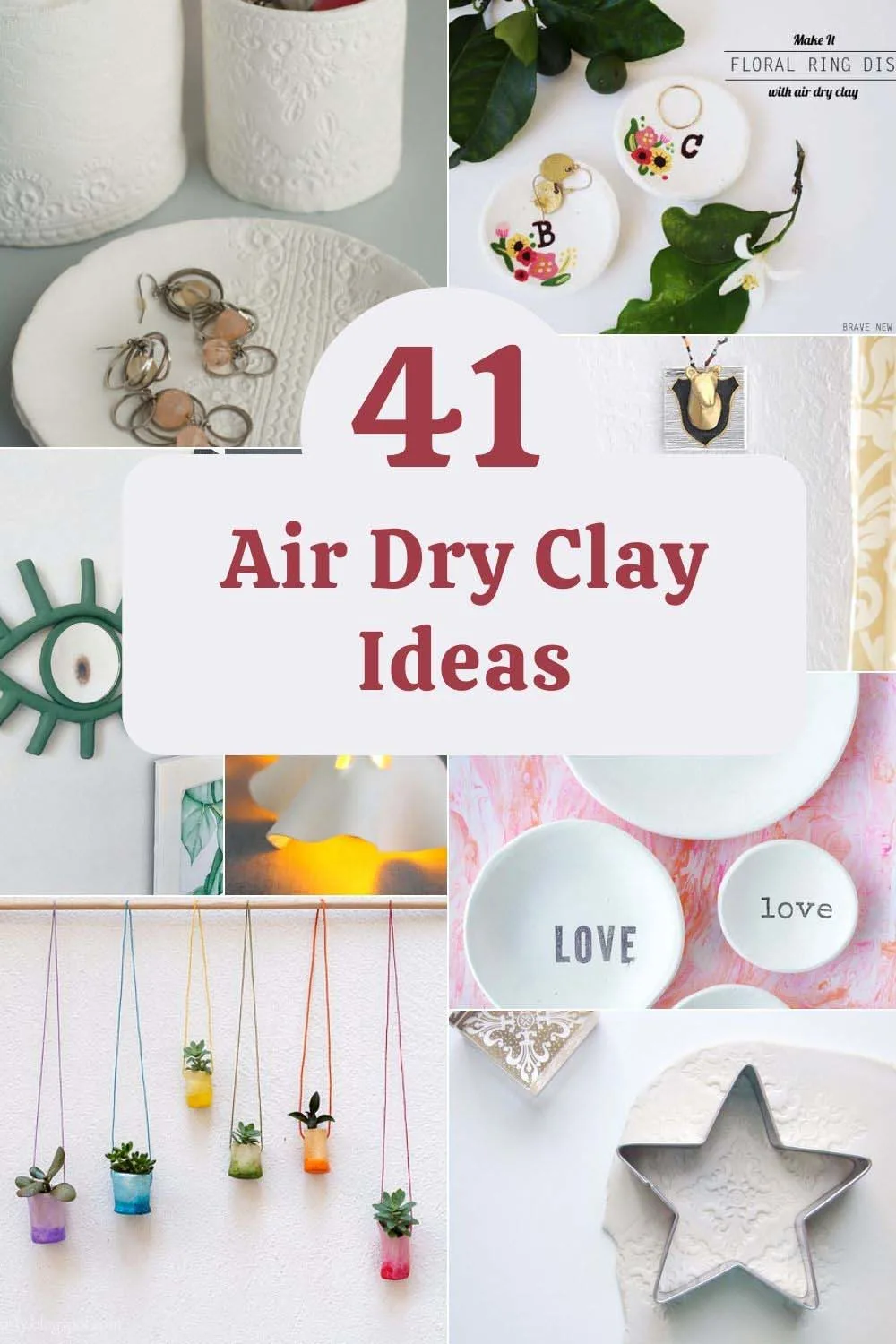 The Air Dry Clay Ideas
I have selected the best collection of crafting projects that use air drying; most of them are for adults. There are a few I'm sure the kids would love to try too.
At the end of the list, I have compiled a series of helpful and frequently asked questions and tips for using air dry clay.
Air Dry Clay Ideas and Projects
The best, most beautiful, fun air dry clay ideas for adults and kids. Many would make wonderful handmade gifts or craft ideas to sell.
FAQs and Tips For Tip Top Results
Q1: What brand do you recommend? : There are many brands of air dry clay, but the main one I use is DAS and Fimoair. Both come in a range of colours.
Q2: How long does it take to harden? Depending on the thickness of the air dry clay project, it usually takes 24takes to 72 hours. Leave it to dry naturally in a well-ventilated dry room.
Q3: Do I need to seal the clay? If you want to make the clay products last longer and water resistant, you will need to seal them. Suitable sealants are acrylic varnish, liquid lacquer or Mod Podge.
Q4: Can air dry clay get wet? Untreated hardened clay is still porous and will absorb water. Add a sealant to make it water resistant. For example, mugs can't be made from air dry clay as the hot liquid will deteriorate the clay, even if it's sealed.
Q5: With what can I colour the clay? You can colour air dry clay with almost anything from watercolour inks & paint, Sharpies, acrylic paint and mica powders.
Q6: How breakable is air dry clay? If you seal air dry clay projects, they are robust and will last for years. The clay is remarkably sturdy. But like ceramics, it will break if dropped onto hard surfaces and can easily snap thin, delicate protrusions.
Other Craft Materials To Try
There are many other types of crafts and fun materials that you want to try, from working with Shrinky Dinks to Leather Crafts and even household waste materials.
I always feel that Paper Mache is a close cousin to air dry clay in the crafts family, specifically if you use the pulp method.