Ok, I admit it. I tend to get a bit obsessed with things, and one of my pet obsessions is recycling and upcycling jeans. I never throw out old jeans; I have a stack of them in my loft ready to be cut, pinned, glued or stitched into something new, like with this recycled jean planter.
It's not just denim; I also have a thing for recycling, upcycling, and tin cans too! I also have a stack of them hidden in the shed, ready to be repurposed.
Fun Upcycled Denim Tin Can Planters
Guess what? I managed to marry the two with this gorgeous recycled jean planter. To make this planter unique and to show off the different shades of indigo in denim, I used just the seams and hems of jeans for this upcycle.
When cutting up old jeans no bits of denim are safe. I ensure every part is utilized, and I especially love it when I use the seams and waistbands of jeans. These are the most exciting bits that add character to any upcycle (along with the pockets).
Don't you think succulents and denim look fantastic together? I do! So I've used this recycled jean planter for my succulents. I love their rustic look.
You can make denim fake snake plants for your jean planters if you want to go further.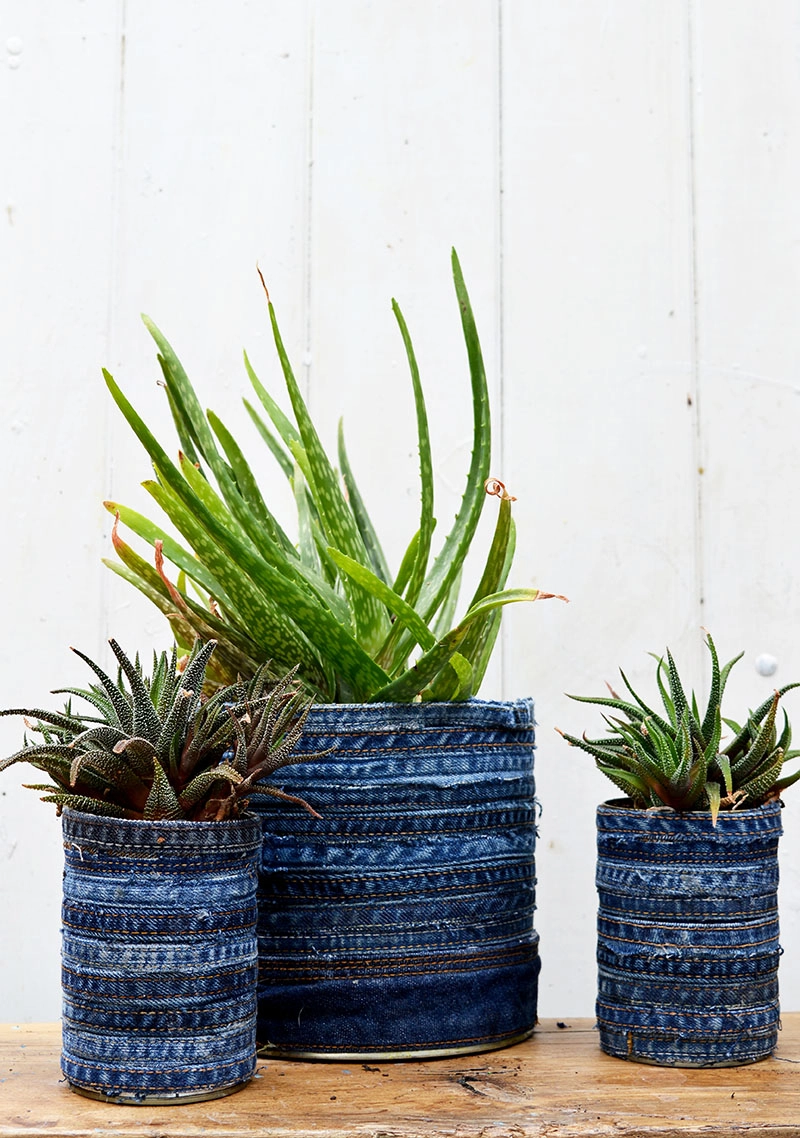 These planters are featured under the letter P in the A to Z of denim crafts.
We're a participant in the Amazon Services LLC Associates Program, an affiliate advertising program designed to provide a means for us to earn fees by linking to Amazon.com and affiliated sites. As an Amazon Associate, I earn from qualifying purchases.
What you need to make a recycled Jean planter
The seams, hems, and waistbands from a few pairs of old jeans
Tin cans, big or small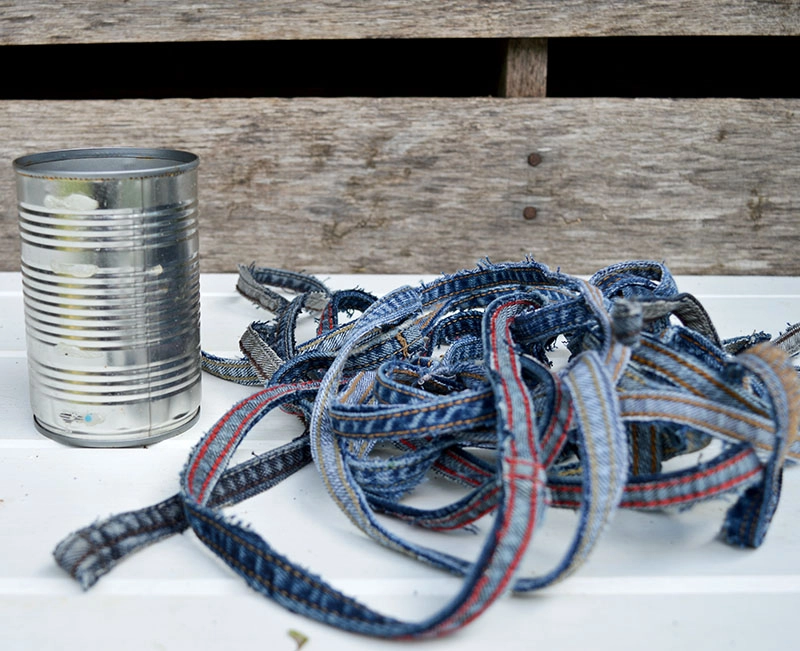 How to make a recycled jean planter
Step 1: The first thing to do is cut the hems and seams of the jeans to the circumference of the tin can.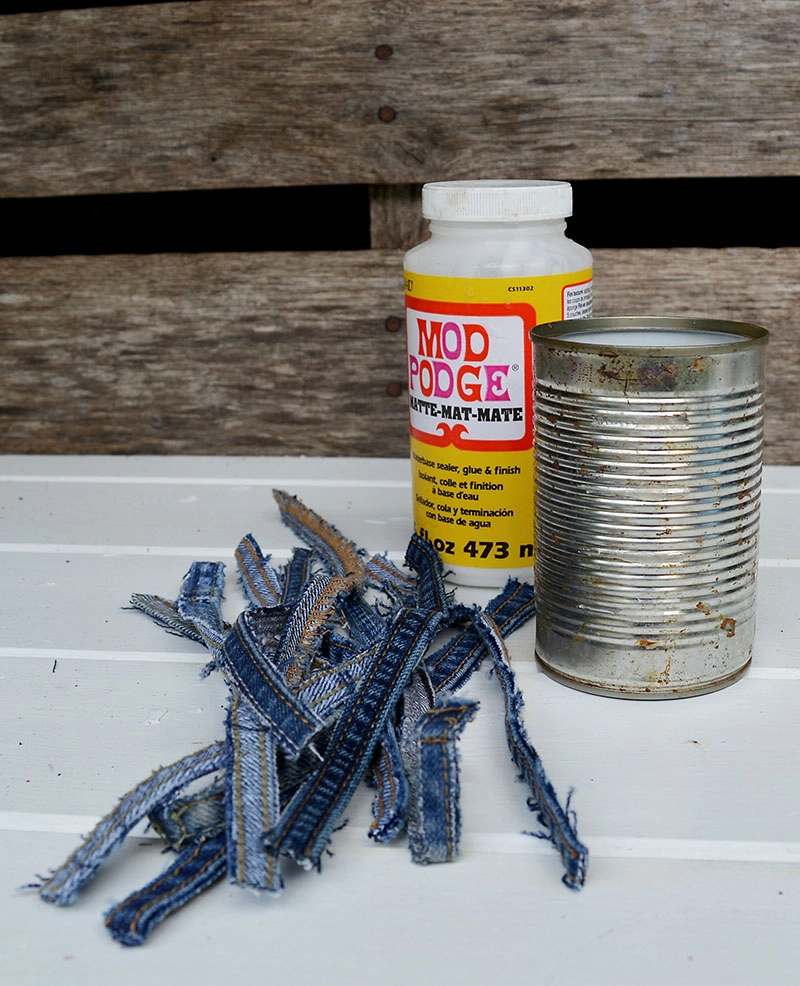 Step 2: Apply Mod Podge to both the inside of the denim strip and the outside of the tin can. Then wrap the jean seam around the tin can and hold it in place with a pin.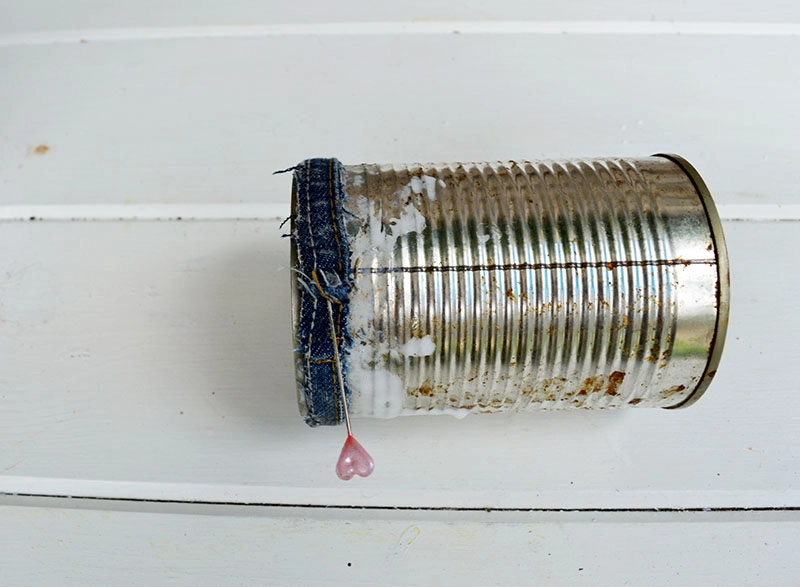 Step 3: Repeat this process until the whole can is covered in denim strips. As you add each strip, make sure that the hems all join at the same place on the tin can.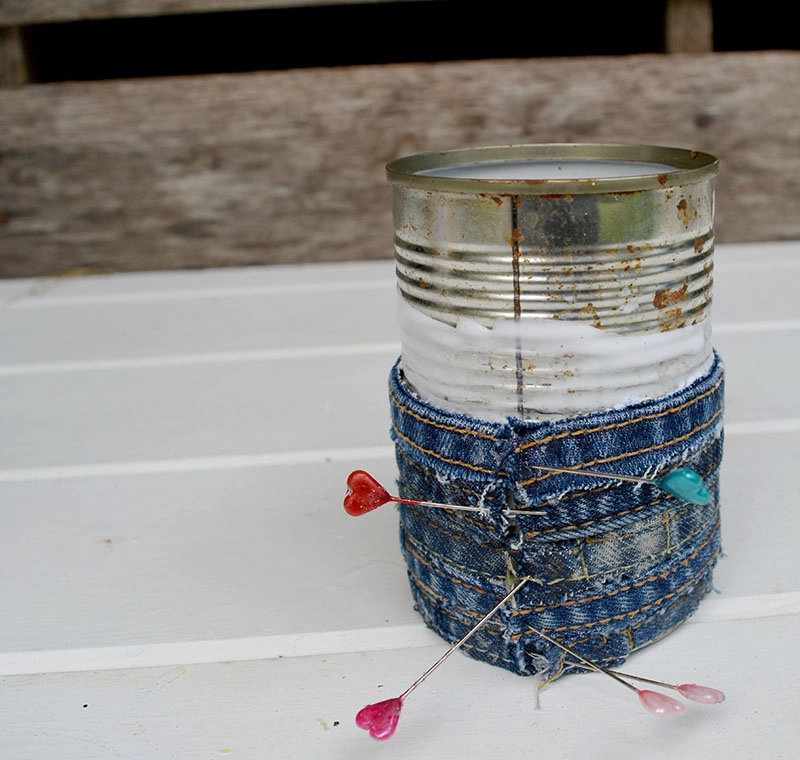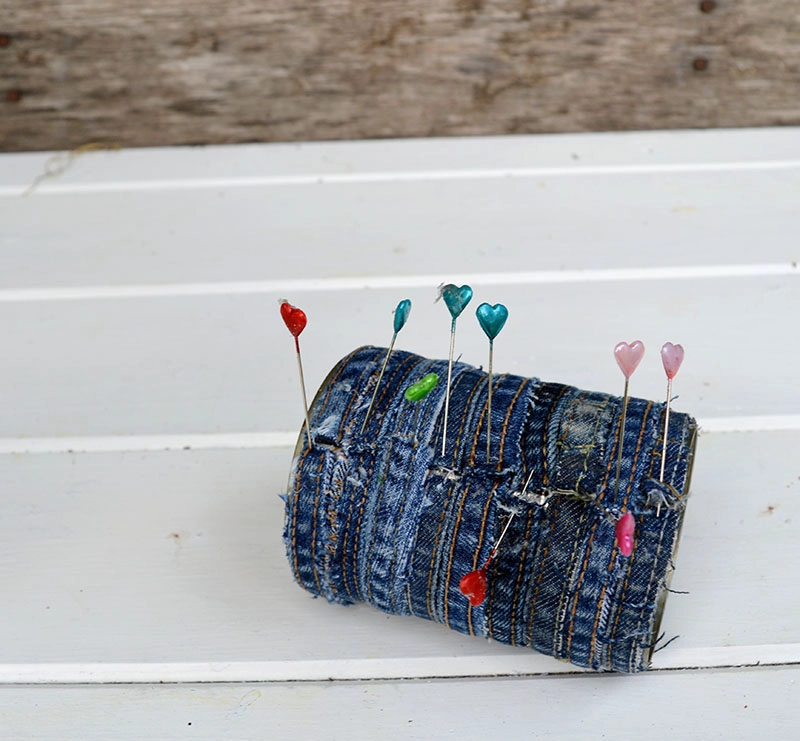 Step 4: Once the Mod Podge has dried, remove the pins. To tidy up the bit of the back of the jean planter where the seams meet, glue on another denim strip. Again using Mod Podge and pins to hold it in place as it drys.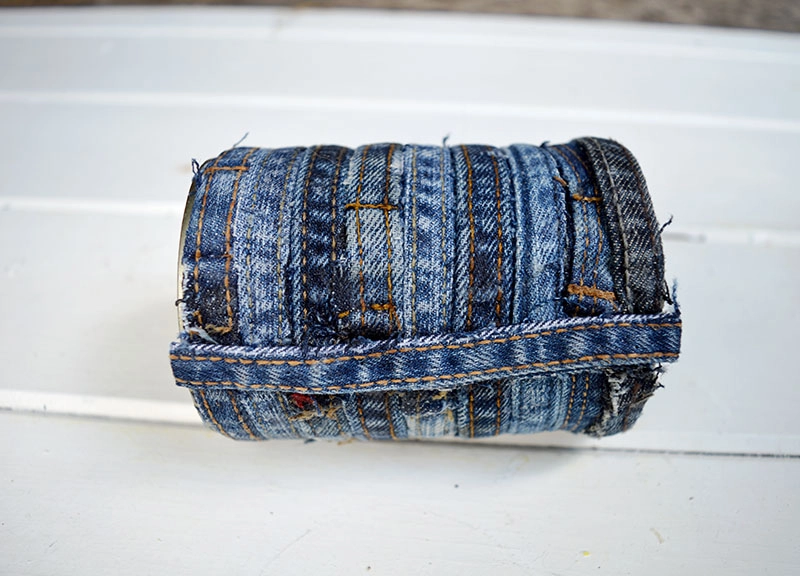 All you need to do now is to plant your succulents. As succulents don't need much water, you can plant them straight into the cans. However, if you put plants into the recycled jean planter that needs more watering, I suggest using an inner planter with drainage holes. You can use something simple like a yoghurt pot, as I used with these Chinese DIY flower pots.
Y course, leave them as they are and use them as pen pots or utensil holders.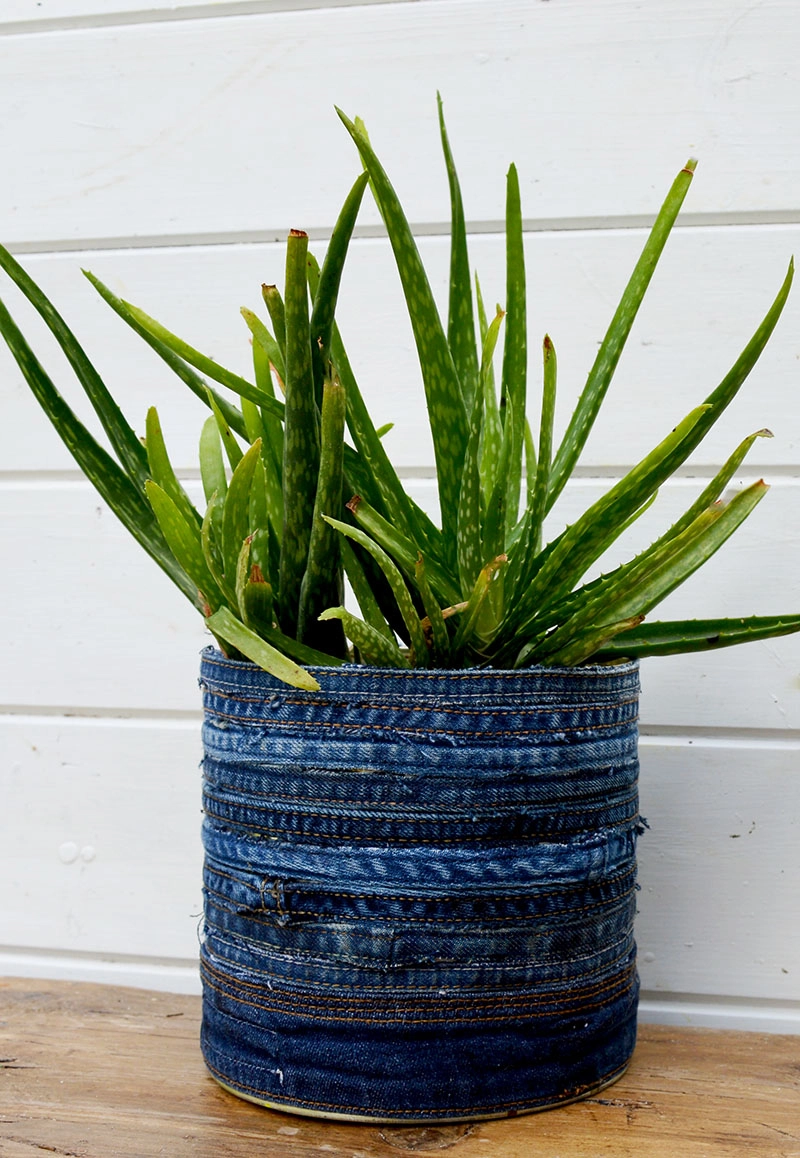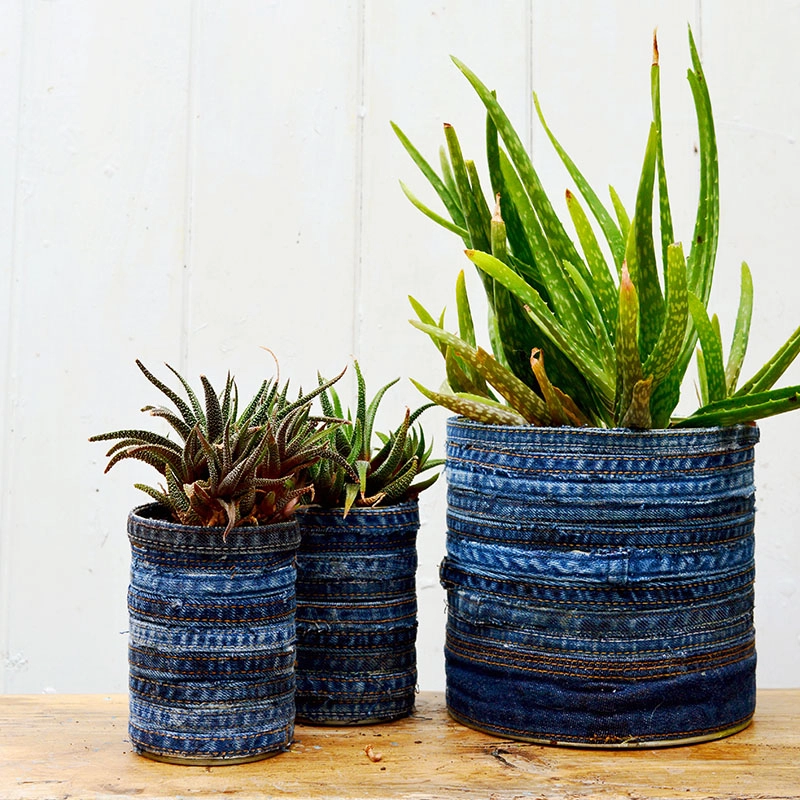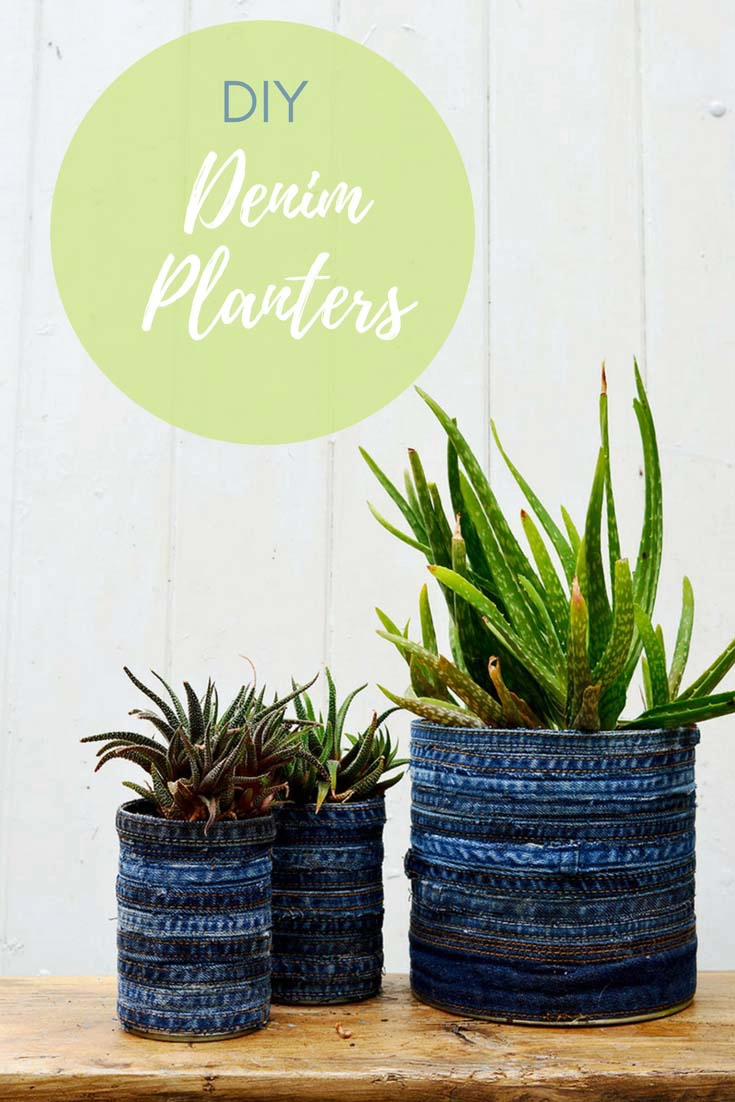 Yield: Recycled jean planter
Make Planters Out Of Old Jeans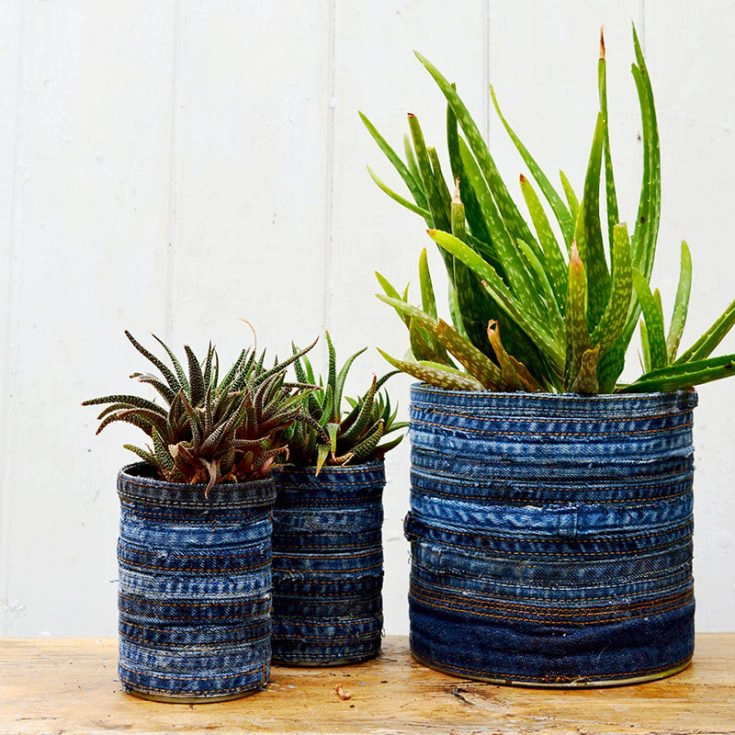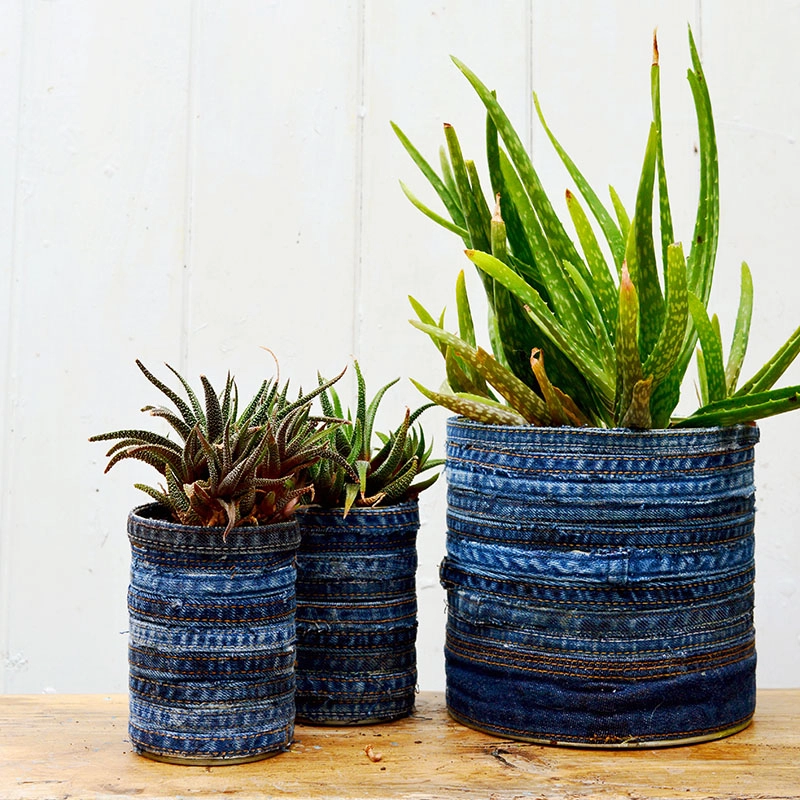 Gorgeous upcycled planters for your home from tin cans and old jeans.
Materials
Seams and hems from old jeans
Tin cans
Glue
Instructions
Measure the circumference of the tin can
Cut denim seams and hems to this size
Glue the seams and hems one by one around the tin can until the whole can is covered.
Use pins to hold the seams in place as the glue dries
Cover where the seams join with another seam glued over the top
Notes
These jeans tin can planters can also be used as caddies.
I only used the seams and hems of denim jeans in this project. If you want to see how I recycle the jeans pockets, you should check out my Denim Pocket Organiser. And if you are looking for a way to use up all your little scrap pieces of denim, check out my No-Sew Denim Patchwork Suitcase, or my Denim Patchwork Chair.
Other recycled jean seams projects
You can repurpose jeans in your home decor in so many other ways. Don't forget to check out my denim page. You can also find lots more tin can upcycle ideas here.