These DIY cardboard Christmas decorations are made by upcycling some of our Amazon packagings. I also thought repurposing old postage stamps would be apt and fun. The postage stamps add colour and interest to the handmade cardboard ornaments.
I don't know about you, but at this time of year, every week, Amazon delivers something to our home. I recycle cardboard boxes, but I also keep some back for crafting. In the past, I've made Christmas penguins, giant cardboard baubles, and a gingerbread house garland. This year I've made cardboard postage stamp ornaments for the tree.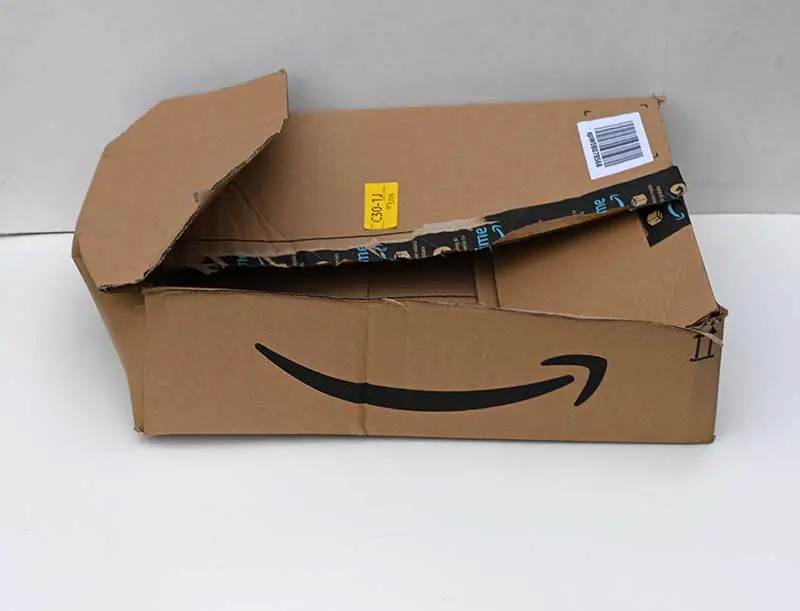 Crafting with Postage Stamps
The decorations in my home are rather colourful. I'm very fond of rainbow crafts and decorations. Lucky for me, postage stamps come in an assortment of lovely colours. I've used them to upcycle mini jars and make a rainbow of stamp tea lights.
I've also seen interesting collage artwork made from old stamps, like the stamp Union Jack pictures of Gary Hogben.
Stamps are also fun to sort by themes, such as flowers, animals, sports, transport and holidays. I've used Christmas postage stamps to make lovely gift tags before. My father is an ornithologist, so I used stamps with birds for his gift tags.
For these DIY cardboard Christmas decorations, I have sorted the postage stamps by colour. I wanted to make a rainbow of Christmas ornaments.
This is a very affordable Christmas craft. You are likely to already have many of the materials. For the ornament shapes, I used Christmas cookie cutters. If you don't have Christmas cookie cutters, don't worry, you can still do this craft.
We're a participant in the Amazon Services LLC Associates Program, an affiliate advertising program designed to provide a means for us to earn fees by linking to Amazon.com and affiliated sites. As an Amazon Associate, I earn from qualifying purchases.
What You Need To Make DIY Cardboard Christmas Decorations
Cardboard – I just used the packaging from a standard cardboard box. This was thick cardboard with corrugated paper sandwiched between two sheets of card.
Newspaper for decoupage
Used postage stamps – I have a tin of old stamps that I have collected over the years. If you don't have any, you can purchase bundles of stamps online cheaply from Amazon or eBay.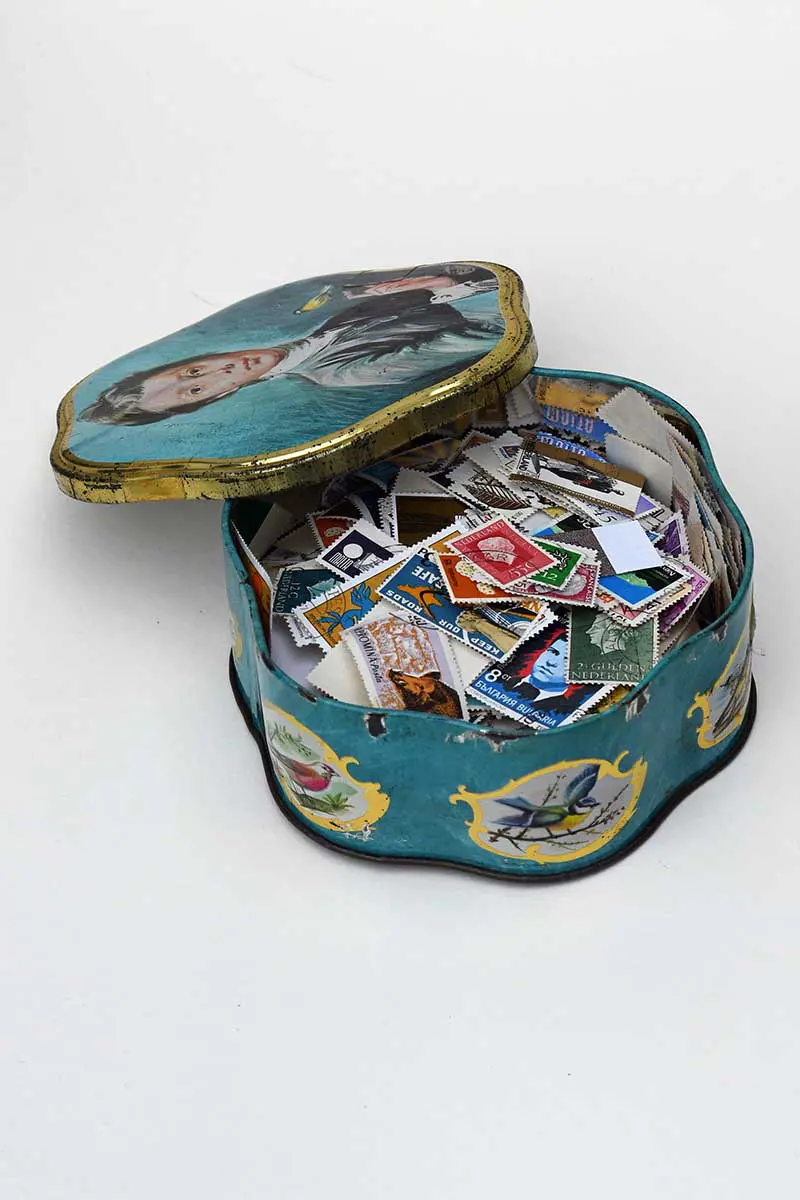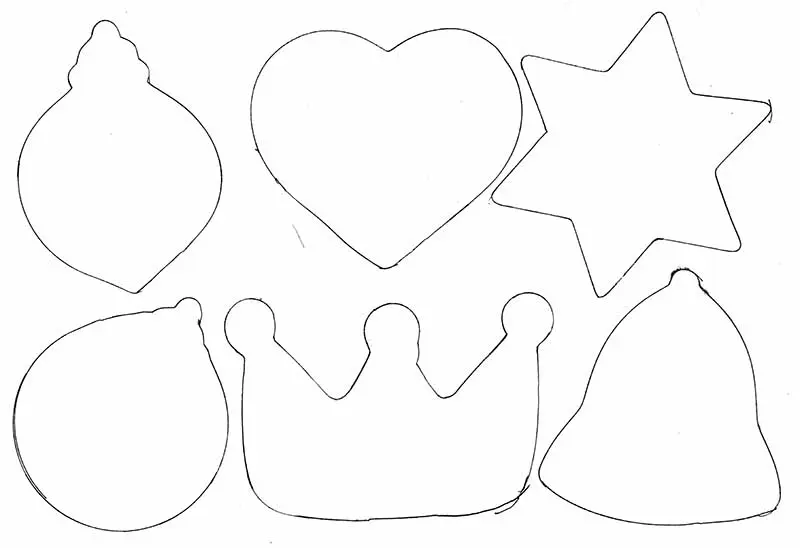 How To Make Postage Stamp Ornaments
Step 1: First, place the cookie cutter onto the cardboard and draw around it. For each DIY Christmas cardboard decoration, you will need two identical shapes.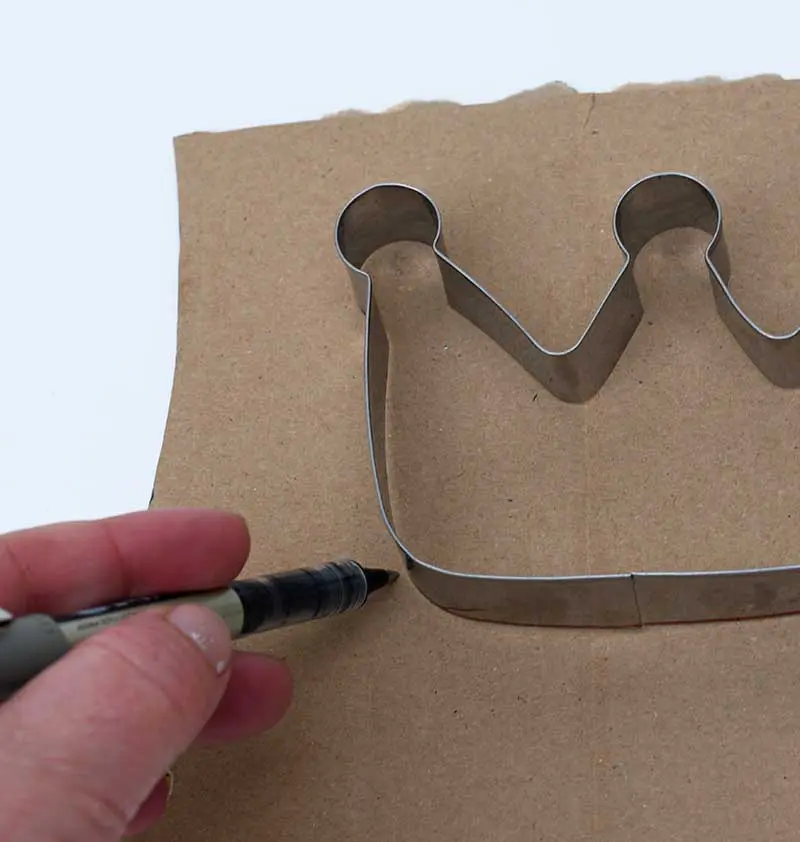 Step 2: Use a craft knife and cutting mat to cut out the cardboard shapes.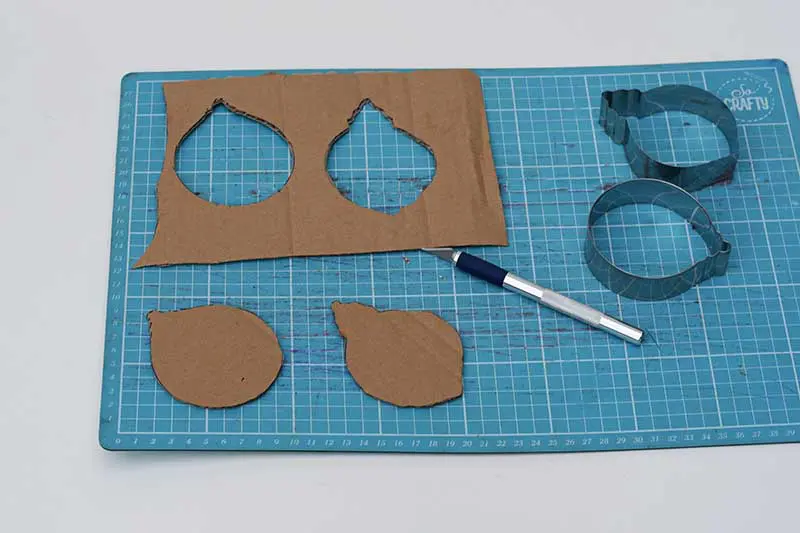 Step 3: Take one of the identical Christmas cardboard shapes and cut a small slit in the centre. Cut the slit from the bottom to the centre of the shape. Then with the other matching shape, cut a slit in the centre. This time, from the top to the centre of the ornament.
This will enable you to slot the two cardboard shapes together and make a 3D DIY Christmas decoration (see the pictures below).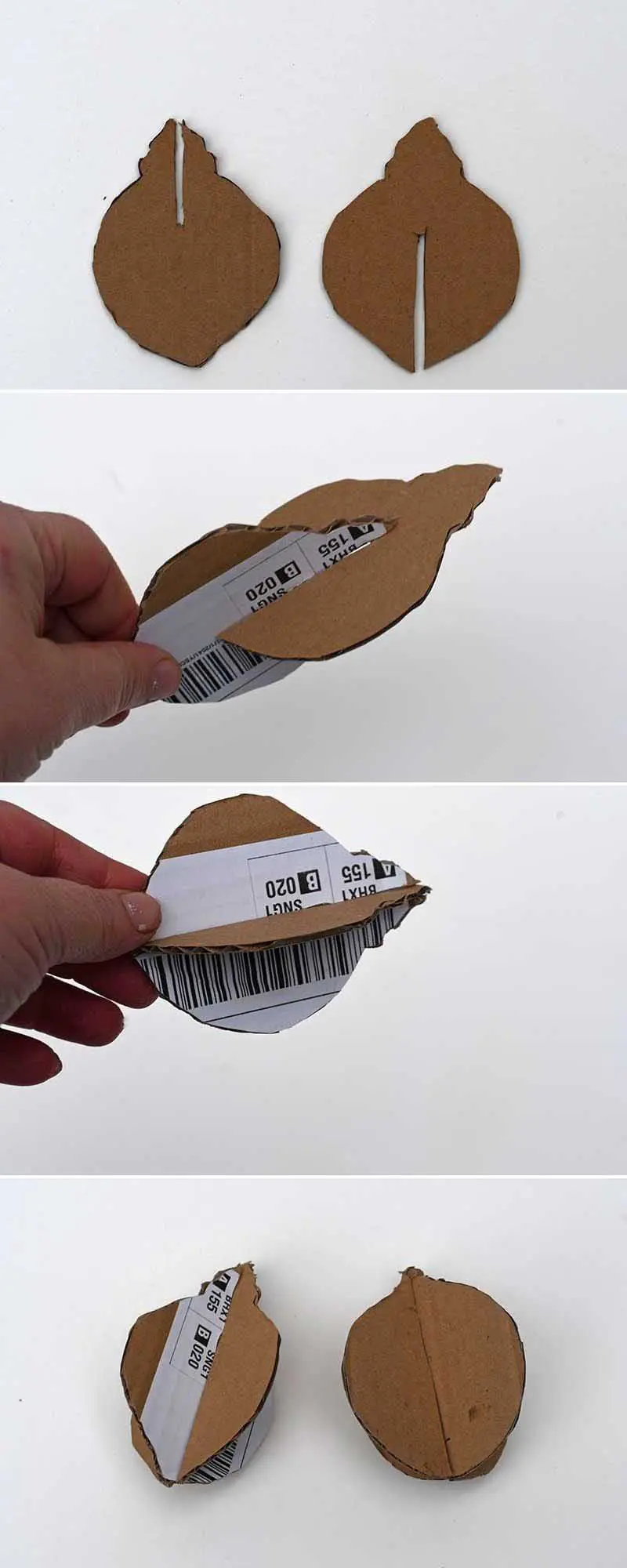 Step 4: Even though these 3d cardboard Christmas ornaments are made with thick card, they still need strengthening. To strengthen the ornaments, I paper mache them.
Cut newspaper into small strips and then cover the ornaments completely with them. Use a 50/50 mixture of Mod Podge and water to stick the newspaper to the cardboard. This water mixture will make the newspaper strips wetter and easier to stick around the curves and corners of the cardboard Christmas decorations.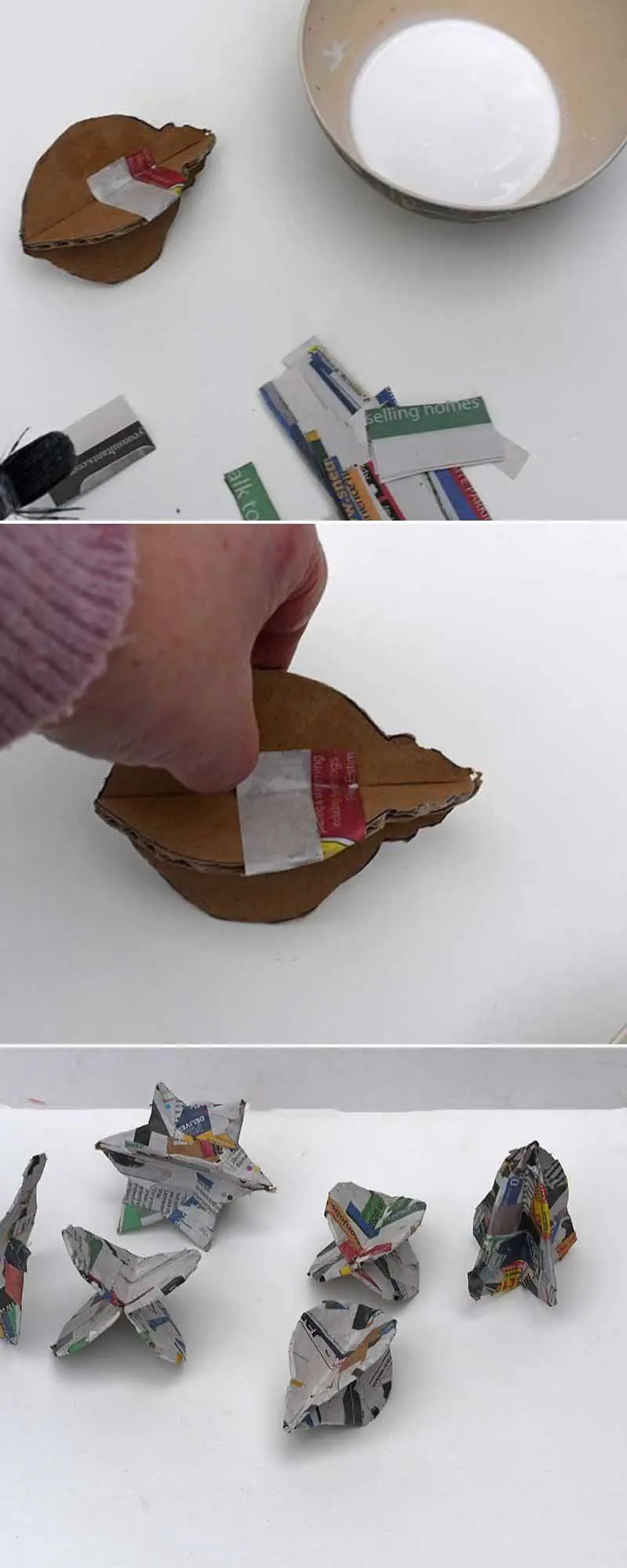 Step 5: Using super glue, add a baker's twine hanging loop to the top of each 3D cardboard ornament.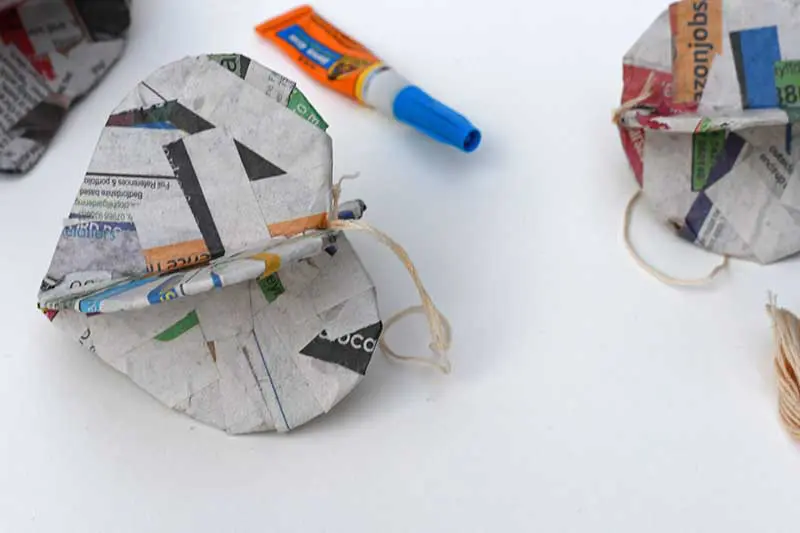 Decoupaging With Postage Stamps
Once the Paper Mache on the Christmas ornaments has dried, they are ready to decoupage with the postage stamps.
6. First, sort your stamps into piles of similar colours. I used the rainbow colours, red, orange, yellow, green, blue, indigo and violet, as my guide.
The stamps used had their paper backing removed. If your stamps are still attached to bits of paper envelopes, you will need to remove this paper. This can be done by soaking the stamps and their backing in cool water until they separate from the backing. Then leave them face down to dry.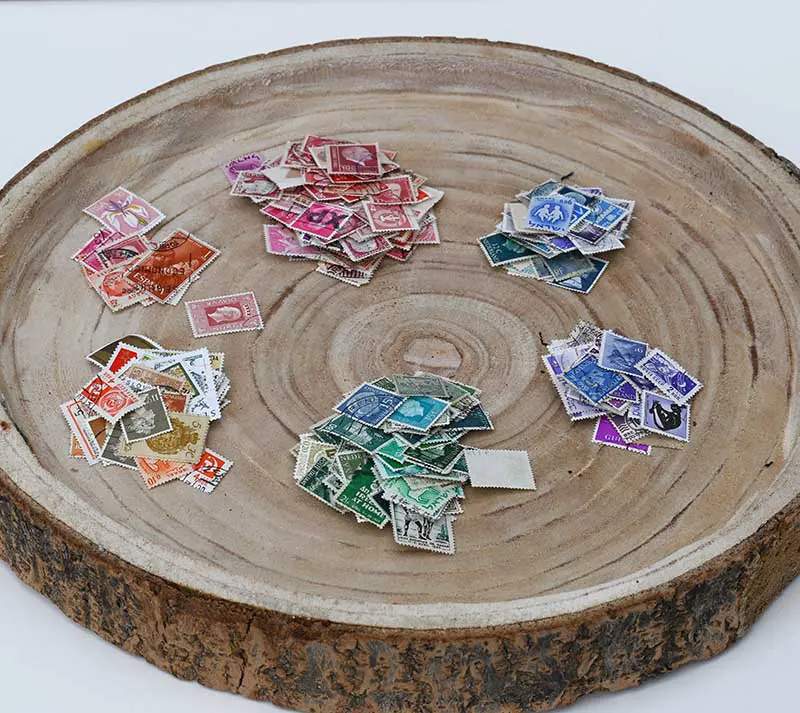 Step 7: Next, I decoupaged each of the cookie-cutter cardboard ornaments with stamps of a similar colour. For example, the heart-shaped ornament was covered in stamps with a red hue and the bell-shaped ornament with green stamps.
Again I used a 50/50 mixture of Mod Podge and water to decoupage the stamps. This made them more flexible and easy to stick around the edges of the cardboard ornaments.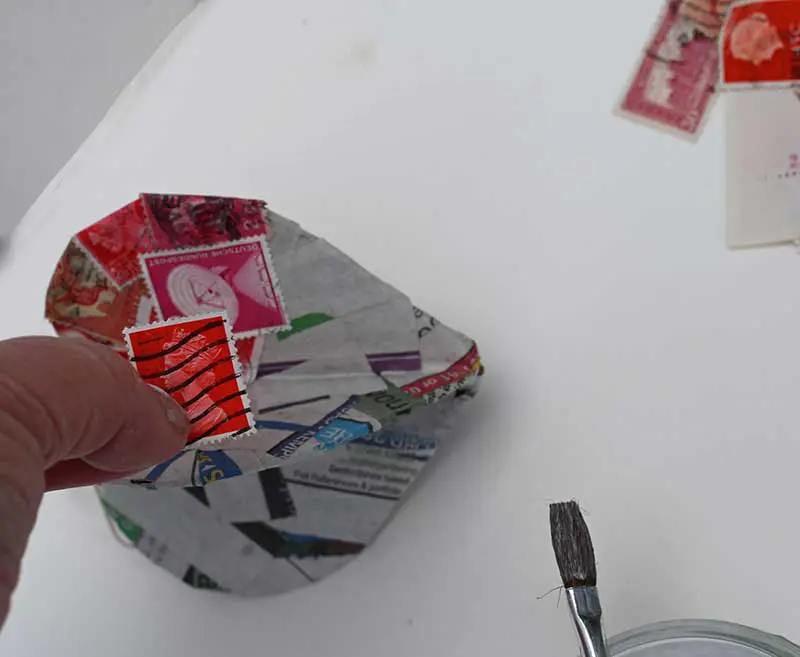 Step 8: Finally, when the cardboard ornament has been fully covered in stamps, cover them in a layer in Mod Podge. This will harden the ornaments even more and provide a protective varnish.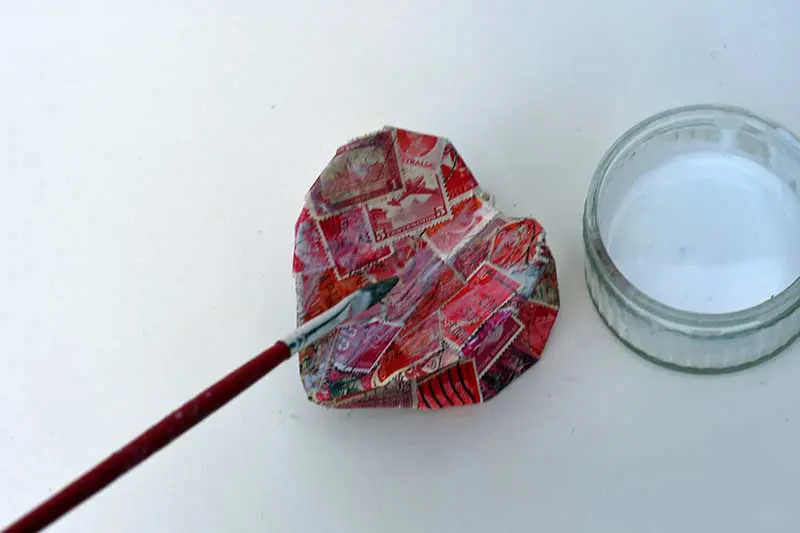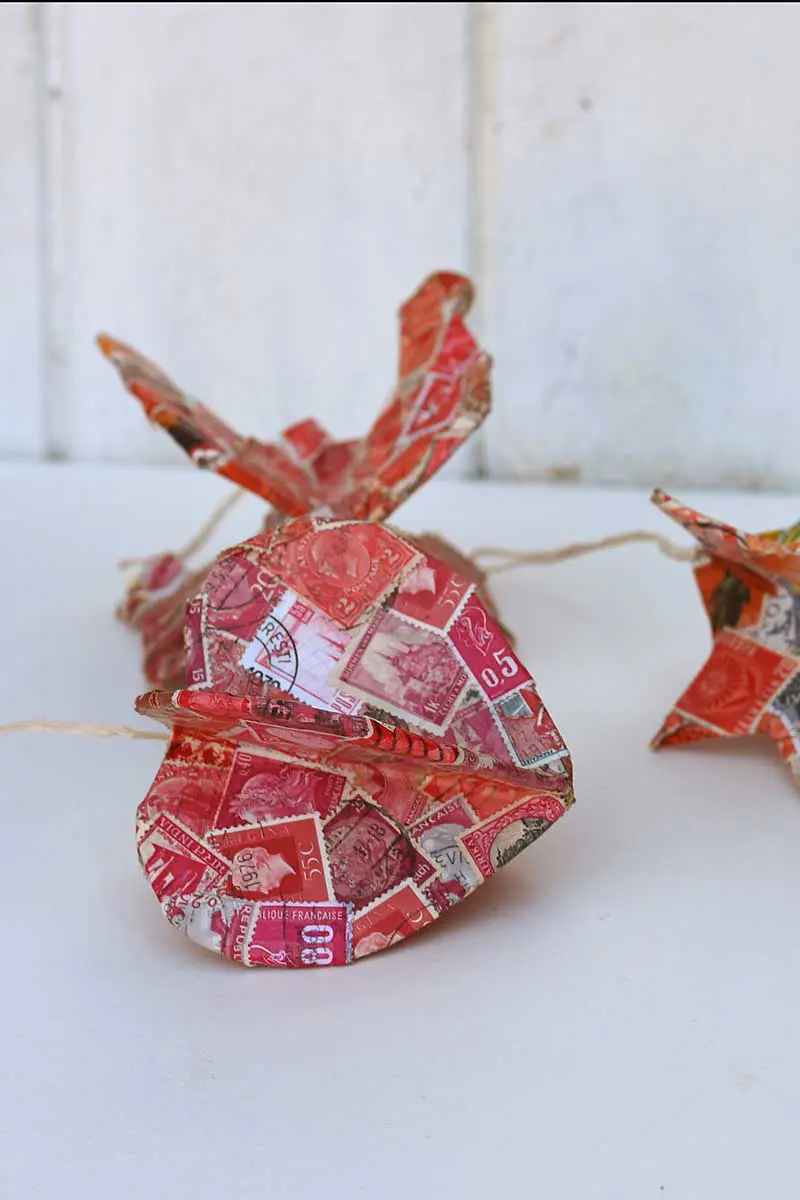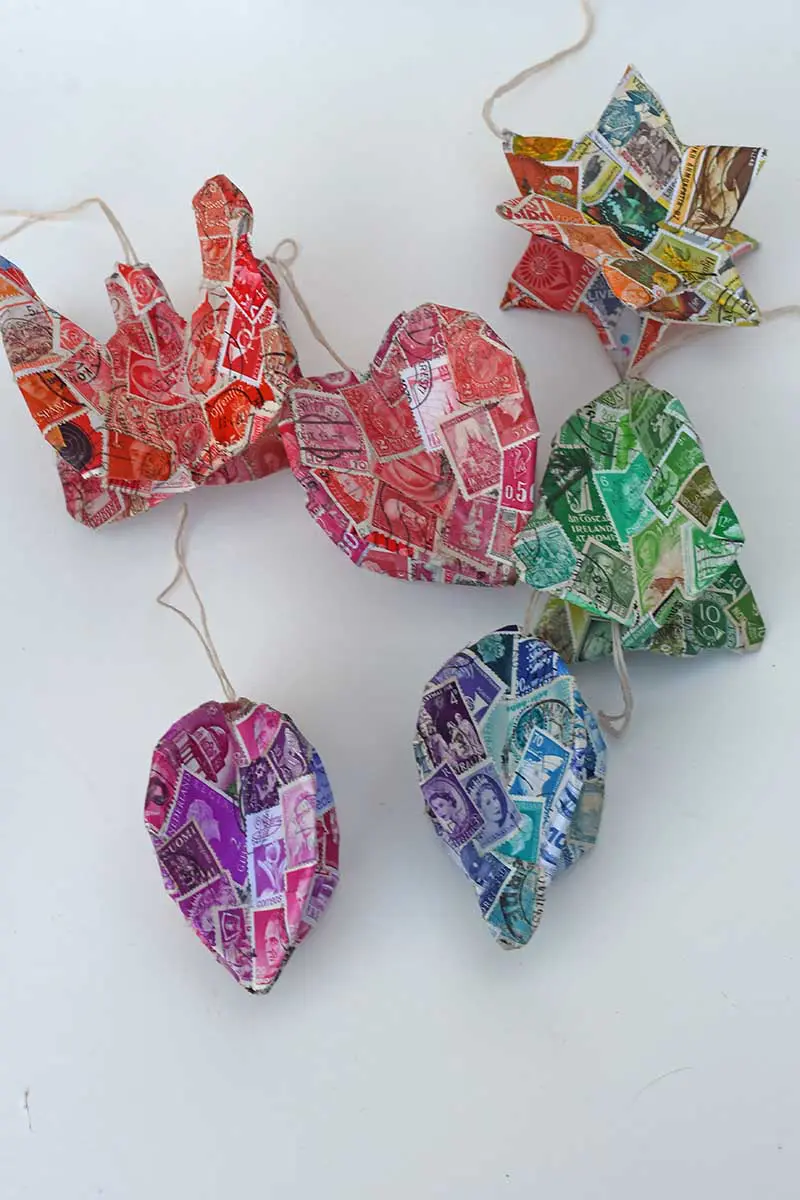 I'm unsure whether to hang these ornaments together in a garland or individually around the Christmas tree.
I think the red heart-shaped Christmas ornament is my favourite. Hearts are a popular theme for Scandinavian Christmas decorations. The heart ornament will also double up as Valentine's decoration.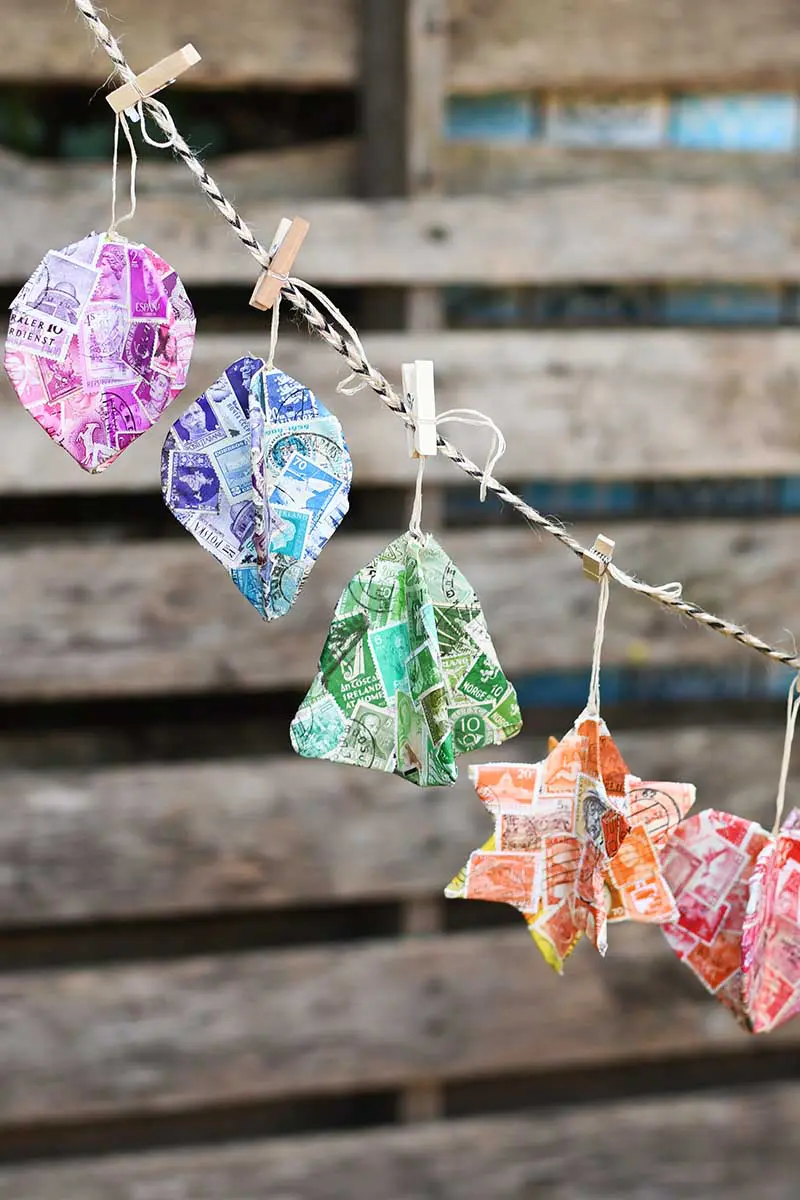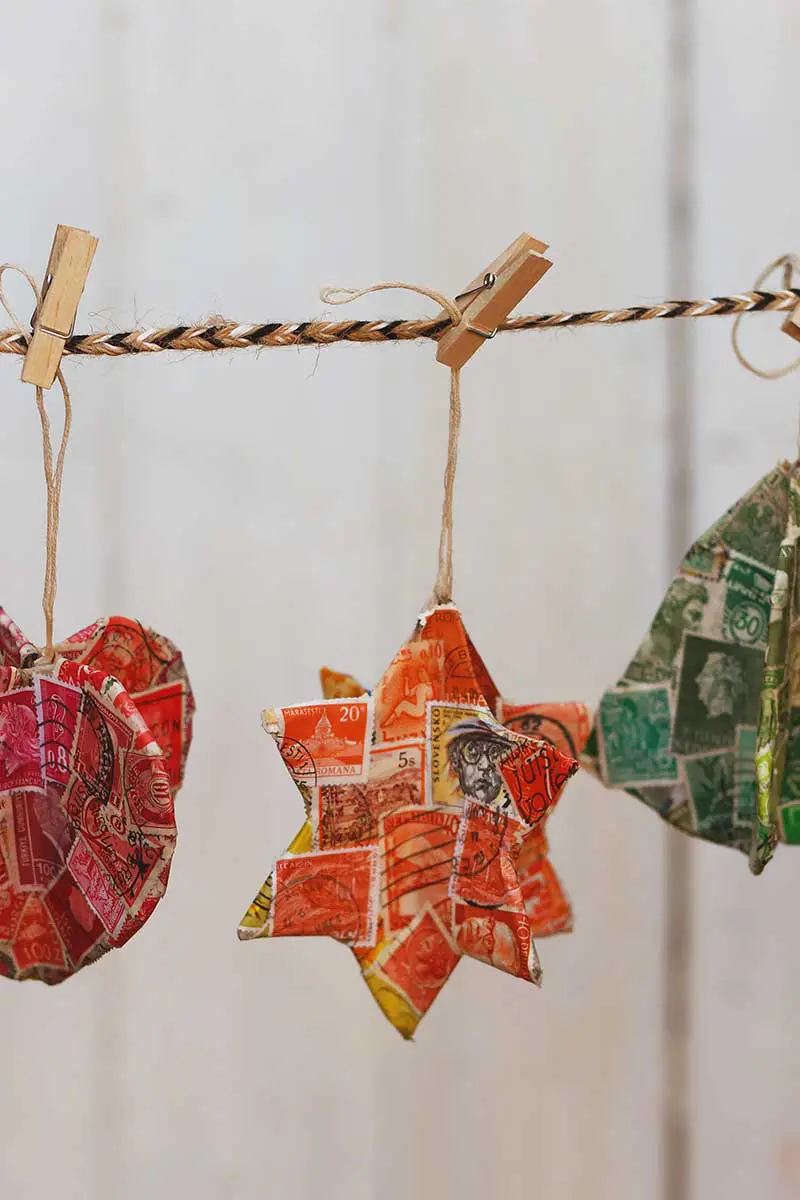 These Christmas ornaments would also make lovely gift toppers and become a gift in themselves. They can be personalized by using stamps of your favourite countries or stamps with themes that mean something to you.
I think they would look great with the map themed upcycled Christmas decorations I have made in the past. These include map heart ornaments, map paper rosettes and repurposed road map ornaments.
Check out these other star Christmas crafts.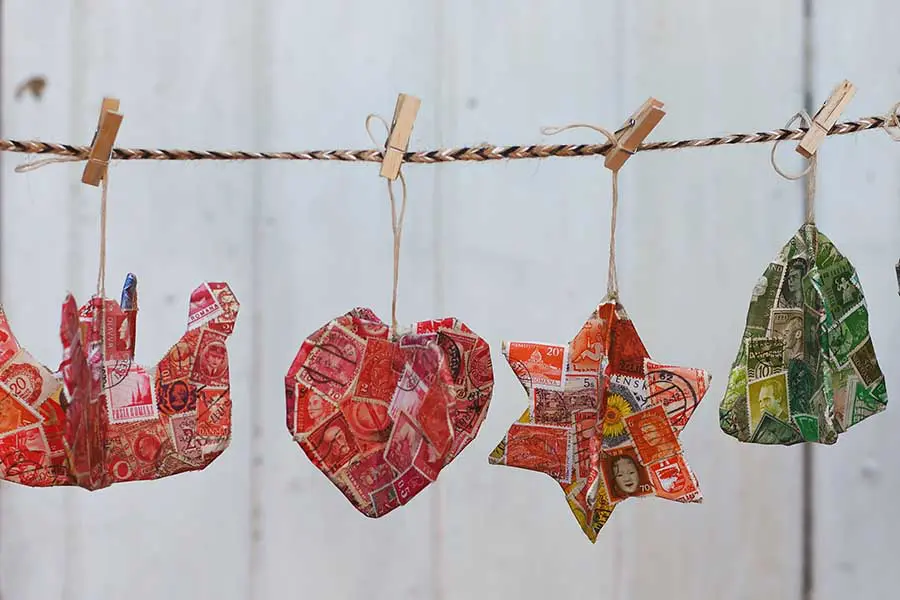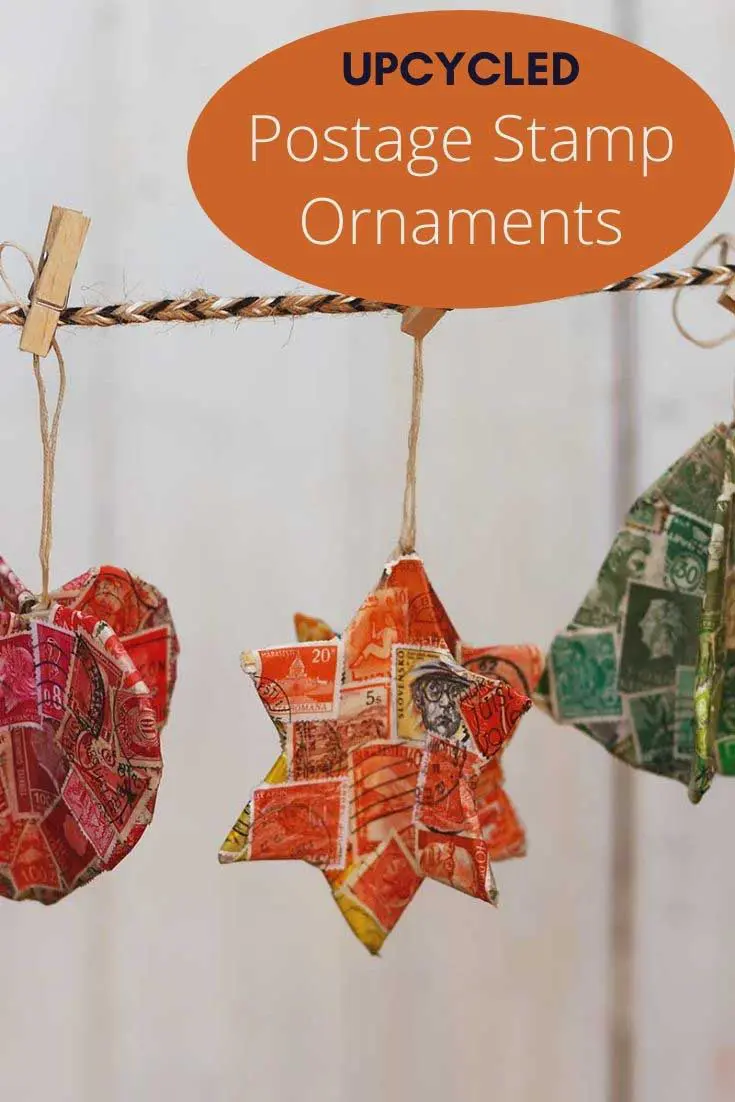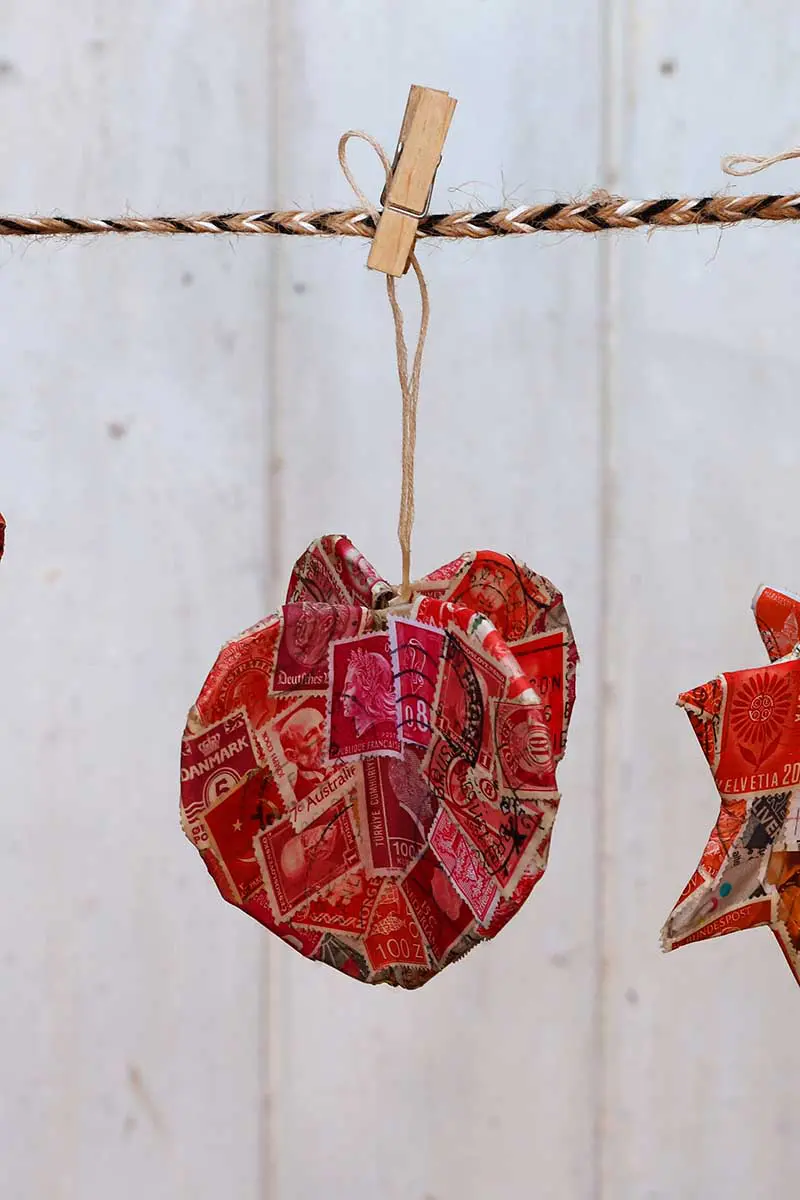 You can see many more upcycled cardboard Christmas craft ideas here.