I grew up in the tropics. We didn't have ceilings in our house. Just beams and the underside of the roof tiles, which were painted white. I remember we used to have tropical plants hanging from the beams. They were macrame ones my mum made. I decided to make my own. Not macrame, but denim and leather recycled hanging planters.
A few months ago I came across a discarded old leather sofa waiting to go to the dump. The sofa was beyond repair, but I couldn't let all that old leather go to waste.
So I cut off large sections of the leather to save for upcycling. I used some of that leather to make a boho leather DIY vase and for these recycled hanging planters.
You probably don't have an old leather sofa to cut up. However, you don't need much leather for this project. An old leather handbag or jacket (real or faux) would work just as well.
Upcycled Denim and Leather Recycled Hanging Pot Holders
I keep my family's old jeans for repurposing and decided to use some of that denim with these indoor hanging pots. I love the combination of denim and leather together. Which is why I made these hanging pot holders using a bit of both materials.
It is just as easy to make an all denim, or an all-leather pot hanger rather than combining both materials. To keep with the upcycling theme I used old tin cans planters. It is easy to make these hanging plant holders fit other plant pots.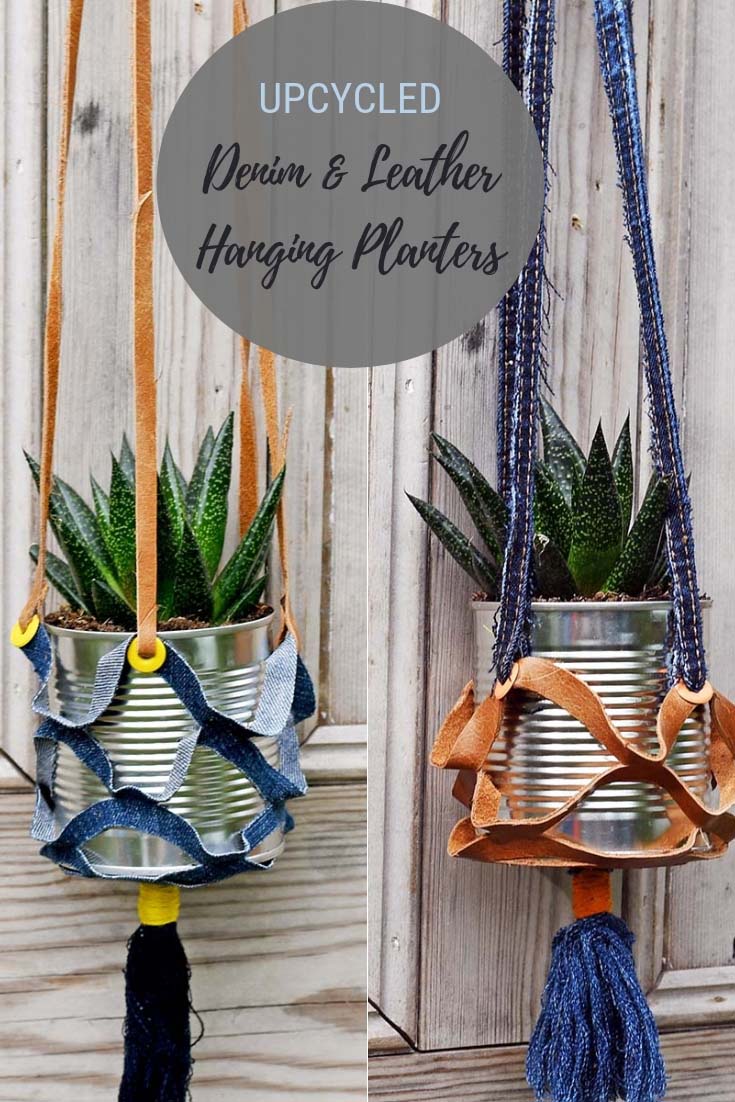 We are a participant in the Amazon Services LLC Associates Program, an affiliate advertising program designed to provide a means for us to earn fees by linking to Amazon.com and affiliated sites. As an Amazon Associate, I earn from qualifying purchases.
What You Need To Make Recycled Hanging Planters
An old piece of leather (real or faux). A piece from an old leather jacket, sofa or bag will do. You will need a piece approximately 20 cm in diameter. For a denim recycled hanging planter you will need a piece of denim the same sort of size.
Denim seams from an old pair of jeans
Tin can or another planter
Superglue or needle and thread
Wooden curtain ring
Cutting pattern, free to download here.
Fabric glue for the denim hanging planter only.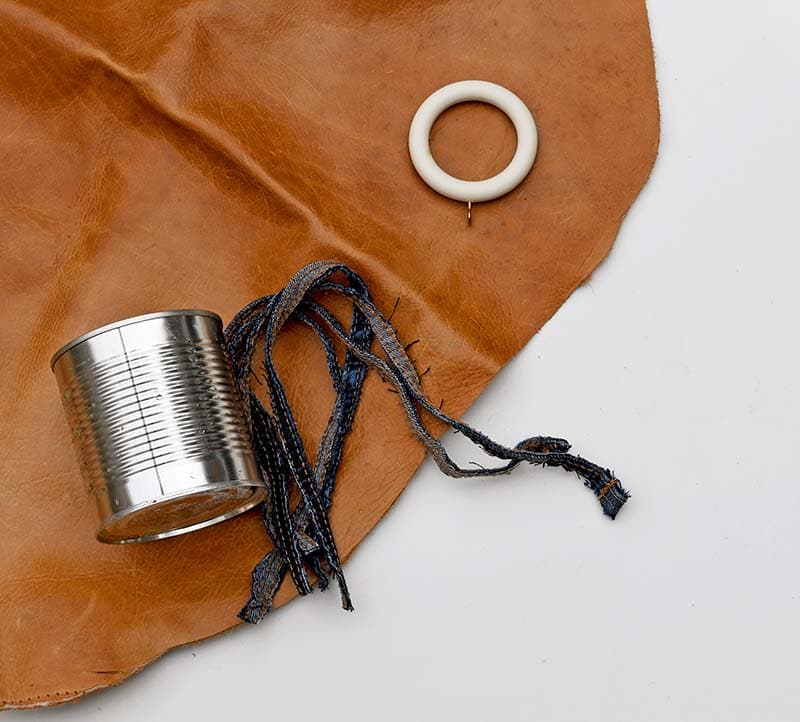 How To Make A Leather Indoor Hanging Pot Holder
1. First, download and print out the cutting template. This template has been designed for a planter the size of a standard tin can. To make a larger or smaller hanging planter adjust the size of the pattern before printing.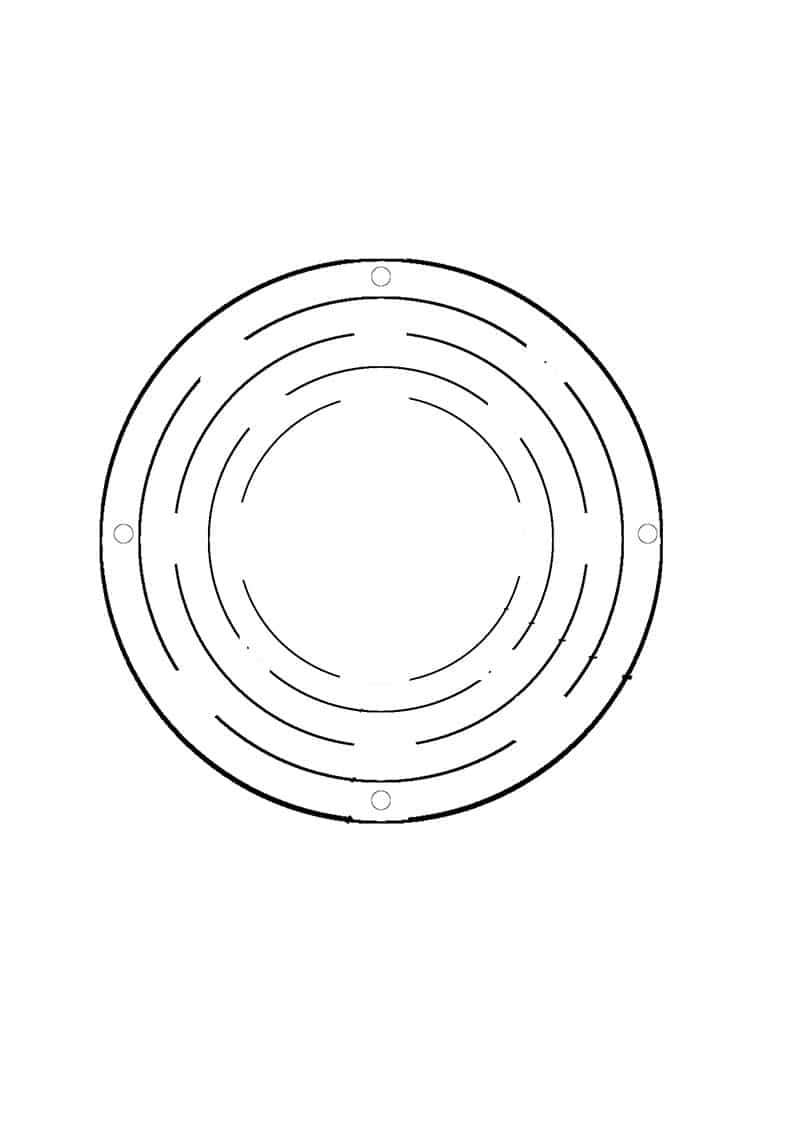 2. Next, tape the template to the leather piece. Place this on top of a cutting mat. Using a Xacto knife cut out the pattern. Cut from the center circle out just cutting the solid lines.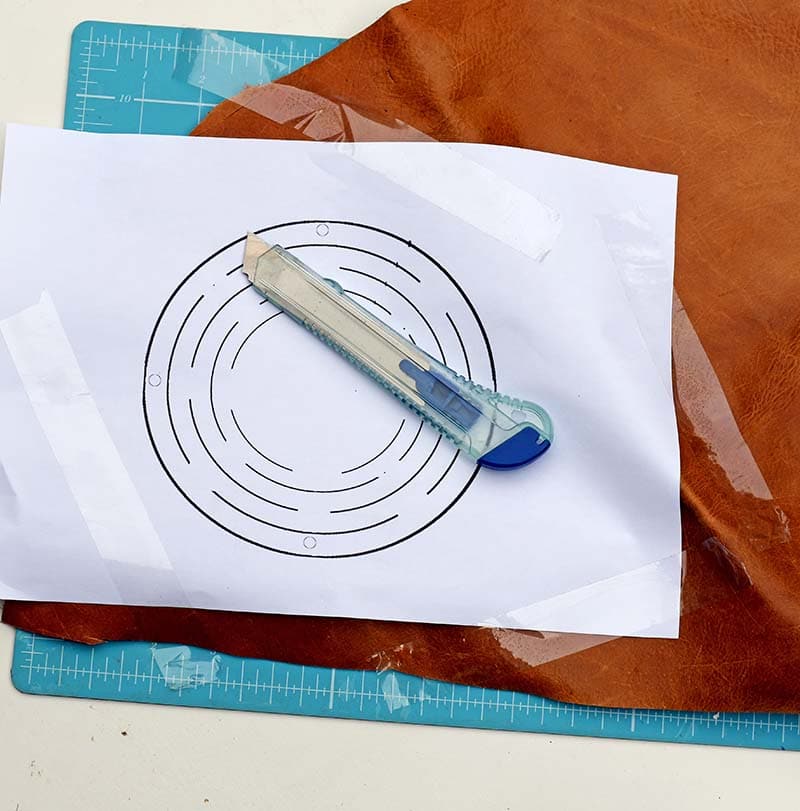 3. The dots on the template highlight where to punch the holes. Use either a leather hole punch or a Crop-A-Dile to punch holes in the leather. Leave the holes as they are or add coloured eyelets.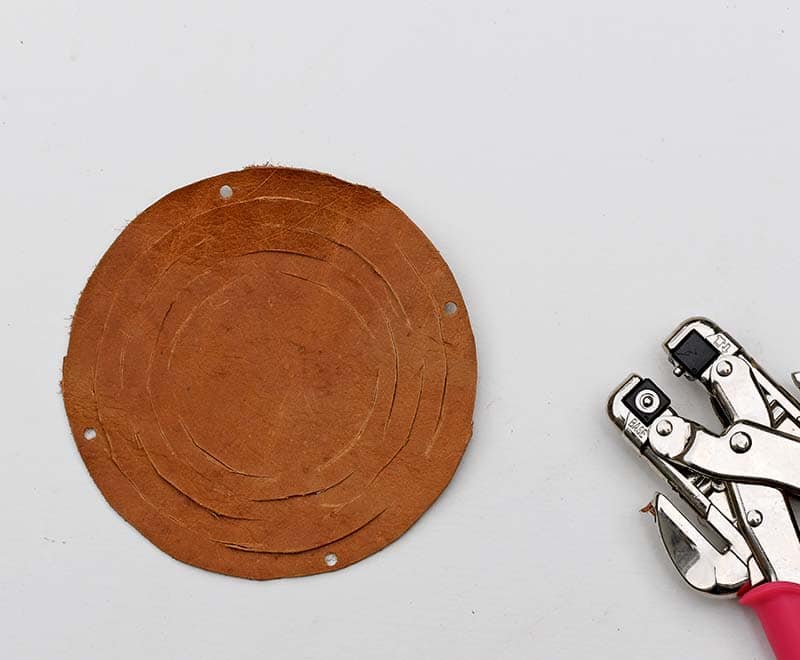 4. To hang the recycled hanging planters use denim seams from an old pair of jeans. However, a leather thong or twine would work just as well.
Cut four denim seams so they are all the same length. Thread one seam through the hole in the leather and then either sew or glue it in place. Repeat with the other three seams and holes.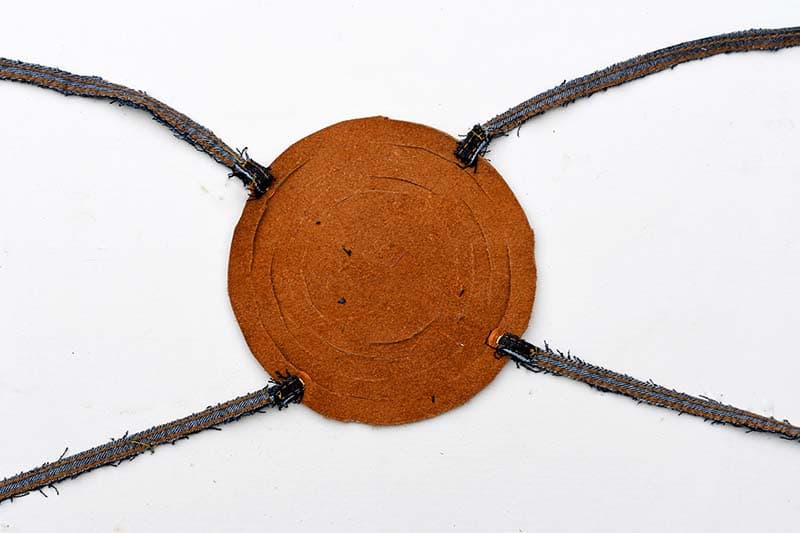 5. Next, secure the other end of each denim seam to the wooden curtain ring. Again either use a needle and thread or superglue to hold it in place.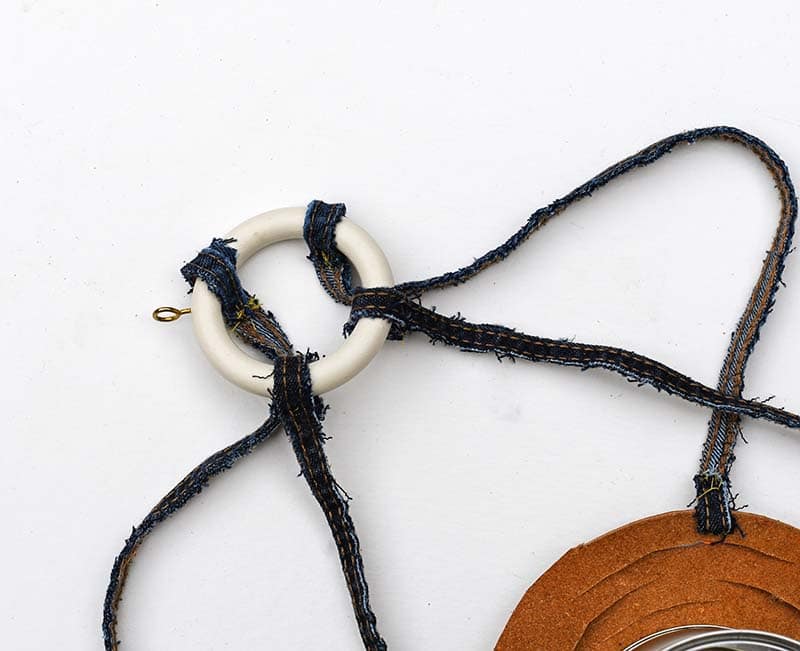 6. Finally, all that you need to do is to add the tin can planter. If you put pebbles in the bottom of the tin can planter this will not only help with drainage. The weight will also help the indoor recycled planter hanger, hang well.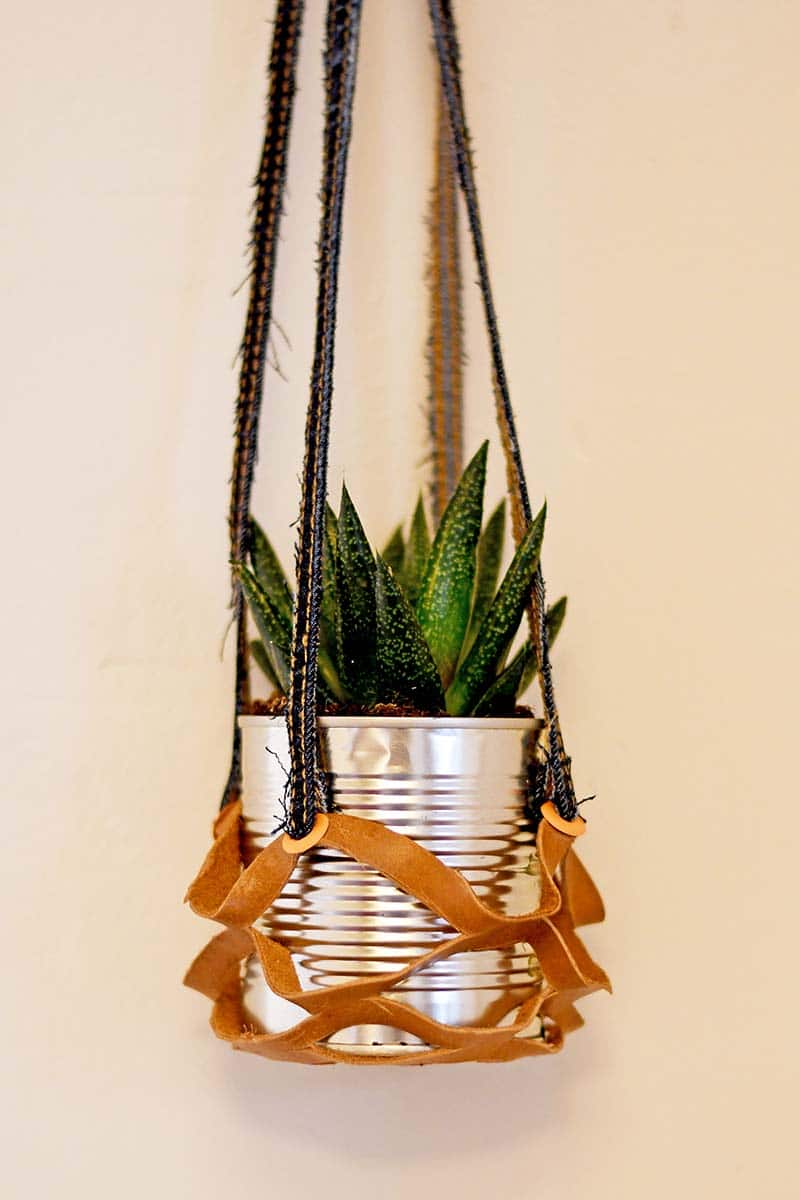 To add the Boho look of these recycled indoor hanging planters, how about adding tassels. Here you can see how to make tassels out of an old piece of denim.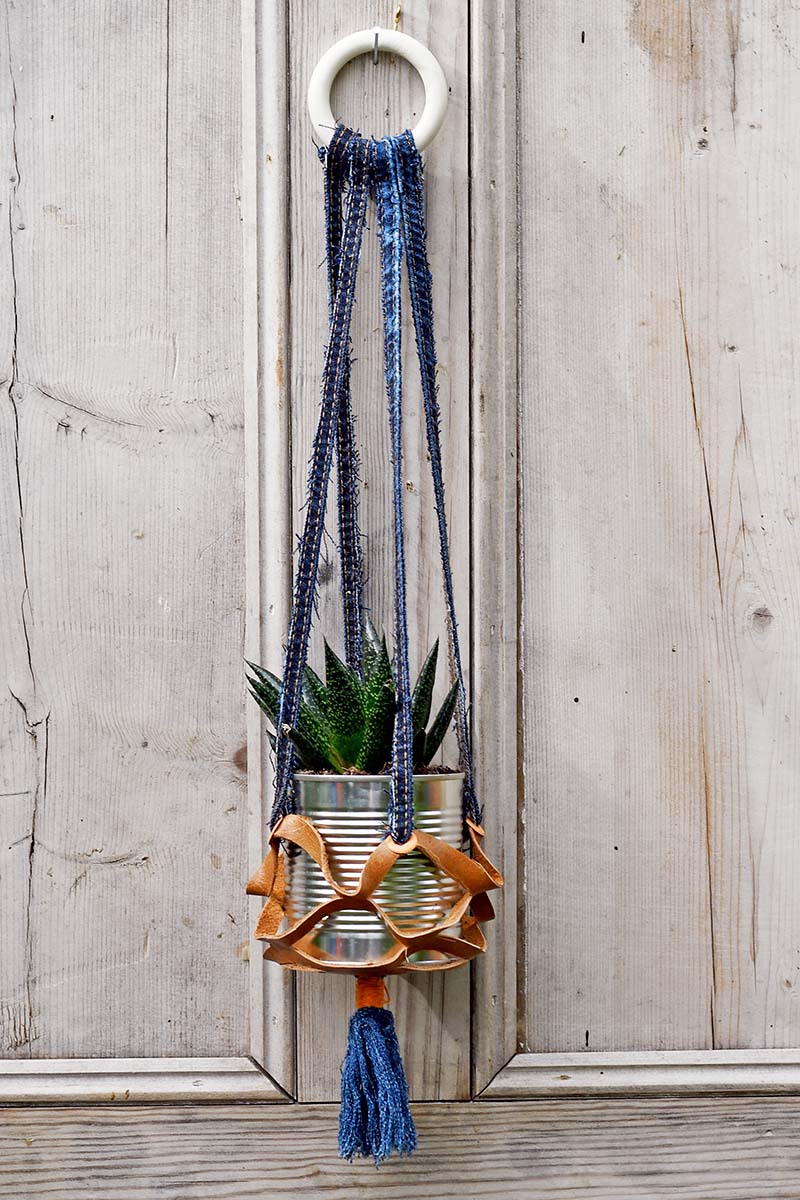 How To Make Denim Recycled Hanging Planters
As well as leather, I also made some recycled hanging pot holders out of denim scraps. To stop the denim from fraying, cover it with fabric glue. Once the glue has dried, cut out the denim plant holders in the same way as with the leather pot holders.
For the denim plant holders, I cut strips of leather to use as the hanging string. Again you can use, denim seams or twine for this.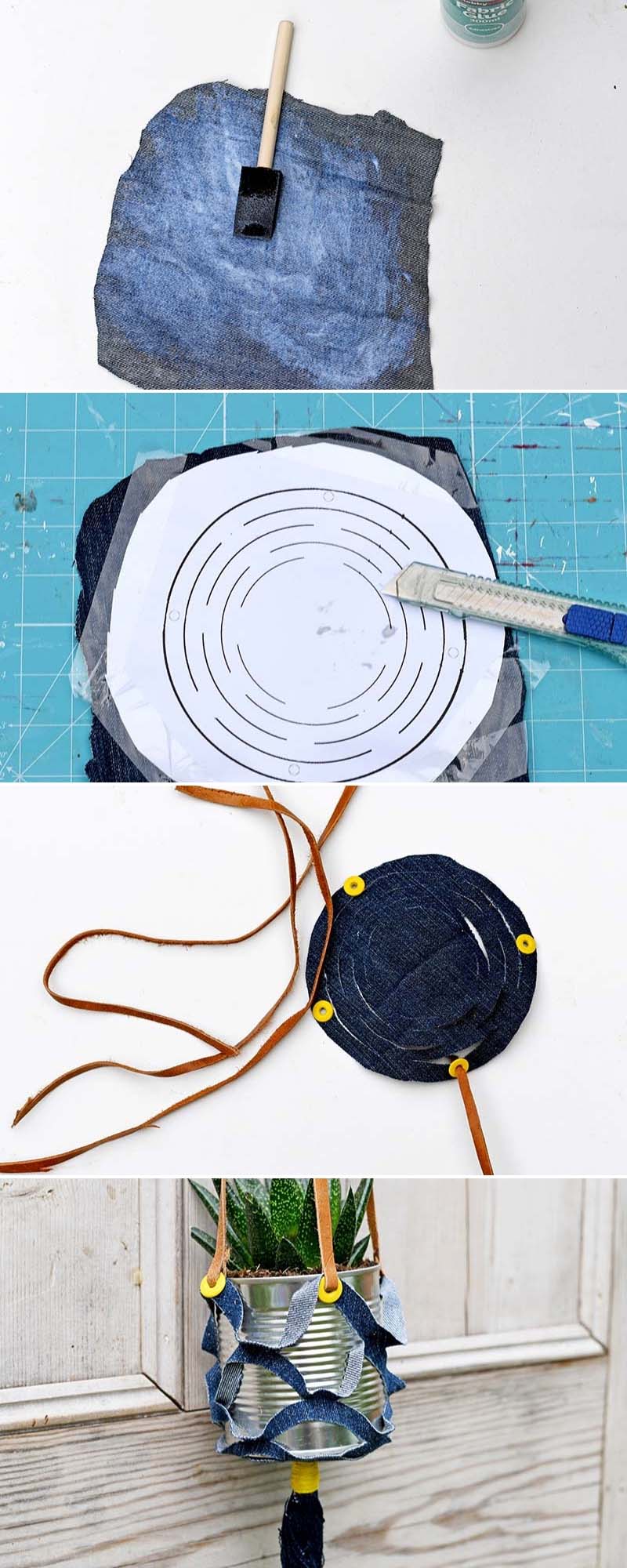 Again, I added an upcycled denim tassel to the bottom of the recycled hanging planters.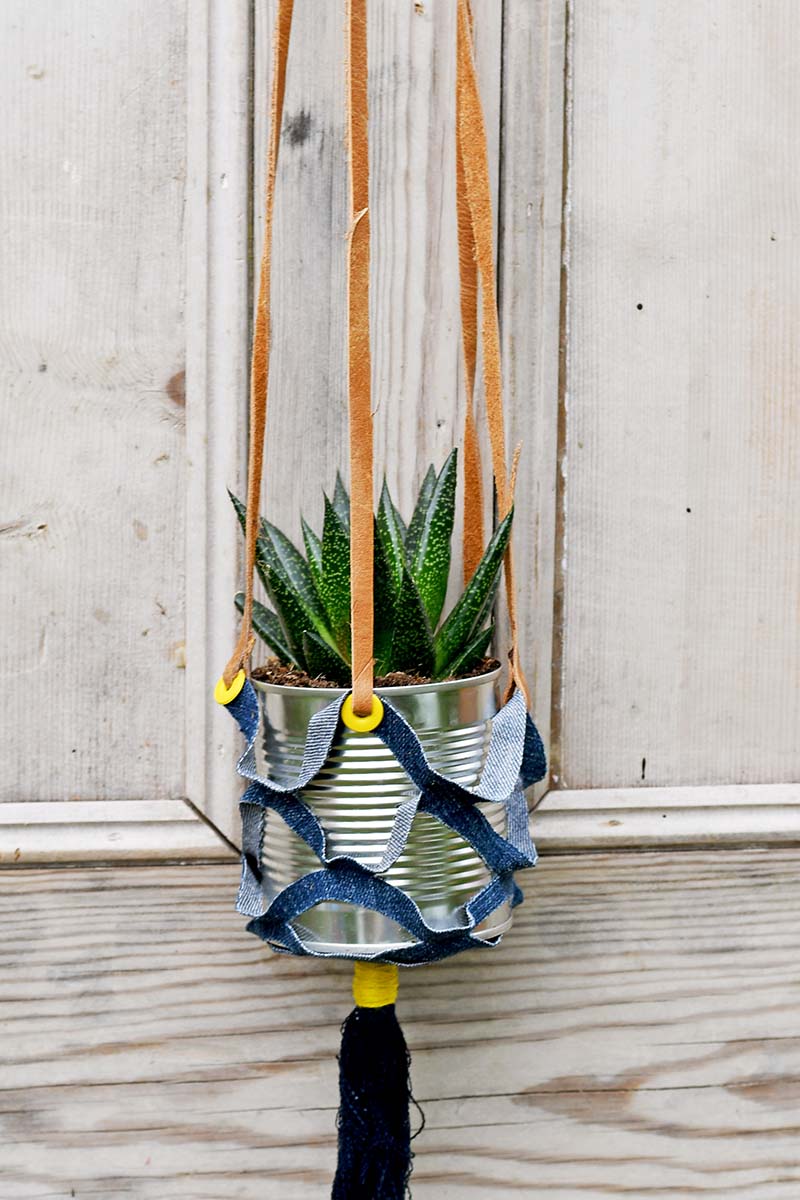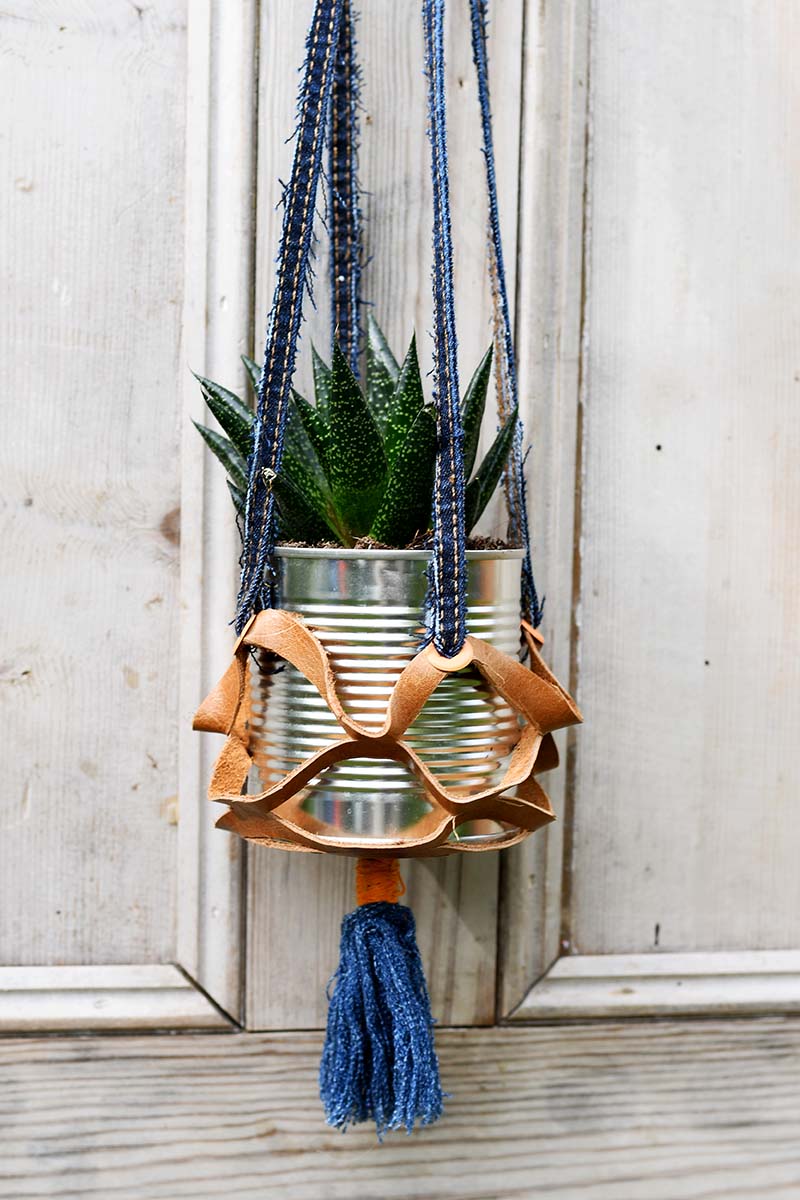 The velvet upcycled planters I made, also look good with these hanging plant pot holders.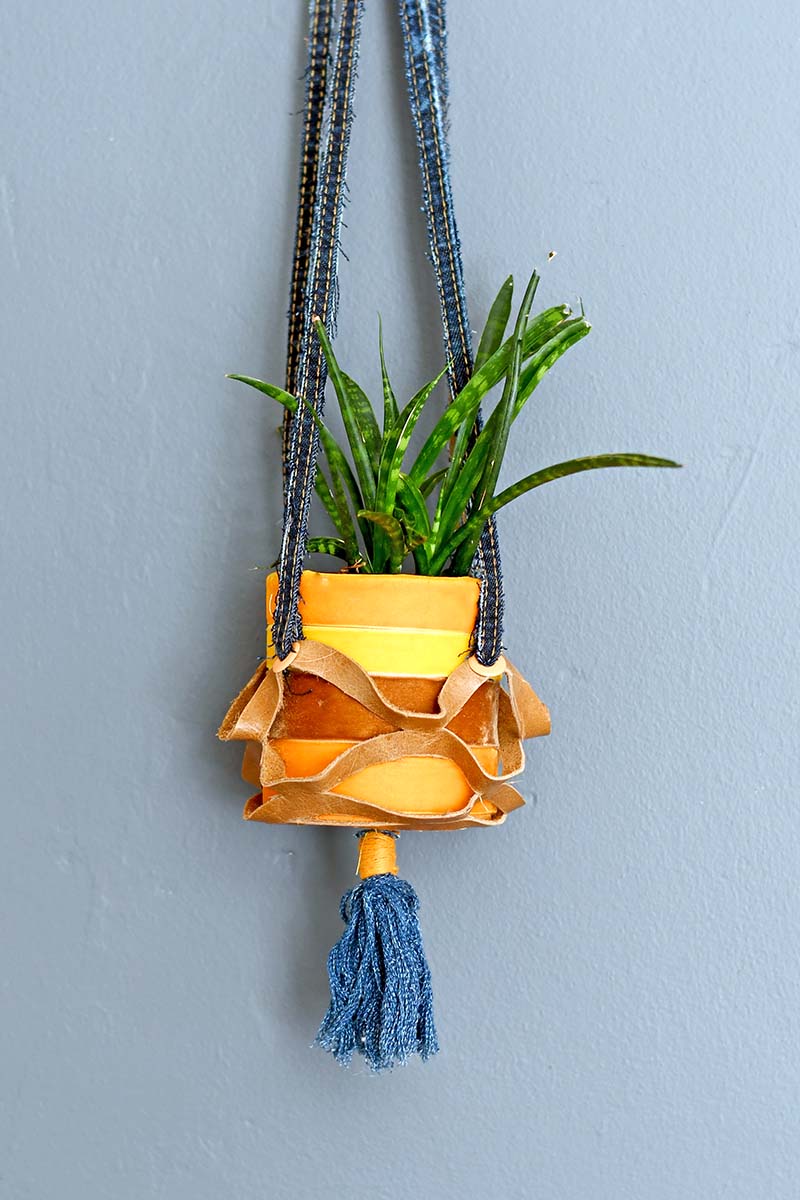 I used real plants in these upcycled planters however if you don't have green fingers I have a great tutorial for DIY tropical leaf planters that will look just as good in these planters.
For other wall hanging vase ideas check out these broken China teacup DIY wall vases.
If you liked these Boho recycled hanging planters, you will probably like these other posts.
For other thrifty craft ideas visit Cheapandthriftyliving.com