This delightful DIY project combines creativity, recycling, and floral charm. Making Chrysanthemum flowers out of fabric and denim. What's more, you could even apply the same technique to paper! Ready to bring some perennial bloom into your home?
Before we dive into the steps, let's talk about why crafting faux flowers is such a fantastic hobby. There's something profoundly satisfying about creating something beautiful with your own two hands. And with paper or fabric flowers, you can let your creativity blossom. You can play with different textures, colours, patterns, and styles, curating your unique bouquet that never wilts.
Crafting faux flowers also allows you to breathe new life into materials that might otherwise be discarded. That old pair of denim jeans or fabric scraps from previous projects can be transformed into stunning floral pieces. It's a brilliant way to engage with sustainable crafting practices while adding a personal touch to your home decor, accessories, or gift toppings.
(There is a printable how-to card for this craft at the end of the post.)
How To Make Chrysanthemums
We're a participant in the Amazon Services LLC Associates Program, an affiliate advertising program designed to provide a means for us to earn fees by linking to Amazon.com and affiliated sites. As an Amazon Associate, I earn from qualifying purchases.
Materials needed:
Fabric or paper of your choice (denim, cotton, linen, etc.)
Styrofoam craft ball – 6cm to 7cm in diameter
Scissors
Circle templates or glasses to draw around.
Pencil or fabric marker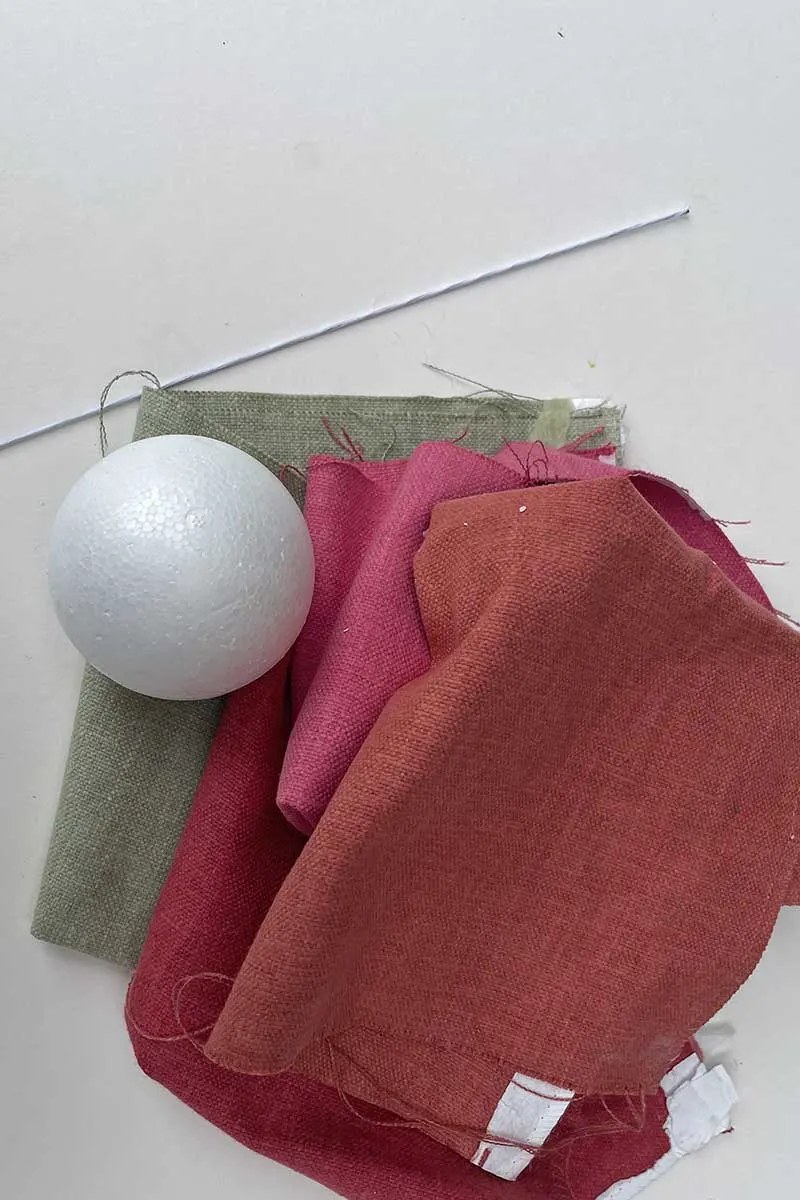 The Chrysanthemum Flower Pattern
The petal and calyx templates for the flower.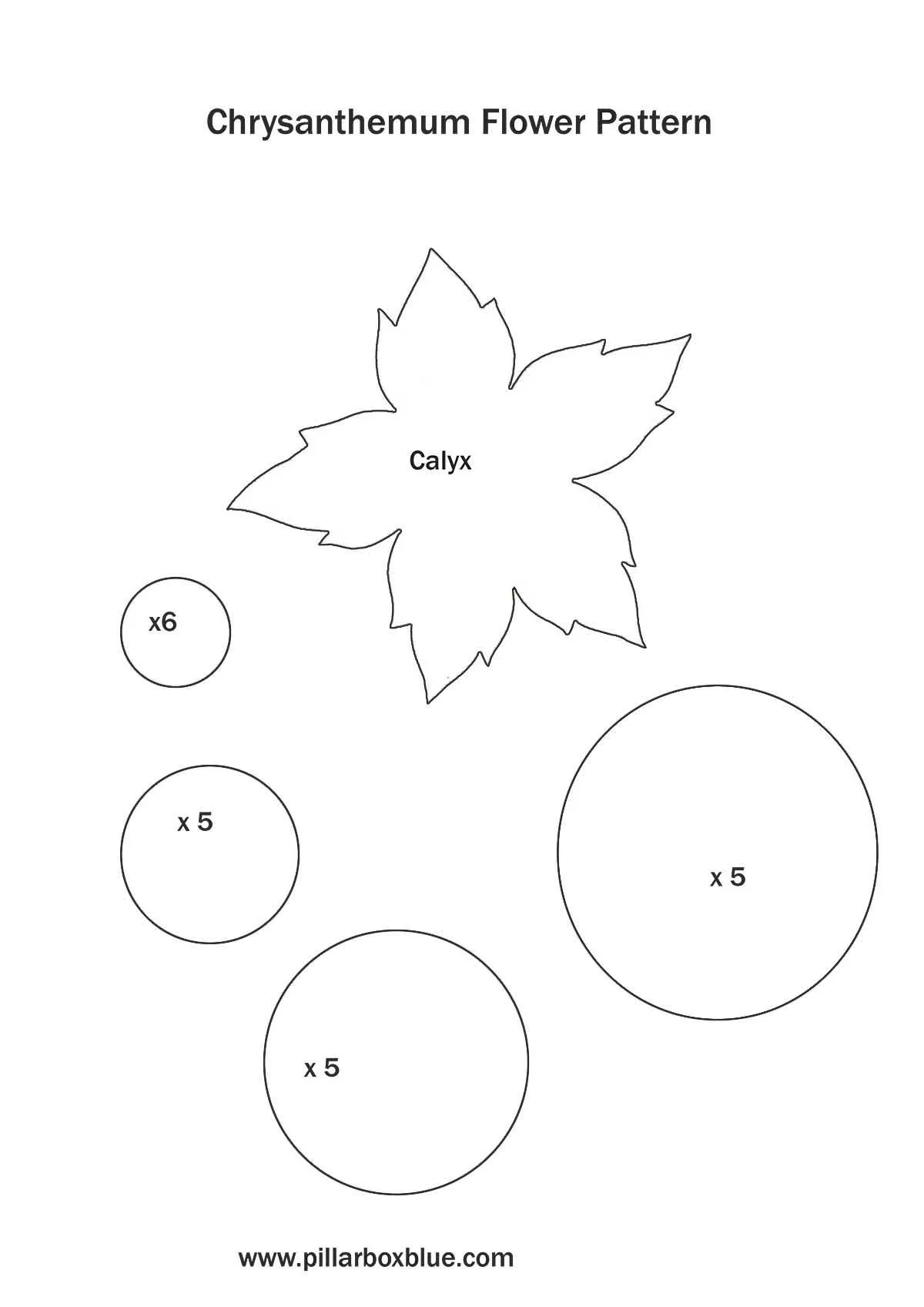 Step-by-Step Guide
Step 1: Start by selecting your fabric or paper. You could choose denim for a rustic look or print cotton for a vibrant, colourful flower. If you use paper, then Italian crepe paper is a good choice, but you can use other coloured papers and even book pages. Just ensure the paper is not too thick and bends easily.
These DIY chrysanthemums were made with denim and some scrap linen from a fabric sample book. I used denim in shades of indigo and linen in assorted shades of reds and pinks to make Chrysanthemum flowers with an ombre effect.
Step 2: Use your circle template or draw around glasses on the fabric or paper. For this chrysanthemum tutorial, I used four different-sized material circles.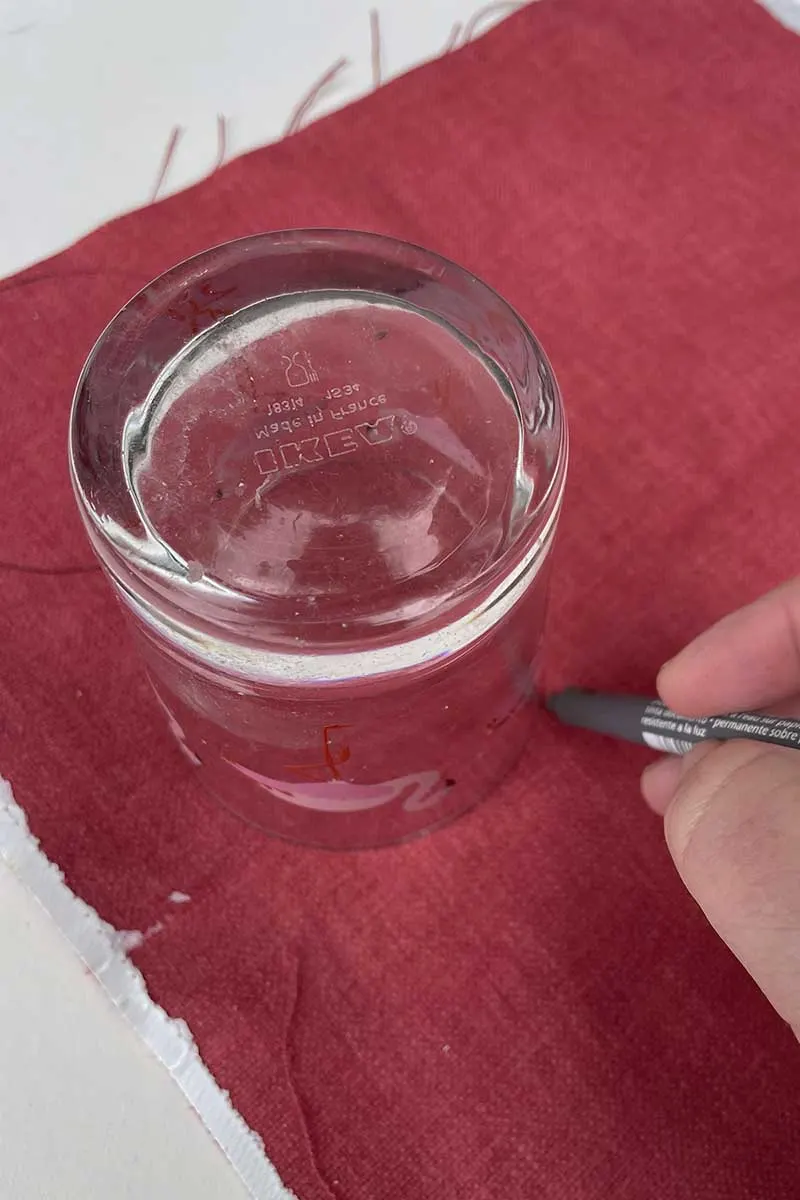 Step 3: Cut out five circle rounds for each size. So you end up with 20 pieces of fabric or paper. Then add one extra in the small size for the centre of the Chrysanthemum flower. Don't worry if your fabric circles aren't perfectly round; it won't affect the look of the finished flower.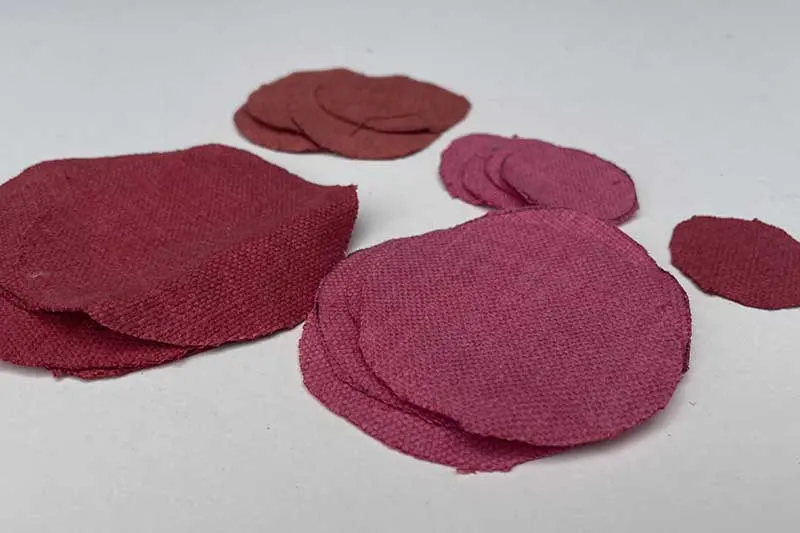 Step 4: Take each fabric circle and make cuts around the edge towards the centre, leaving a half-uncut circle. This will create a fringed look, giving your petals more texture and depth.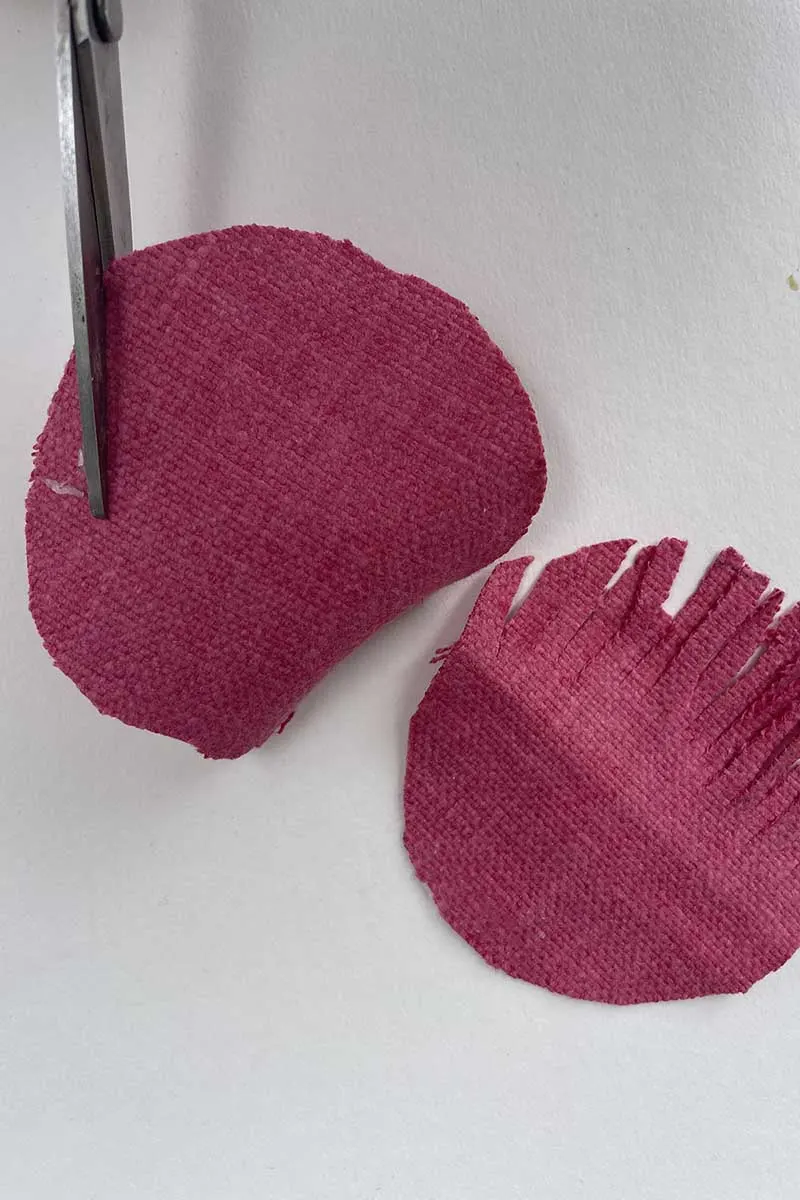 Assembling The Chrysanthemum Flower
Step 5: Add glue to the centre of your styrofoam ball. Attach a small fabric circle to it. This will be the centre of the Chrysanthemum.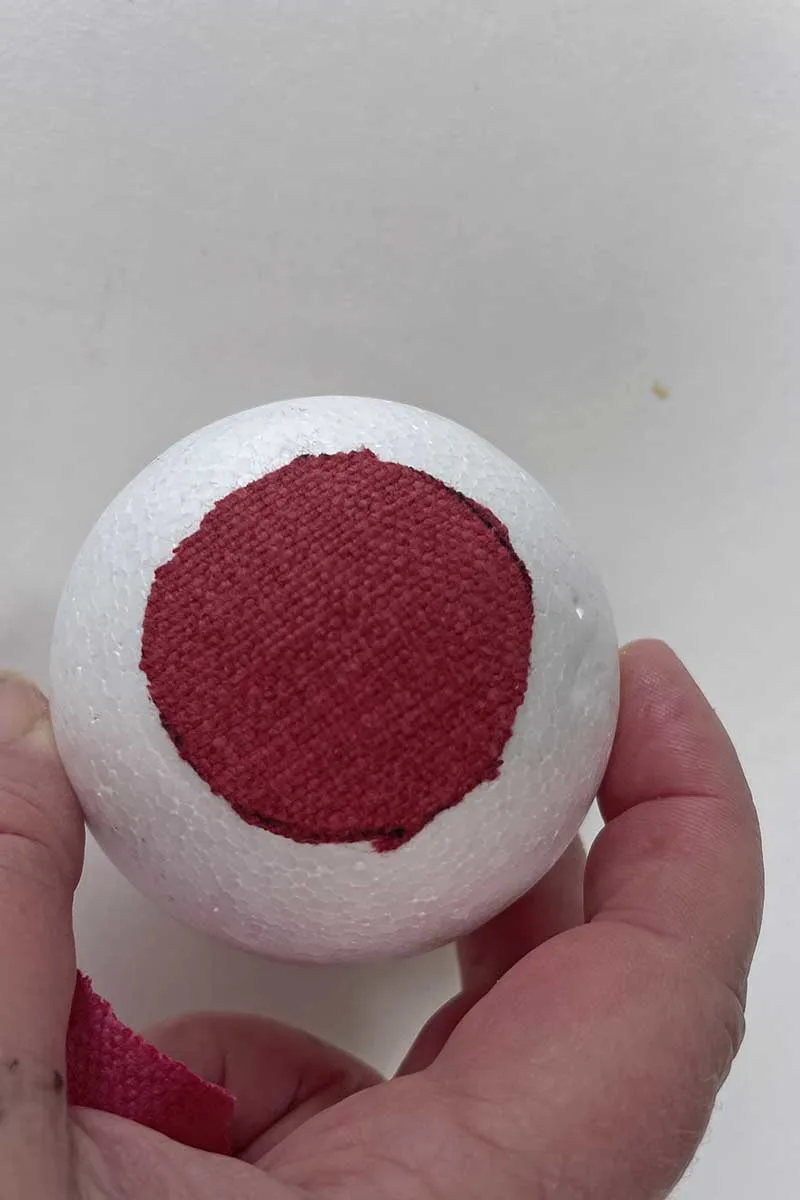 Starting with the smaller fringe fabric circle, glue them one by one around the centre. You may want to hold them with a pin until the glue dries.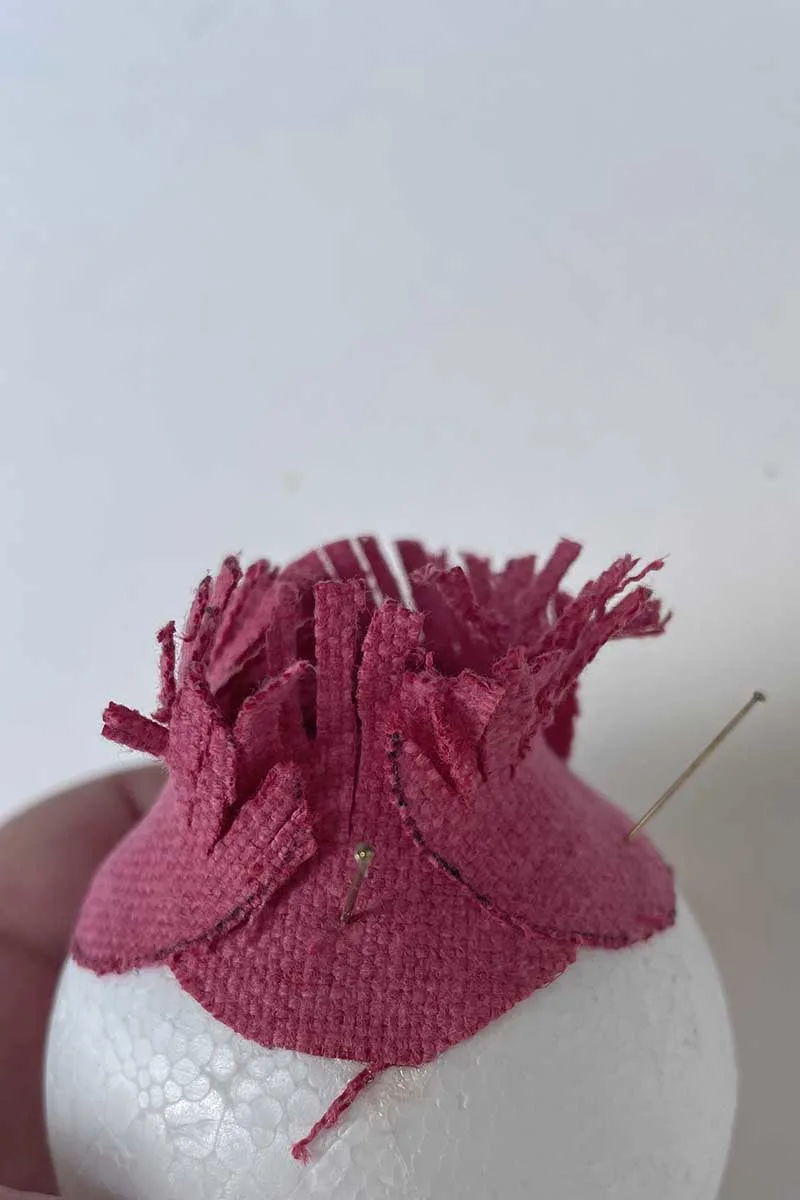 Continue this process, layering and overlapping the fringed circles around the ball to create the whole, blooming effect of a Chrysanthemum flower, starting with the smallest petals and finishing with the largest ones.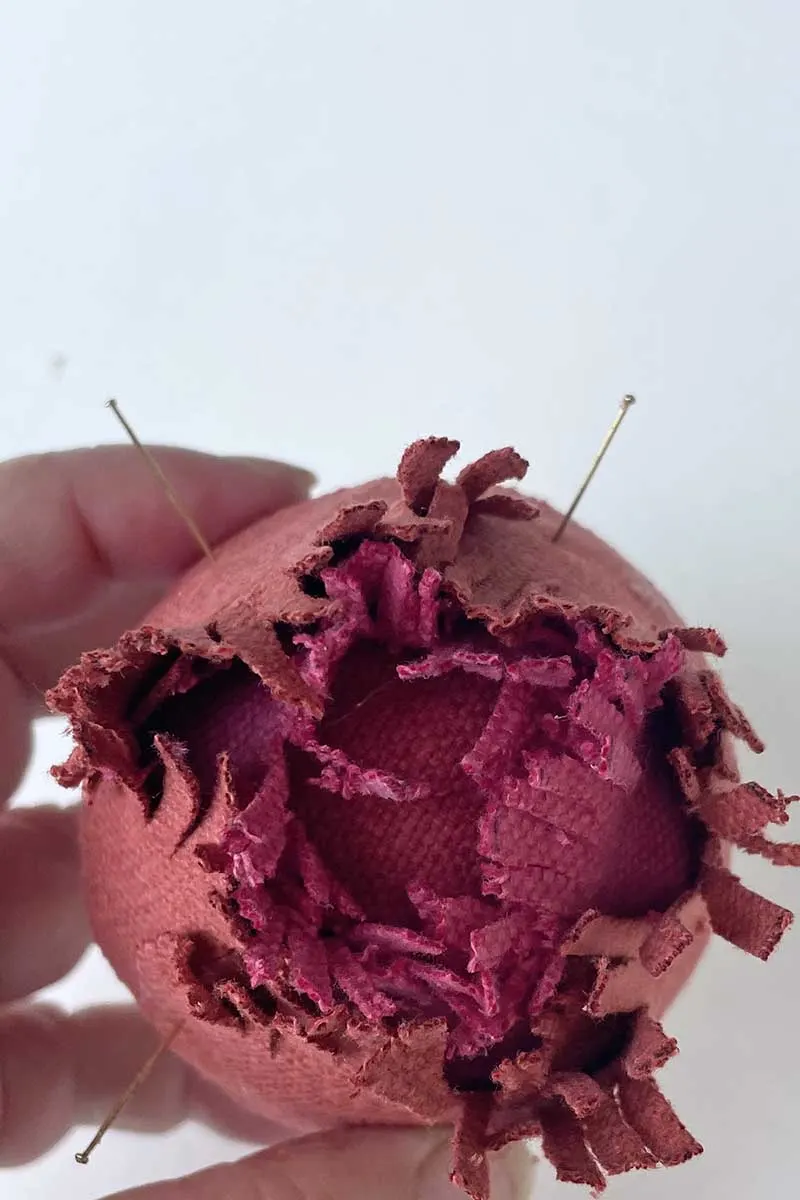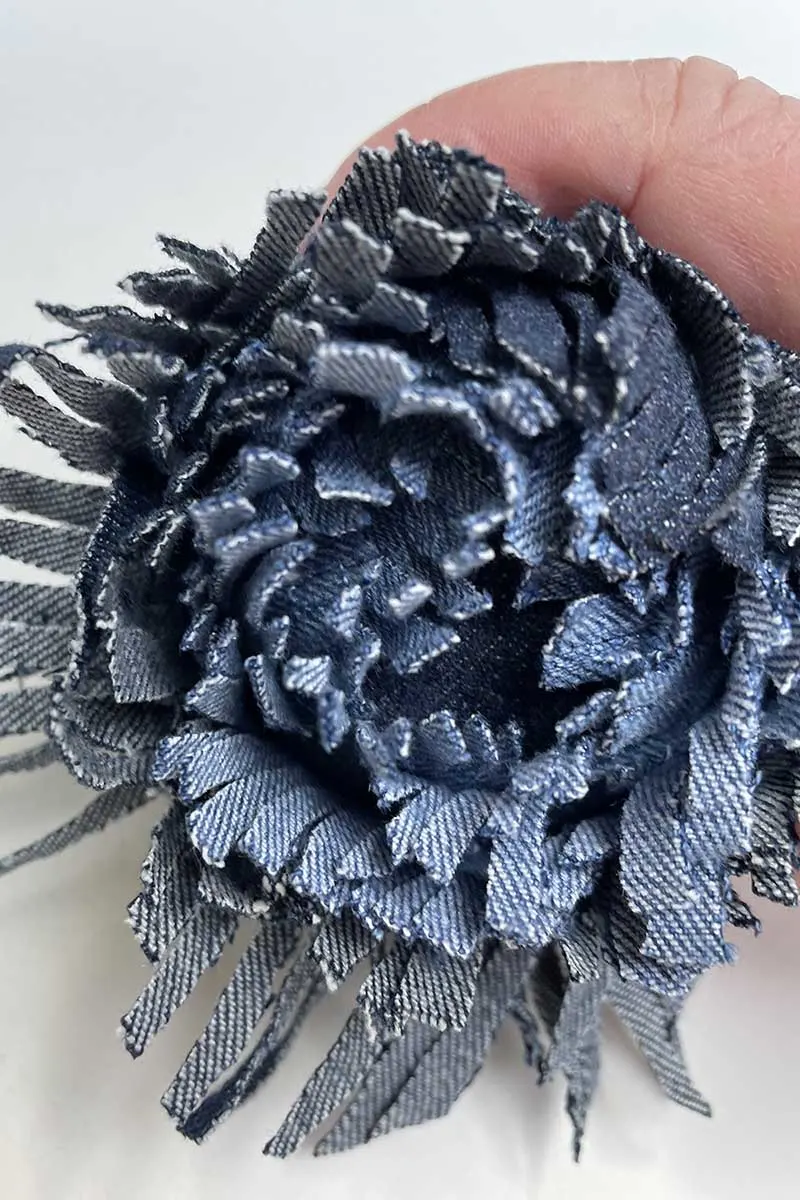 Step 6: Finishing Touches
Make a calyx and stem once you've covered the polystyrene ball with your fringed fabric circles. Use the template to cut a calyx out of fabric. In the same colour, cut a strip of fabric. Wind the fabric strip around the stem and use glue to hold it.
The calyx is the outermost part of a flower, usually green, composed of sepals that protect the flower bud.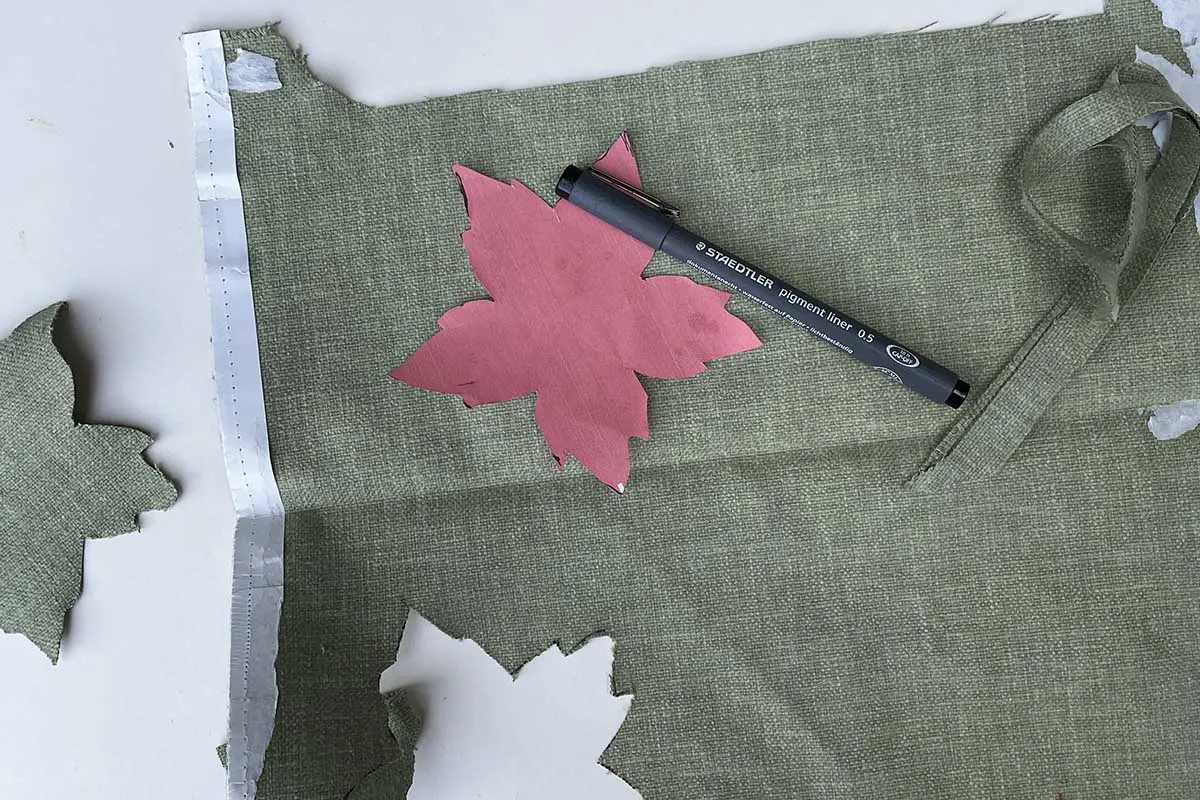 Step 7: Stick the calyx to the base of the flower and then pierce the centre with the stem.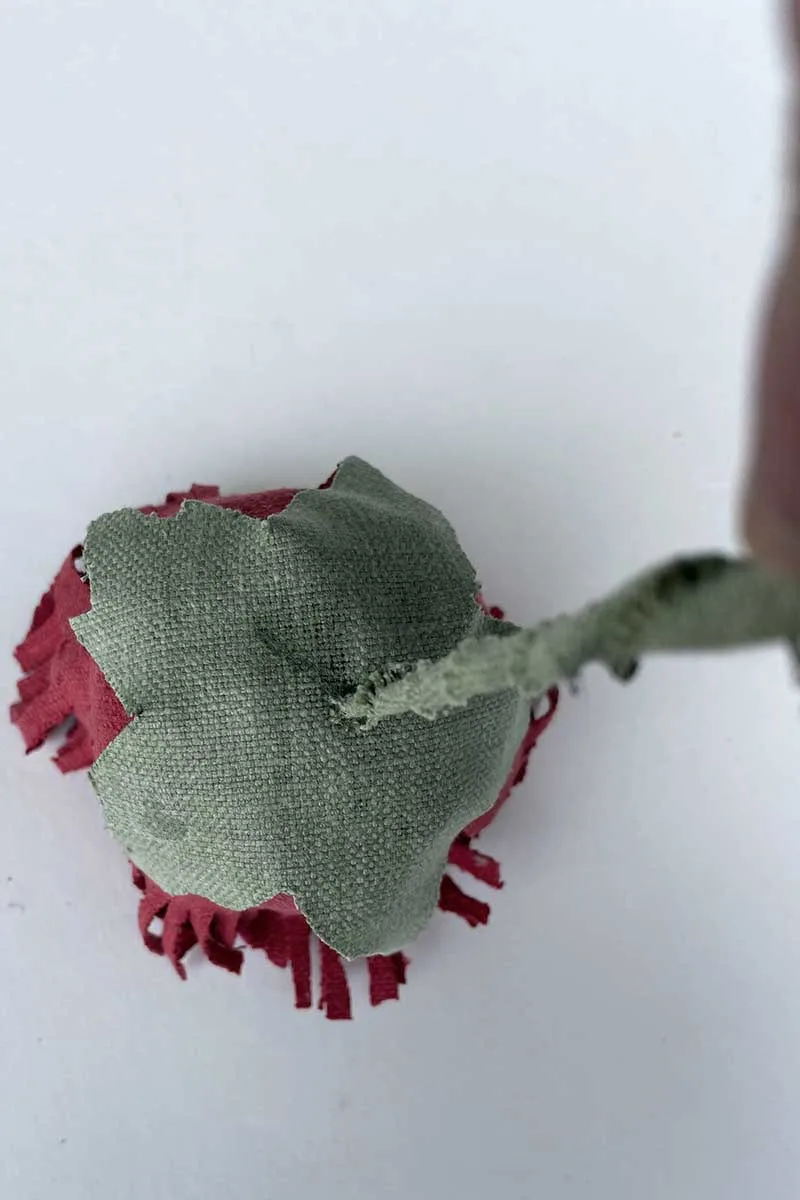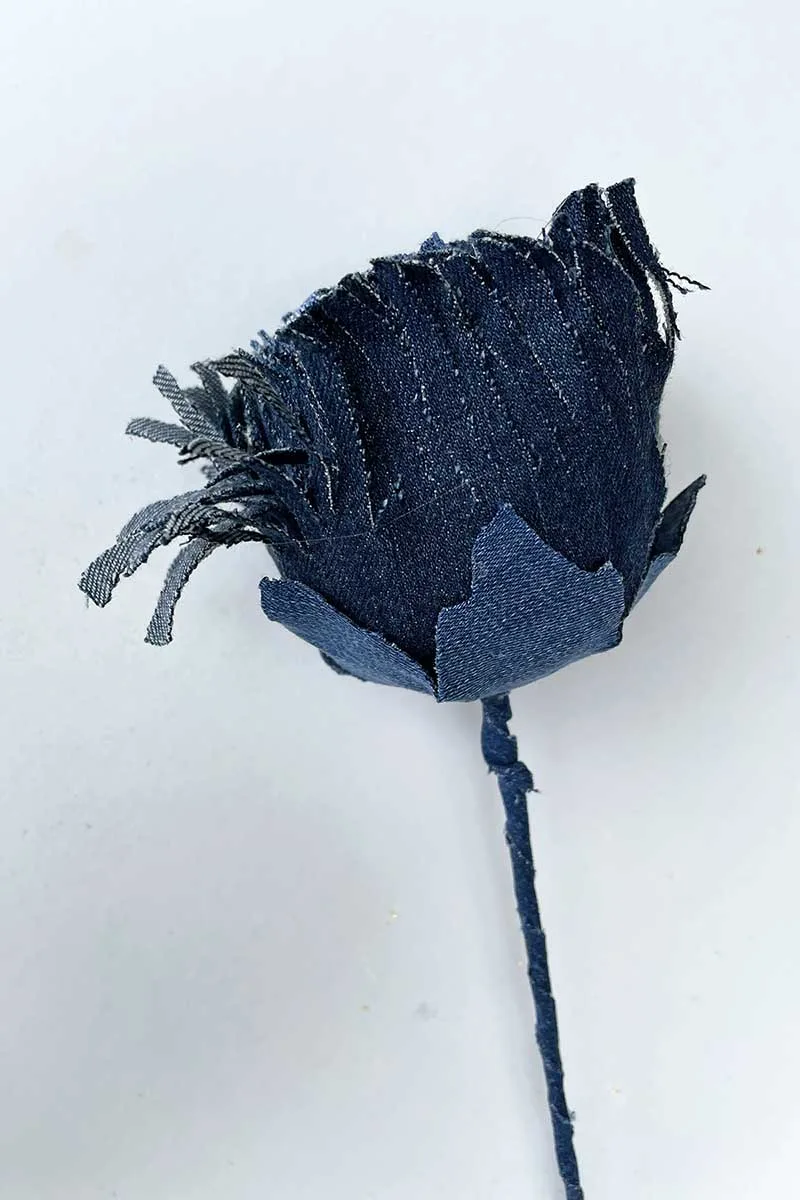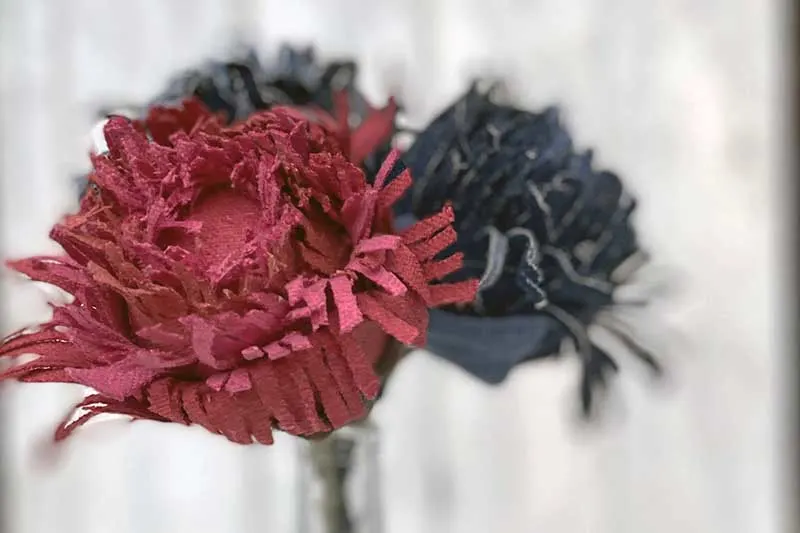 Conclusion and Other Flower Tutorials
And there you have it – a stunning Chrysanthemum flower made from fabric or denim! These DIY faux flowers can brighten any space or accessory and make thoughtful gifts.
These Chrysanthemums can easily be turned into napkin ring holders like the denim rose ones I made. Or they would look great on a denim wreath.
If you love the flower as much as I do, check out these beautiful Chrysanthemum botanical illustrations; they are all in the Public Domain and printable.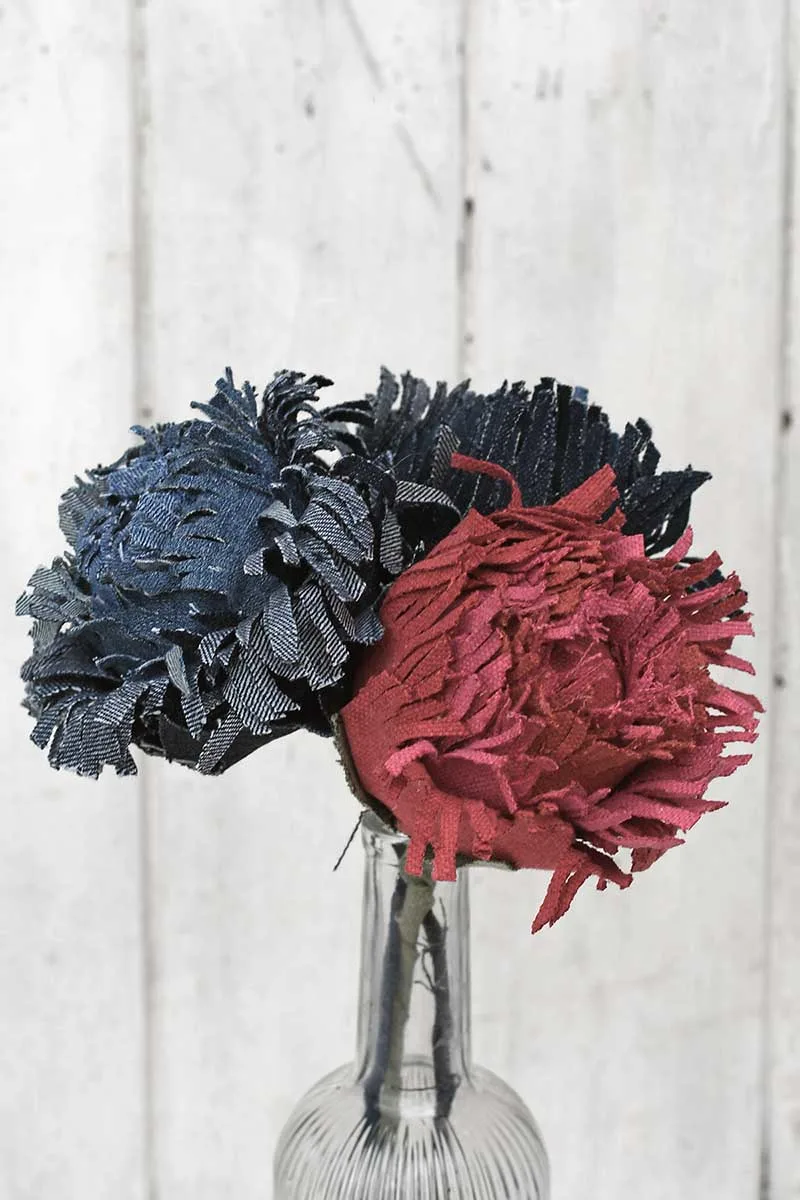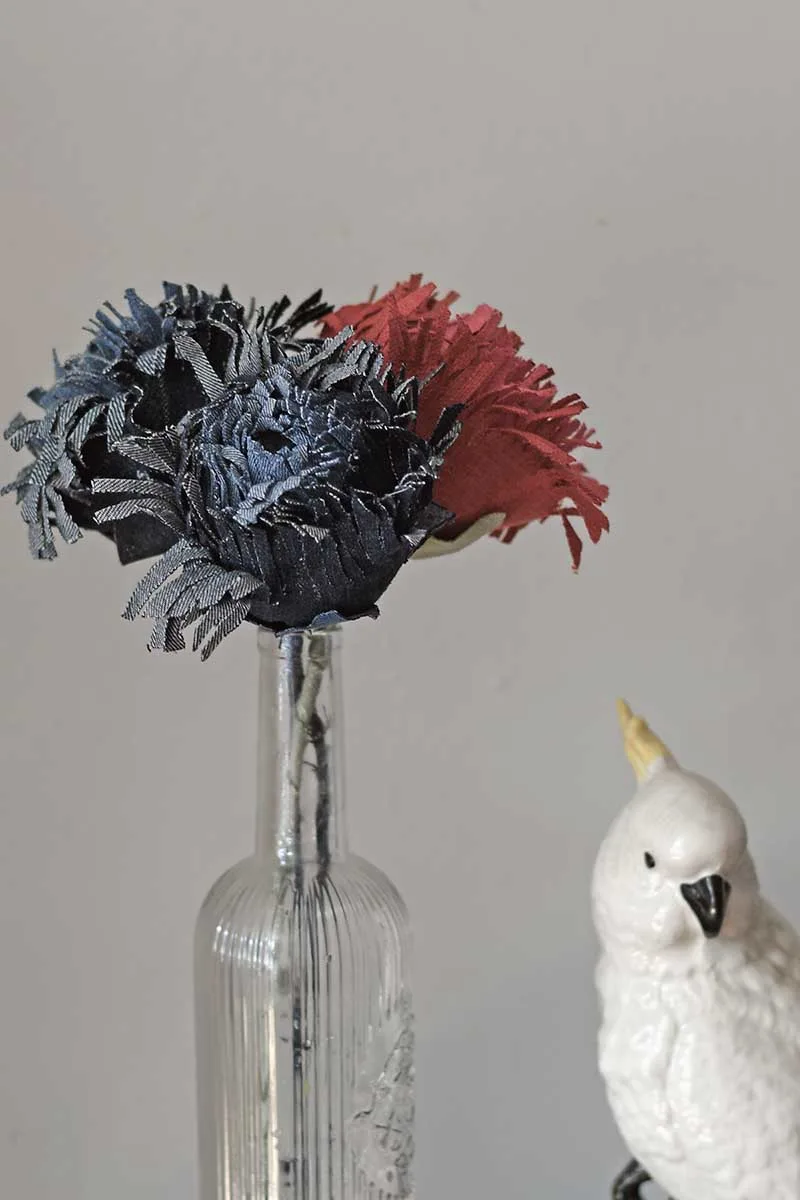 As mentioned at the beginning, using the same method, you can make these Chrysanthemums out of paper. I will make some out of old maps to display with my map paper roses.
And if you are looking for the right vase for your flowers, check out these wonderful upcycled vases.
Other DIY faux flower tutorials you may want to check out;
Check out these gorgeous free botanical flower prints, including those of Chrysanthemums.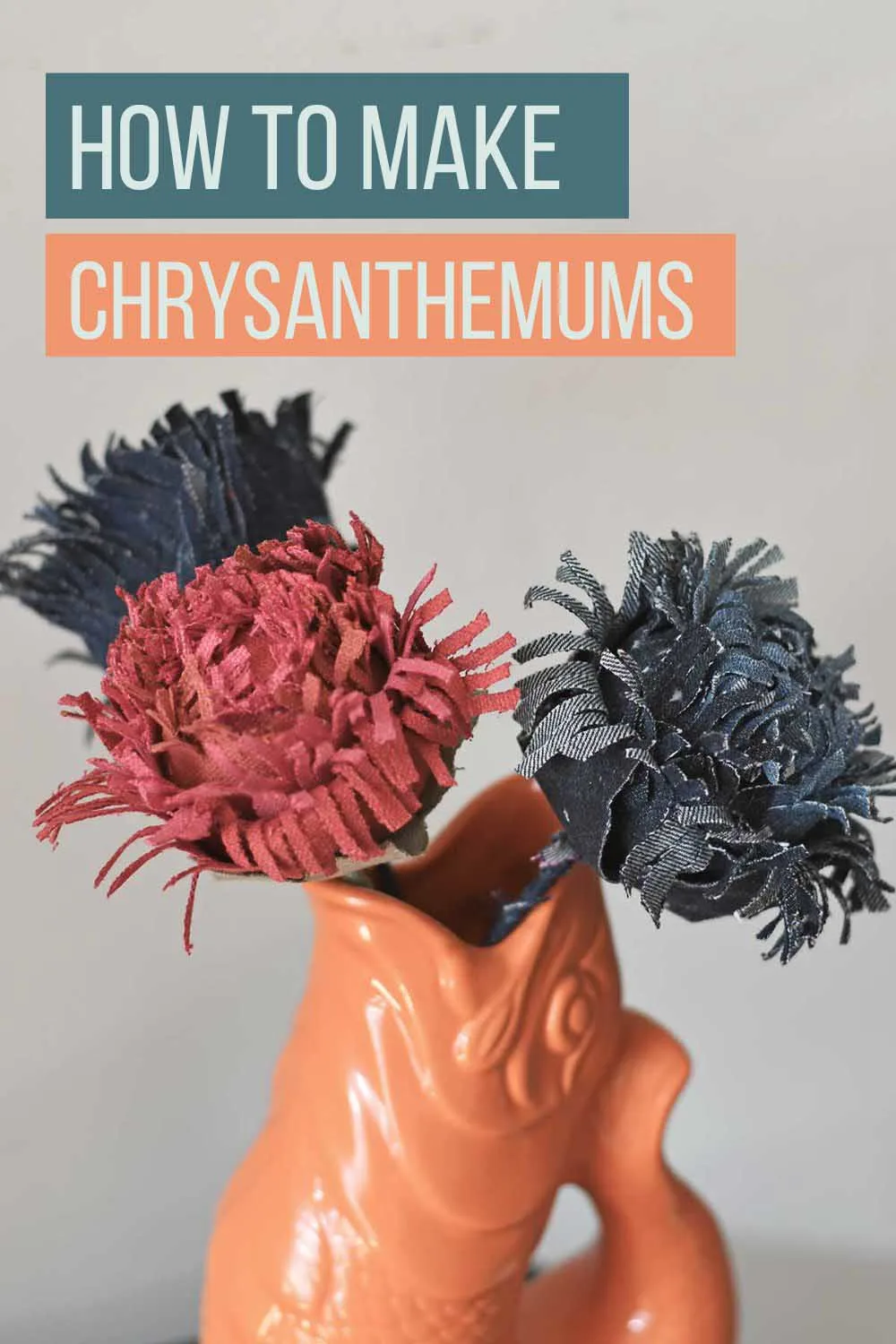 How To Make Faux Chrysanthemum Flowers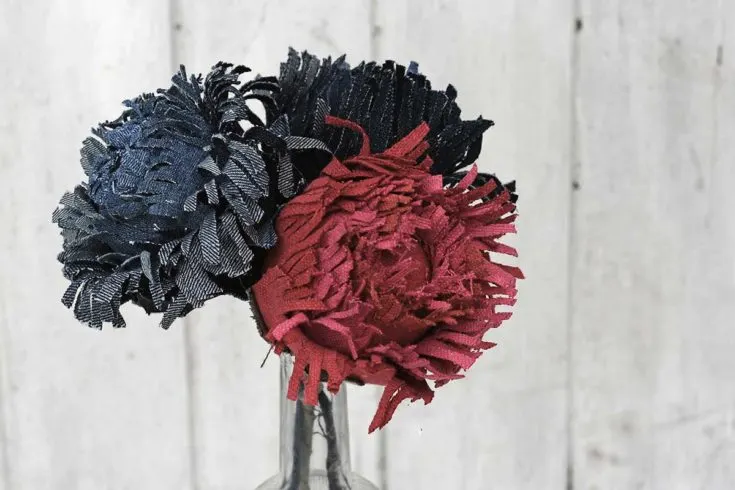 Make beautiful faux Chrysanthemum flowers out of fabric, denim or paper, all using the same easy to follow tutorial and free pattern.
Materials
Fabric such as colourful cottons or denim scraps. Or crepe paper and craft paper.
Styrofoam ball 6-7cm
Floristry wire stem 18 gauge
Tacky clear craft glue
Instructions
Print and download the pattern and cut out 20 fabric circles, 5 for each of the four sizes. Or you can draw around a glass for a template.
Fringe the top half of each fabric circle with a pair of scissors.
Stick one small fabric circle onto the foam ball. This is the centre of the chrysanthemum flower.
Then starting with the small circles, glue them around the centrepiece, overlapping.
Continue adding more layers of petals onto the ball. Make sure the petal sizes increase with each layer.
Cut out a calyx from some fabric. Cover the wire with wound fabric.
Stick the calyx into the base of the flower and then pierce it with the stem.