This is a quick and easy fun Valentine's craft to make a lovely heart-shaped handmade felt brooch from the smallest of felt scraps.
I keep the felt scraps from my upcycled sweater crafts. Even the smallest of felt scraps can be crafted into something fun, like this heart-shaped flower brooch.
This sweet heart-shaped felt flower brooch is a cute thing to wear around Valentine's day. It would also make a fun mothers day gift. The brooch is simple enough for kids to make too.
I got the idea for this sweater scrap upcycle from when I made a Frida Kahlo Christmas ornament. With that decoration, I made the flowers in Frida's hair out of small felt scraps. I've also made a felt succulent garden before from felt scraps.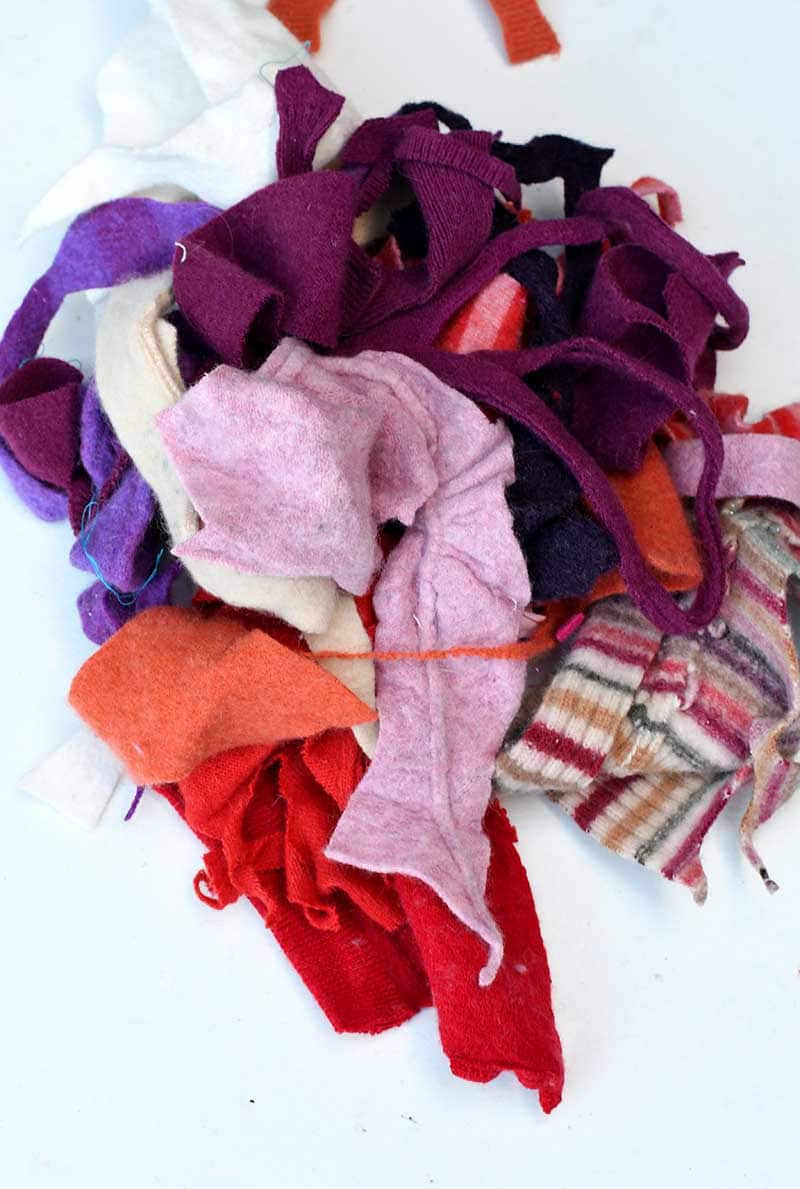 We're a participant in the Amazon Services LLC Associates Program, an affiliate advertising program designed to provide a means for us to earn fees by linking to Amazon.com and affiliated sites. As an Amazon Associate, I earn from qualifying purchases.
What You Need
Sweater felt scraps in a variety of colors. Think what colors you want the flowers to be, and use scraps in those colors. I went through my scrap bag and picked out felt in pinks, reds, and oranges. You only need the smallest of scraps for this upcycle. (If you don't have sweater felt scraps, just use craft felt.)
Wooden heart shapes, they come in various sizes. I made two felt brooches, one big and one small.
Safety pins or brooch pins.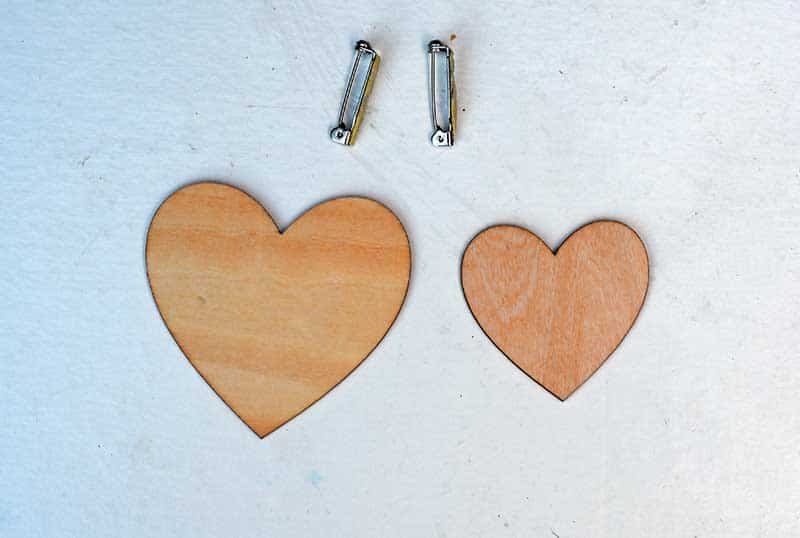 How To Make A Handmade Felt Brooch
1.. Only the smallest of felt scraps are needed to make the tiny felt flowers for this heart brooch. Start off by cutting the sweater felt into strips about 2cm wide and 6cm long.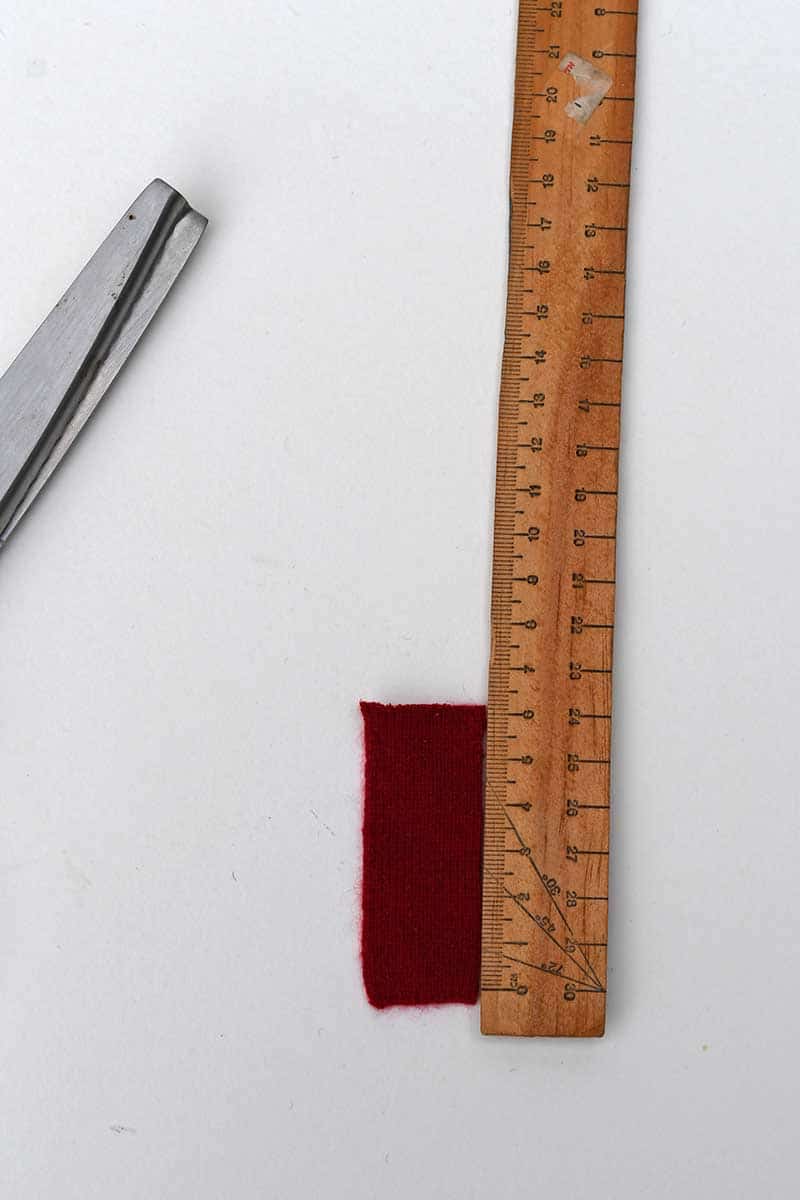 2. Next, with the pinking shears cut the felt strip in half longways. If you don't have pinking shears, just cut using regular scissors, but try to cut a wavy line.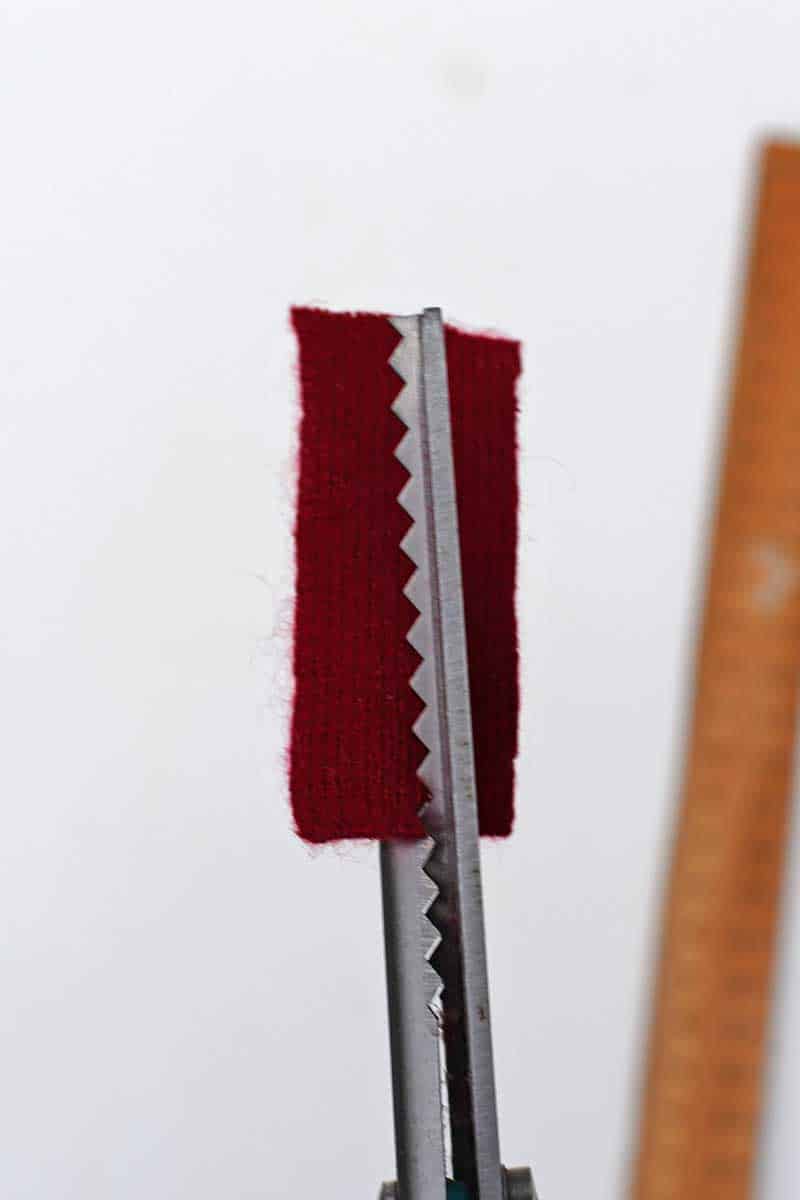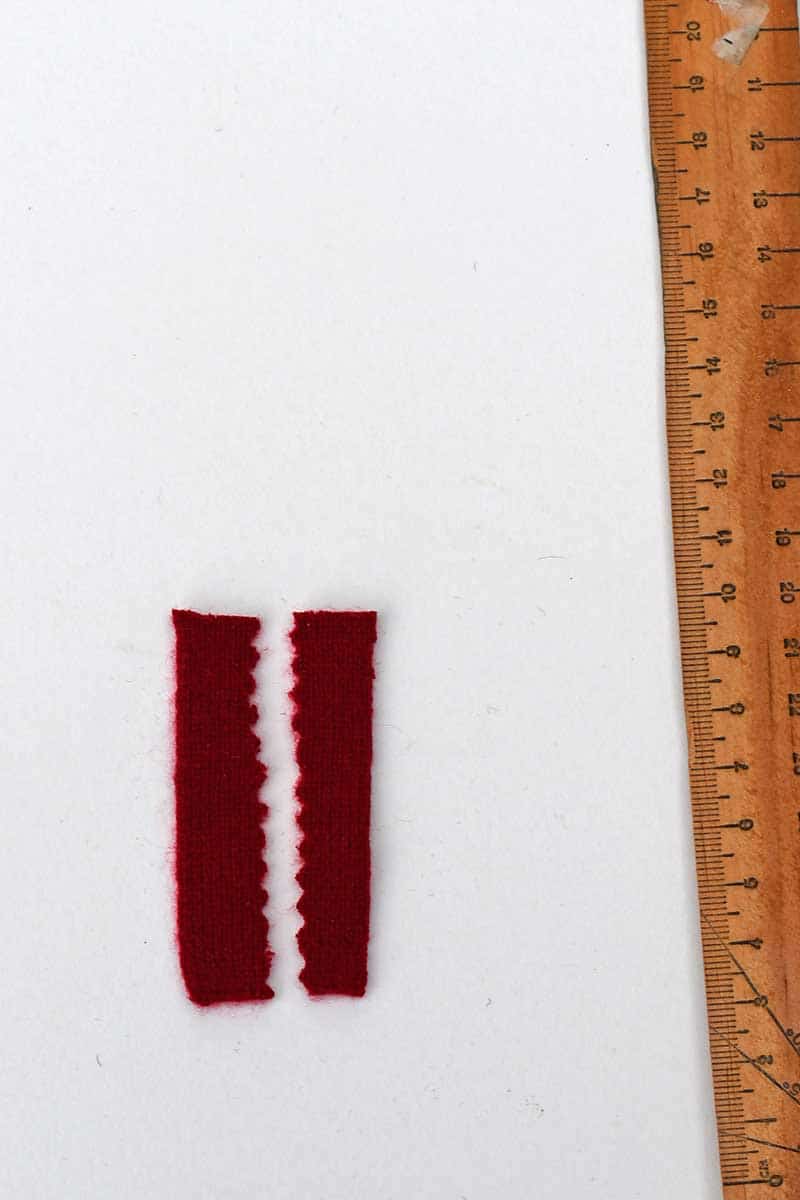 3. Carry on cutting out small strips of felt in a variety of colors. For the large brooch, I made about 20 felt flowers. For the small brooch, 10 flowers. That meant that I cut a total of 30 sweater strips.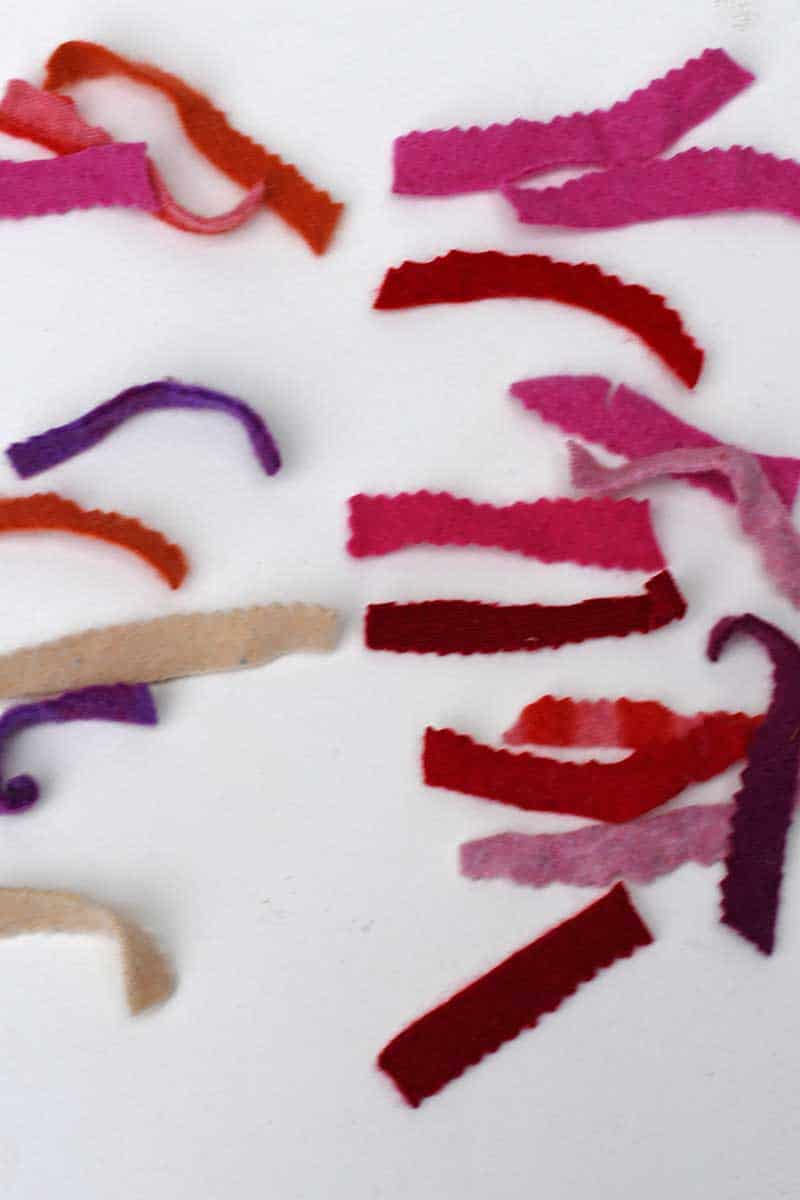 4. To make a felt flower take one of the sweater strips and paste one side with craft glue. Then roll it up tightly. Use a sewing pin to hold the sweater roll in shape as the glue dries.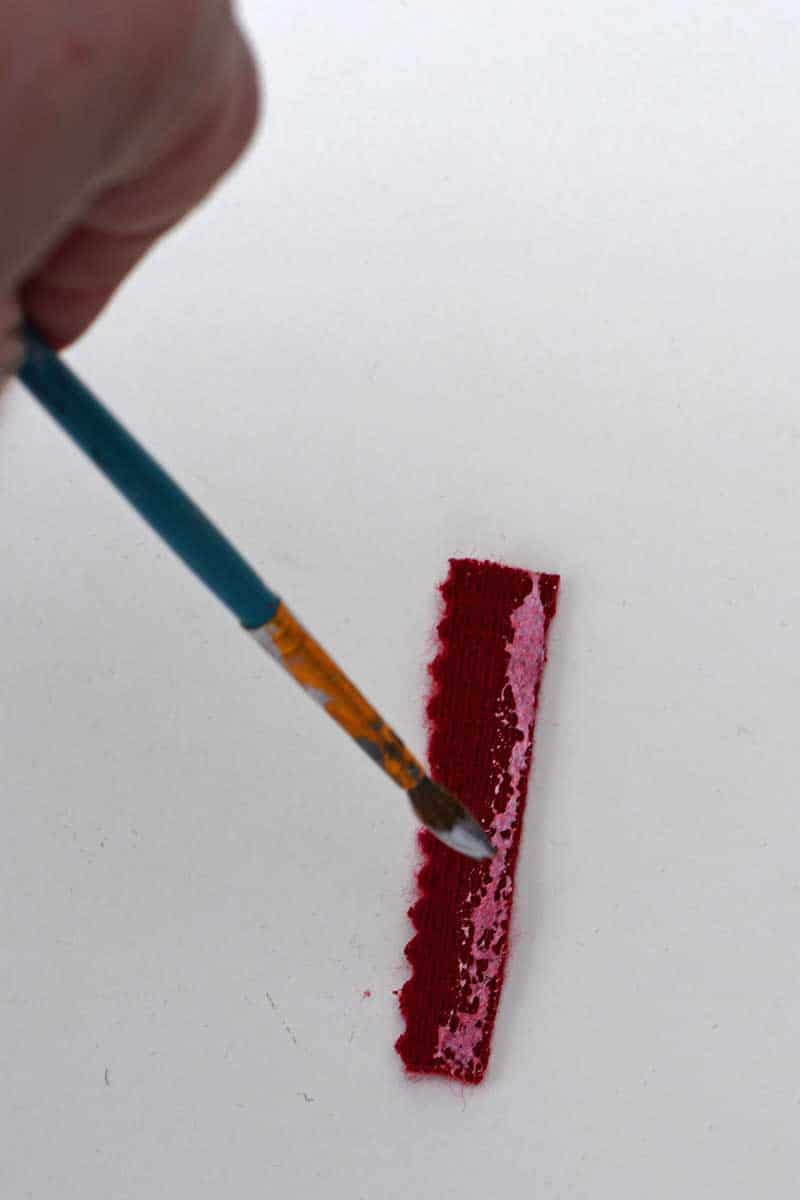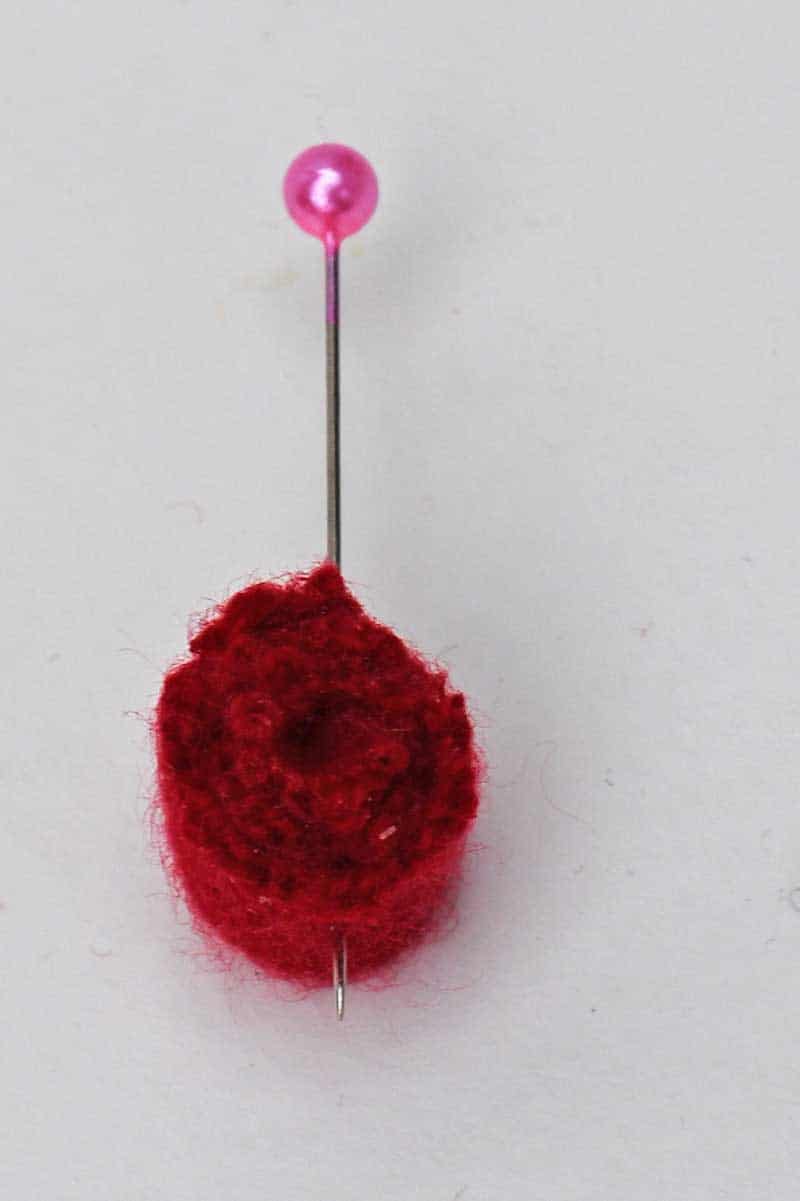 5. Carry on making felt flowers with the rest of the colored felt scraps.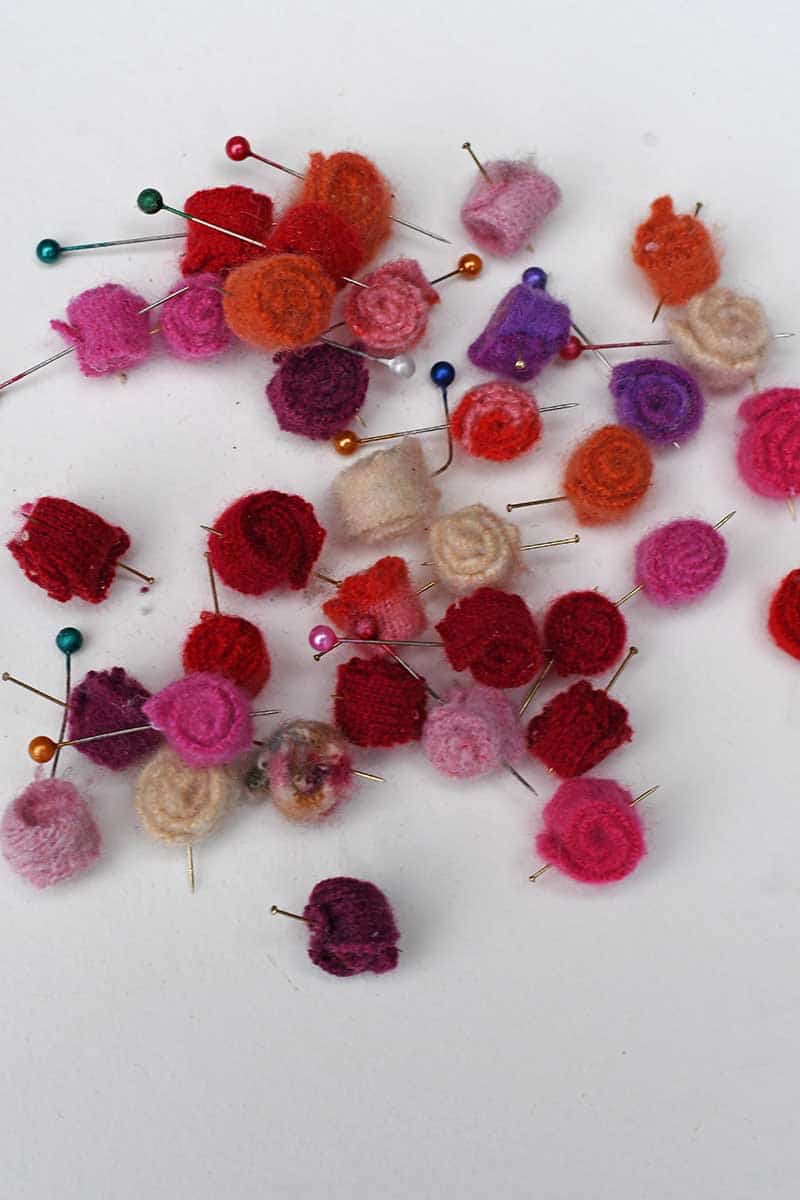 6. Once all the glue has dried with the felt flowers remove the pins. Next, assemble the handmade felt brooch by gluing the flowers to the wooden hearts, one by one.
Start by gluing one of the felt flowers to the middle of the heart using superglue. Then work your way outwards until the whole heart is covered in flowers.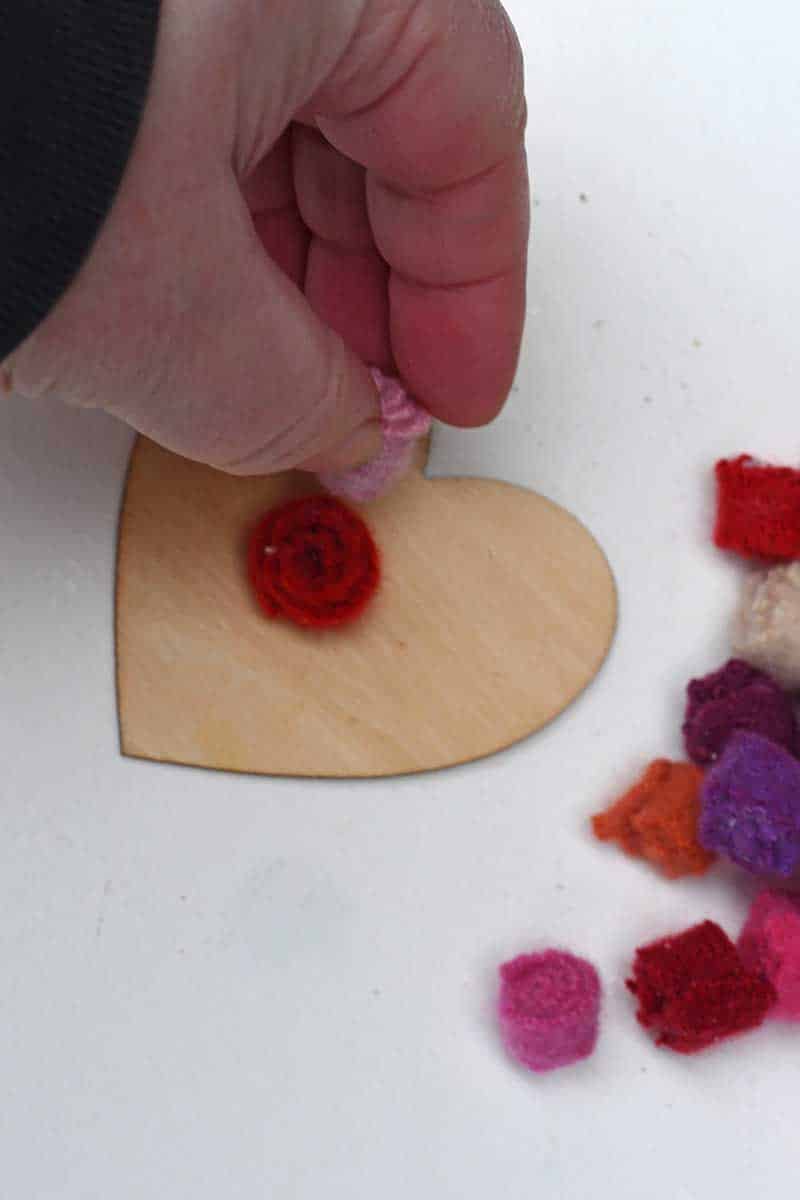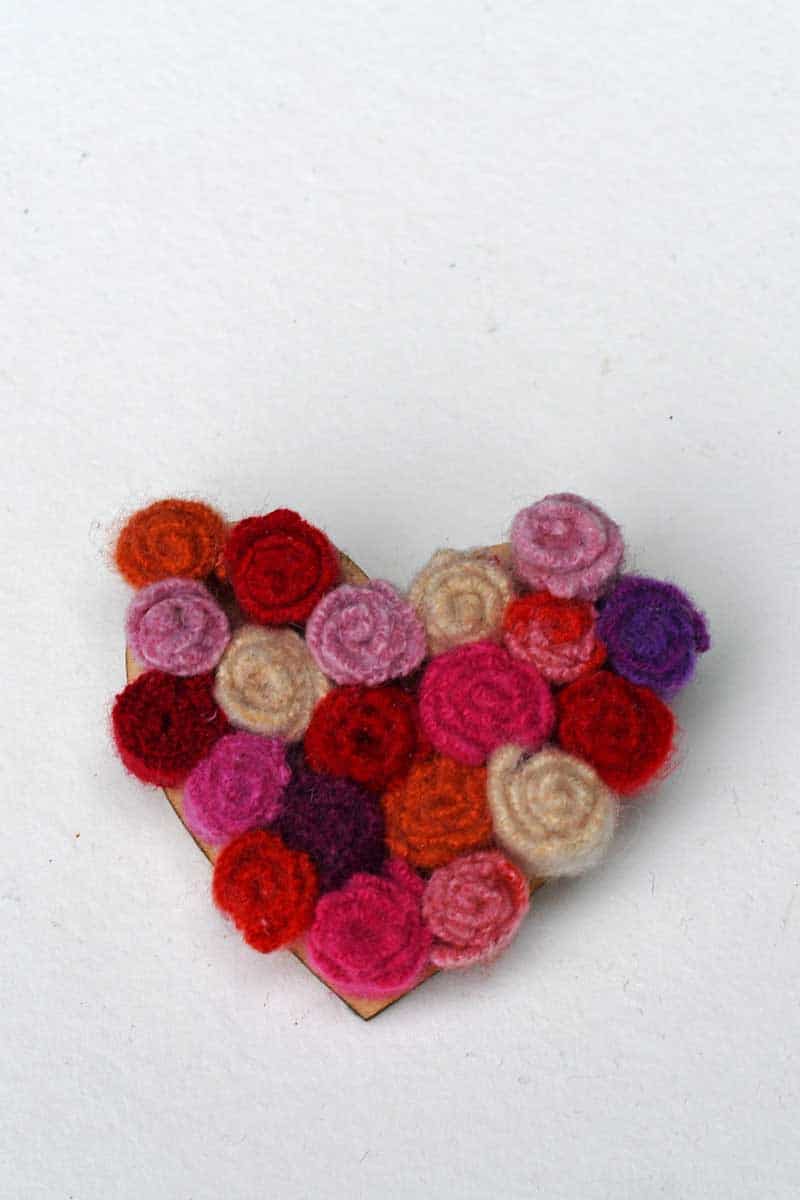 7. Finally, finish off the felt heart brooch by sticking the brooch pin to the back with superglue.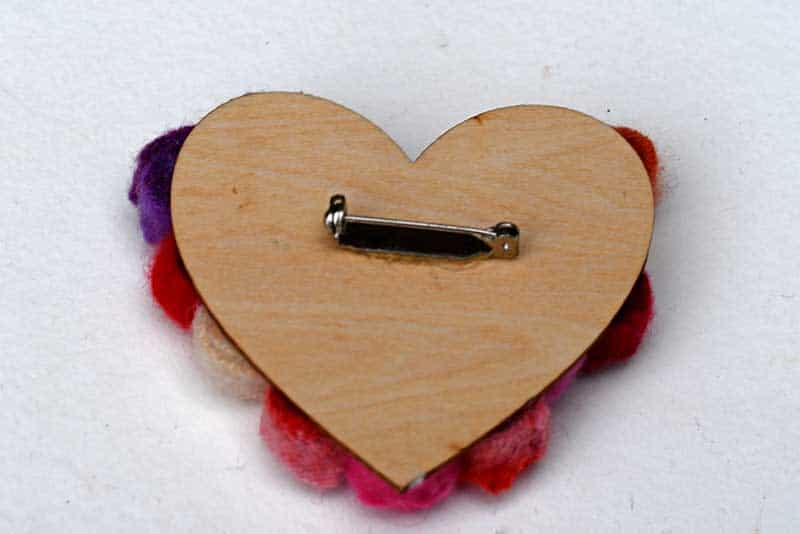 Now all that is left to do is to wear the brooch. I love to wear mine on my denim jacket, I think it adds a lovely pop of color.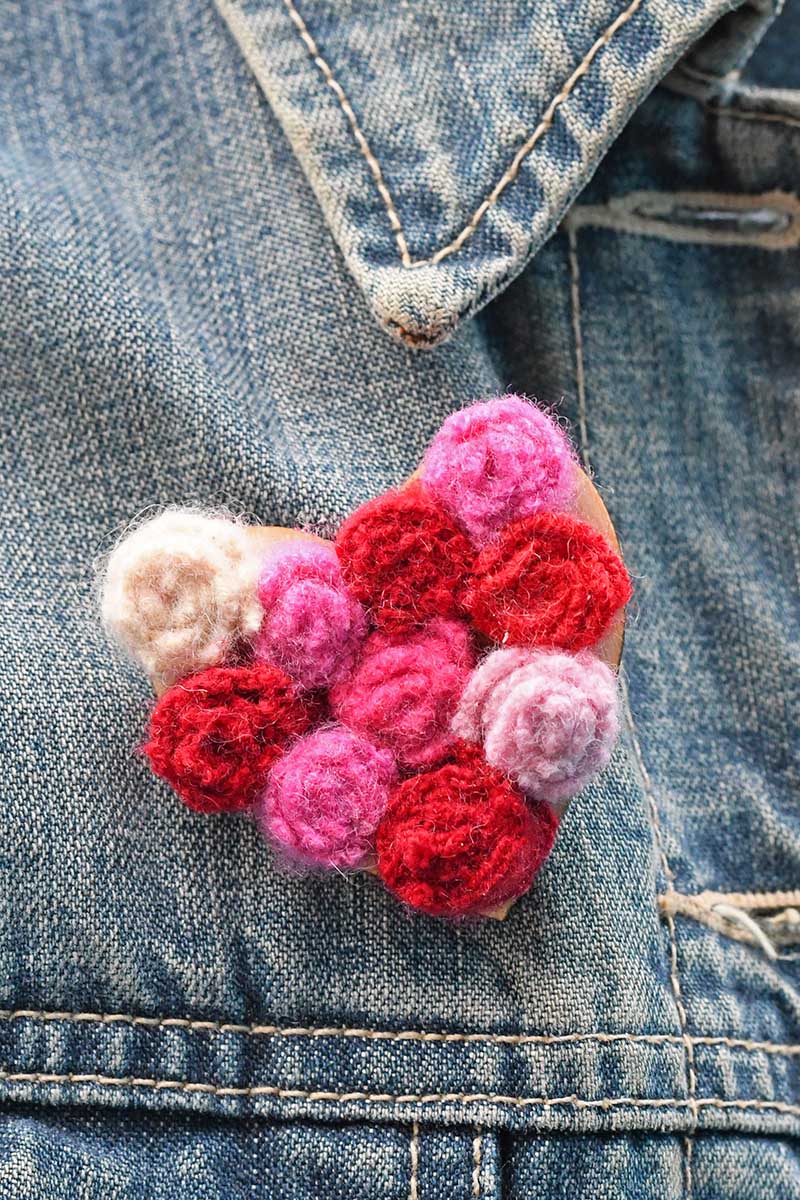 When I want something even brighter and bolder I wear the bigger flower heart brooch. Check out these DIY fabric sunflowers for another broach idea.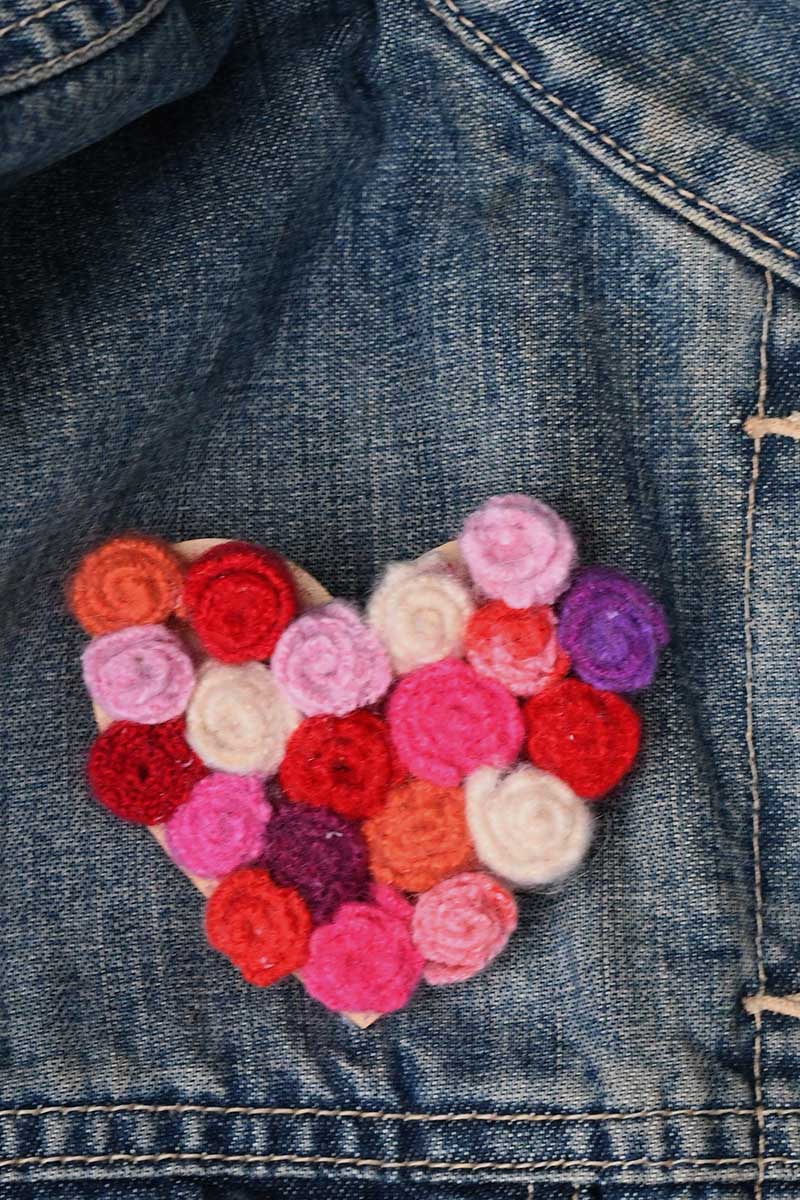 Valentine's Crafts
I think that these flower brooches would make a great gift. If you are going to make one to give as Valentine's gift, then there are some lovely free vintage Valentine's cards here that would go great with it.
If you have some larger pieces of felt in your scraps, then you might want to look at making these gorgeous embroidered heart decorations too.
There are many more Valentine's crafts on Pillarboxblue that are fabric heart themed. If you have more wooden hearts leftover, then you might want to use them to make personalized map heart ornaments and brooches.
I have many handmade Valentine's decorations ideas, from neon heart signs, heart string lights, and even hearts made from painted pinecones and rustic wood slices.
For more upcycled ideas, as well as using old sweaters, there are a lot of Valentine's crafts that can be made with denim. And for another upcycled jewelry idea check out this cool DIY denim bracelet.
For many more wonderful and cool crafting ideas for adults, check out this comprehensive list.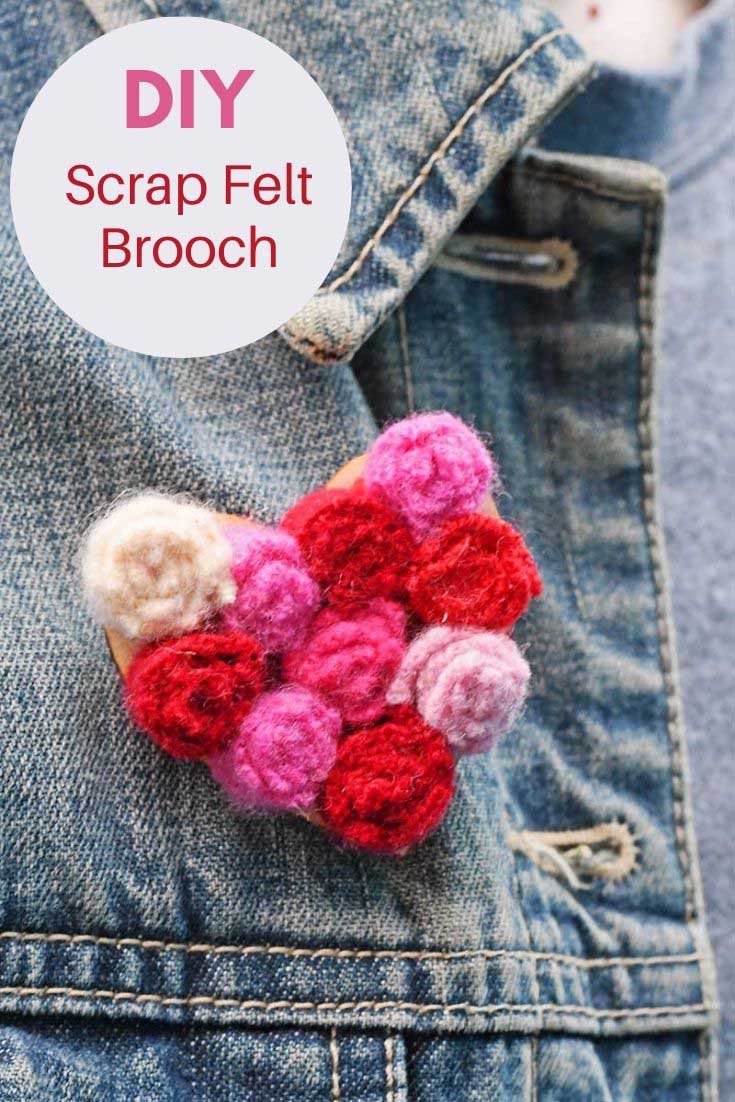 Yield: Felt flower Brooch
Heart Shaped Felt Brooch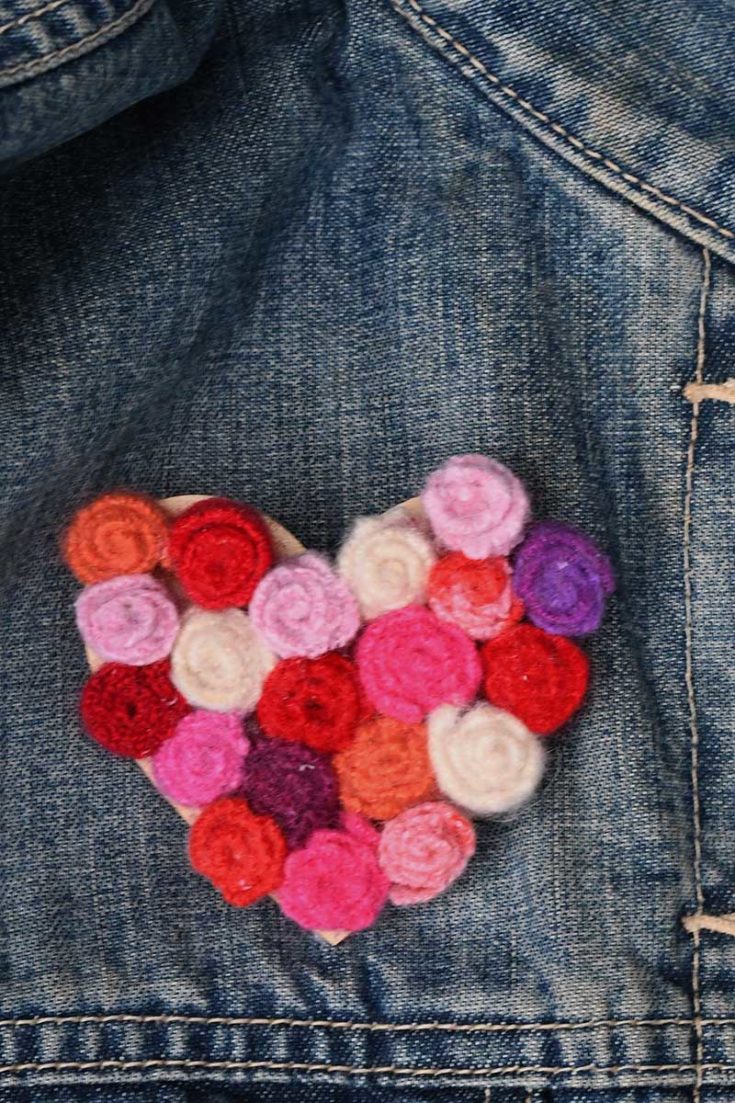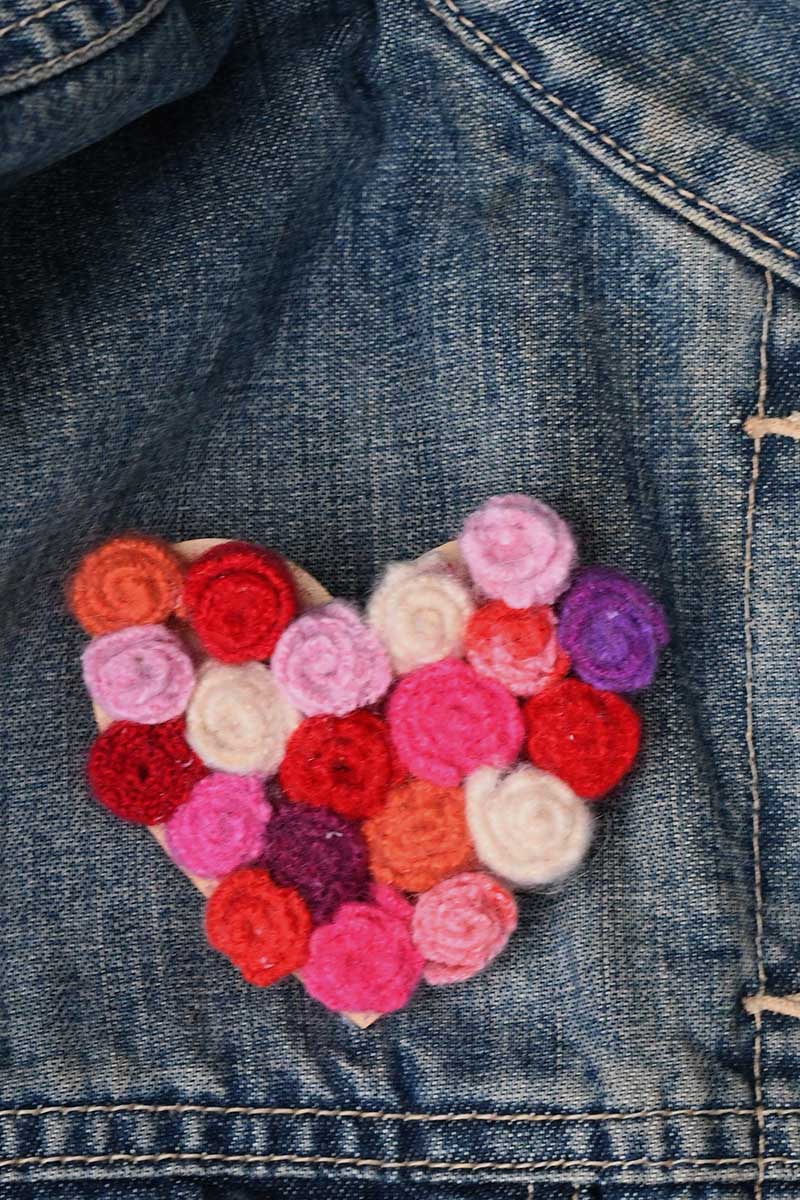 This is a really easy tutorial for making a fun heart-shaped brooch. The colorful brooch is made up of small felt flowers, made from scraps. A very easy and affordable craft for either Valentine's day or Mother's day.
Materials
Sweater felt scraps in a variety of colors. You only need pieces of felt approximately 2cm by 6cm in size. Craft felt scraps would work just as well too.
Wooden heart shapes. These can be bought in various sizes depending on how large you want your brooch.
Brooch pin or safety pin
Craft glue
Superglue
Sewing pins
Instructions
First, cut the felt scraps into pieces approximately 2cm by 6cm.
Using pinking shears cut these felt scraps in half lengthways.
Carry on cutting out the felt strips in lots of different colors. You will need about 20 strips for a large brooch and 10 strips for a small one.
Paste each strip with craft glue, along the long edge. Then roll up the felt strip and secure it in place with a sewing pin.
Once the glue has dried remove the pins from the felt flowers.
Use super glue to glue the flowers to the wooden heart. Start in the middle and work outwards. Make sure the curved pinking shear edge of the flower is face up.
Carry on gluing flowers until the whole heart is covered.
Finish off the flower heart brooch by gluing a brooch pin to the back of the wooden heart.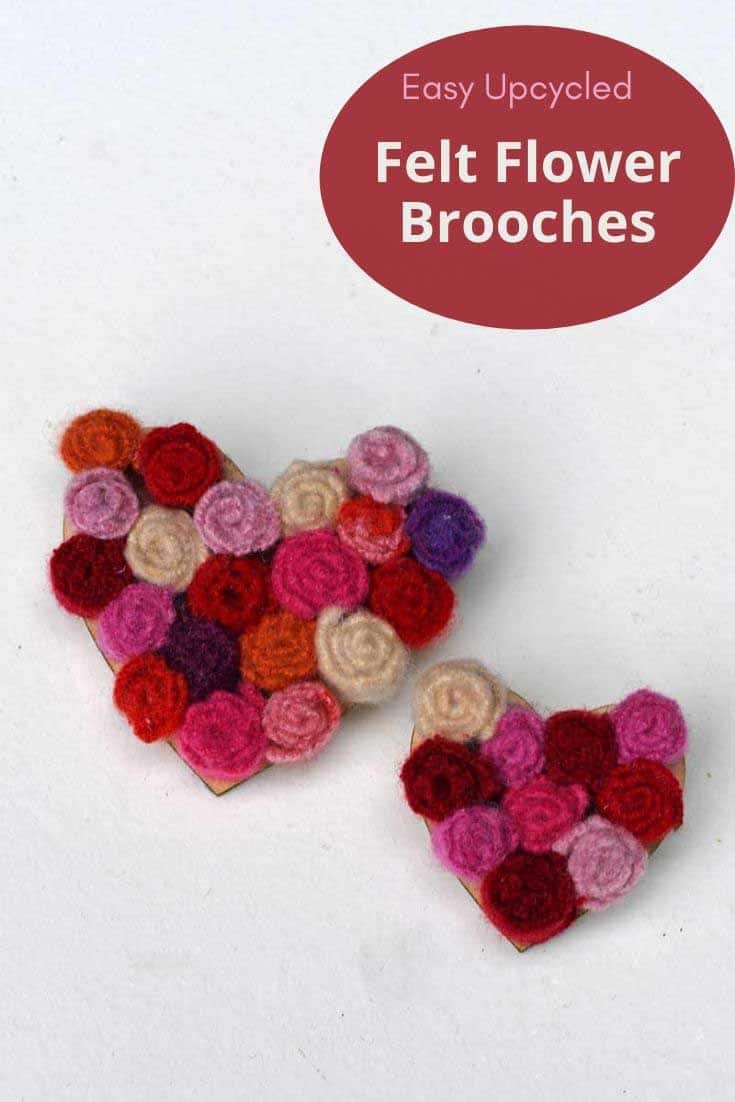 You can find more Valentine's crafts here.