After denim, my second favourite fabric to upcycle is old sweaters. I made the cutest repurposed sweater balls from my wool scraps. I used the colourful balls to make both a Christmas garland and some Christmas ornaments.
This is my kind of craft, in that it cost almost nothing to make as you are repurposing what you already have. It doesn't make much mess or require a lot of concentration. Which means I can do it whilst chilling with Netflix.
Most of these repurposed sweater balls where made whilst binge-watching the "Queens Gambit" on Netflix. I loved the series but what blew me away was all the stunning wallpaper featured.
I loved all that sixties styling and some of the interiors were just fabulous to look at. Not just in the home but also in the various hotels. Whilst everyone else was getting fixated on the chess I was swooning over the wallpaper and interiors.
If you love colour and pattern and mid-century interiors then I recommend watching this series. Also, if you're a chess fan you'll love it too, but for totally different reasons.
We're a participant in the Amazon Services LLC Associates Program, an affiliate advertising program designed to provide a means for us to earn fees by linking to Amazon.com and affiliated sites. As an Amazon Associate, I earn from qualifying purchases.
What You Need To Make Sweater Balls
The Sweater Scraps
I used old wool sweater scraps I had leftover from other repurposed Christmas sweater projects.
Scraps in a variety of colours and patterns will make a more festive Christmas garland. As long as you can cut the scrap into a circle of 6 cm in diameter then it is big enough to make the wool balls.
(Don't throw away the smaller wool scraps, you can still use them to make a different kind of funky felt garland.)
If using old sweaters for the first time and not scraps, felt them in the washing machine. That is put the sweaters on a hot wash with some washing powder in the machine (like with my mountain pillows).
The agitation and hot water will make the fibers tighter in the wool sweater and they will shrink. Tumble drying the sweaters will also help with the shrinking process. This felting of the wool sweaters will make sure that the fabric can be cut and won't fray, which makes it great for crafting with.
However, only sweaters with a high percentage of pure wool, 70% plus will actually shrink and felt. But don't worry, that doesn't mean you can't use them for this craft. Also, some wools like cashmere are notoriously hard to felt but still can be used to make sweater balls.
Many sweaters are made on knitting machines and don't unravel or fray when cut. Test your sweater and if you can cut it without it fraying or unraveling then you can use it for this craft.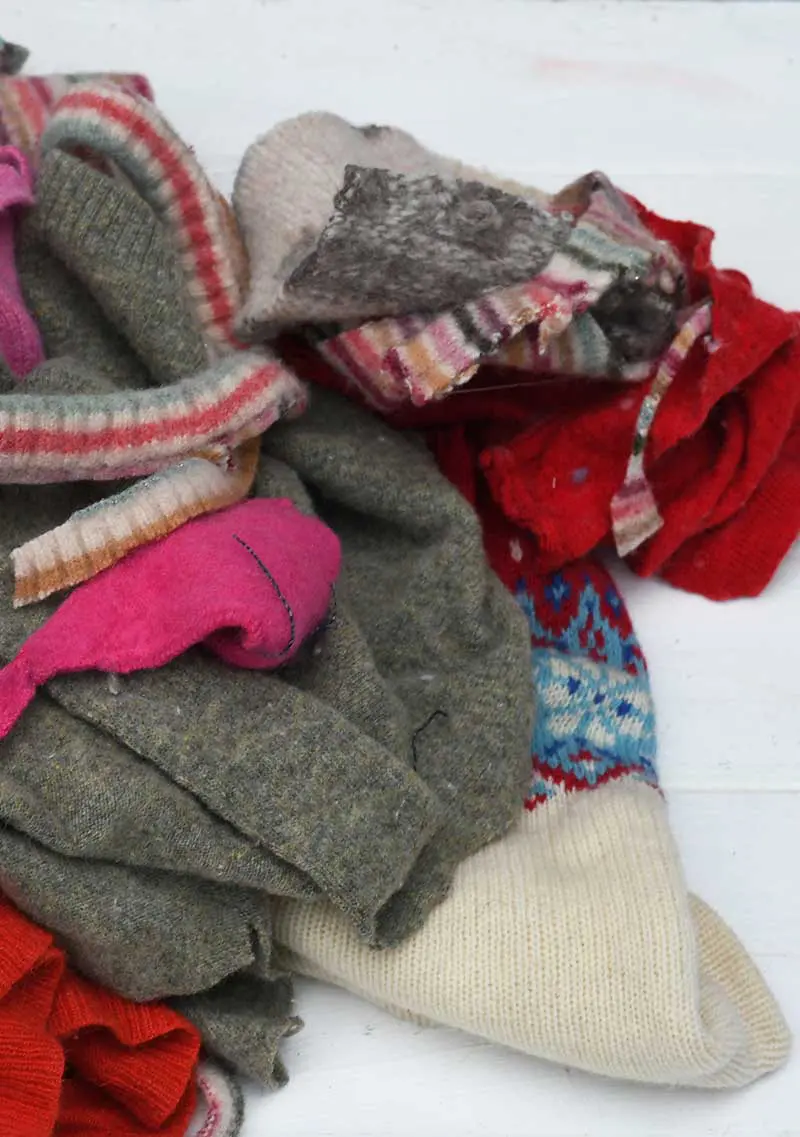 How to Make Wool Sweater Balls
1.. The first thing is to make the circular templates. I made them in various sizes from 6cm – 9cm in diameter using a paper compass cutter. If you don't have one of these tools you can just draw around cups and glasses.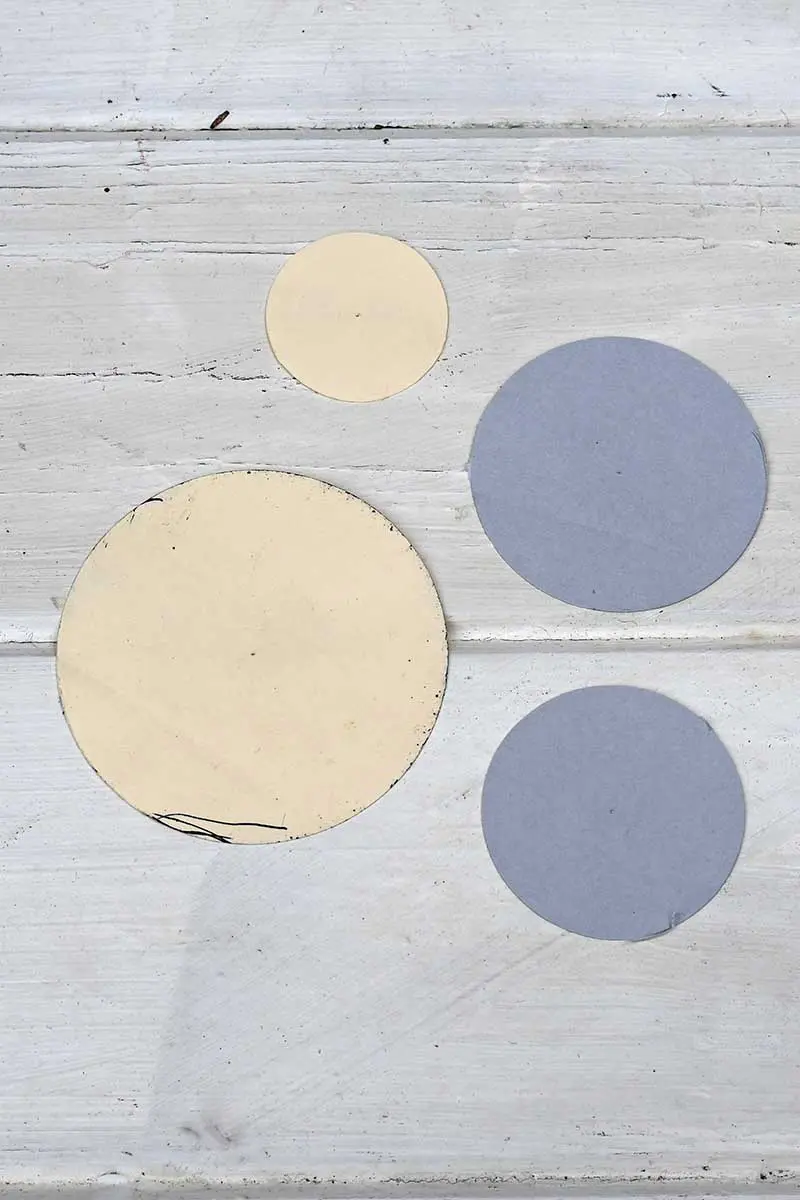 2. Place the circle template onto a scrap of sweater wool, draw around it and then cut out the shape.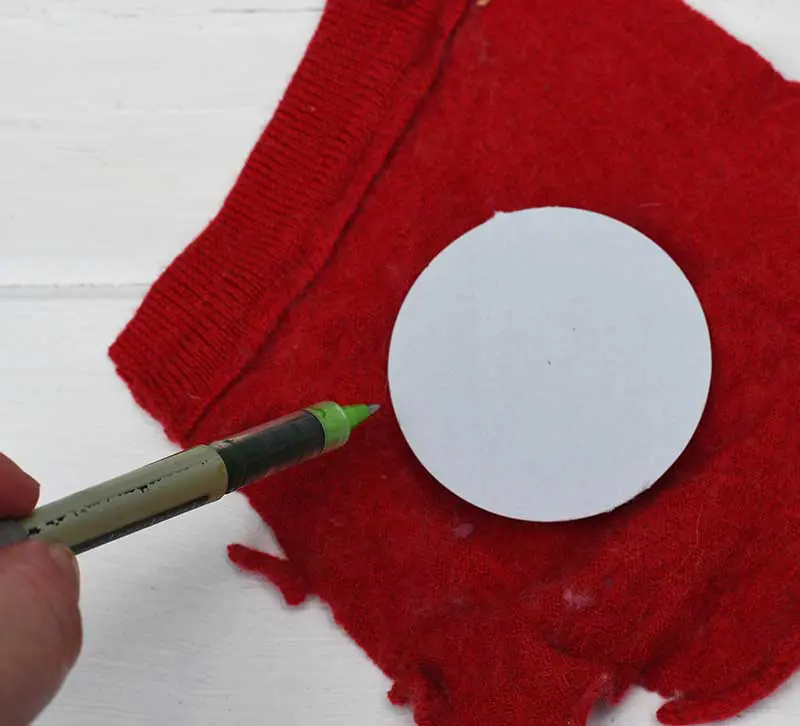 3. Carry on drawing around the templates and cutting out wool circles until you have a collection in various colours and sizes.
For each Christmas ornament, you will need 3 sweater balls in three different sizes and colours. The number of wool balls needed for the Christmas garland depends on how long you want it. I recommend making 20-30 balls for each garland.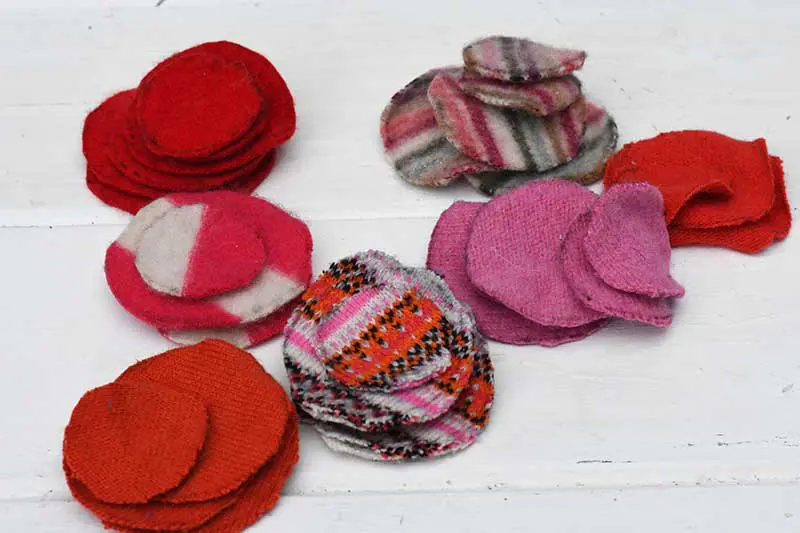 4. These sweater balls are basically stuffed fabric yoyo's. As wool is a stretchy fabric, the sweaters will form a better ball shape than cotton fabric. Which is traditionally used for yoyos.
Take one wool circle and threaded needle. Tie a knot at the end of the thread so that it will not pass through the wool. Then stitch a running stitch around the edge of the circle (about 3mm from the edge). Pulling and gathering the fabric as you go.
When you are back to the stitch start point, pull the thread so that the circle closes up to form a bowl shape. Before pulling the thread to close the hole totally, use your thumb to stuff it with some fiberfill.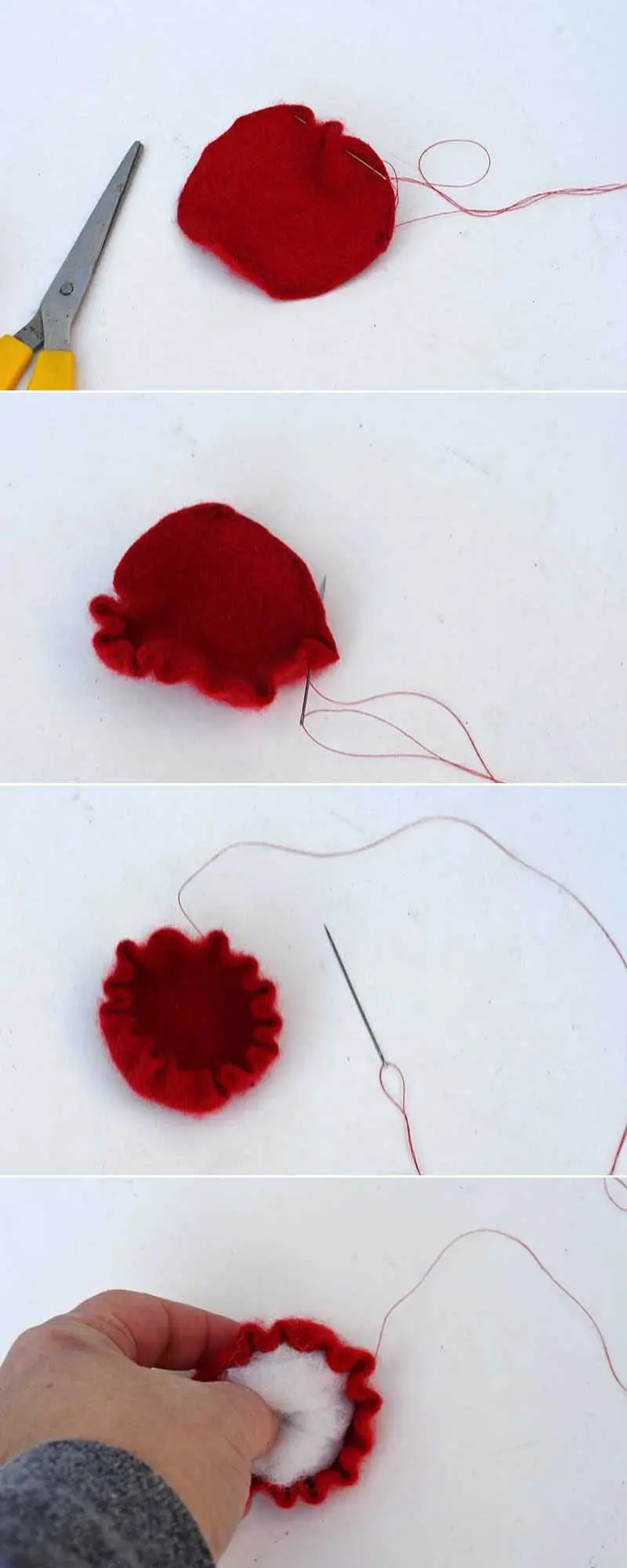 5. Next, pull the thread even tighter so that the hole closes. Then stitch around the edge of the circle again to close the hole tight, pull the thread after every stitch. Carry on until the hole is completely closed.
Cut the thread and then roll the sweater ball between your palms to help shape it even more into a round ball.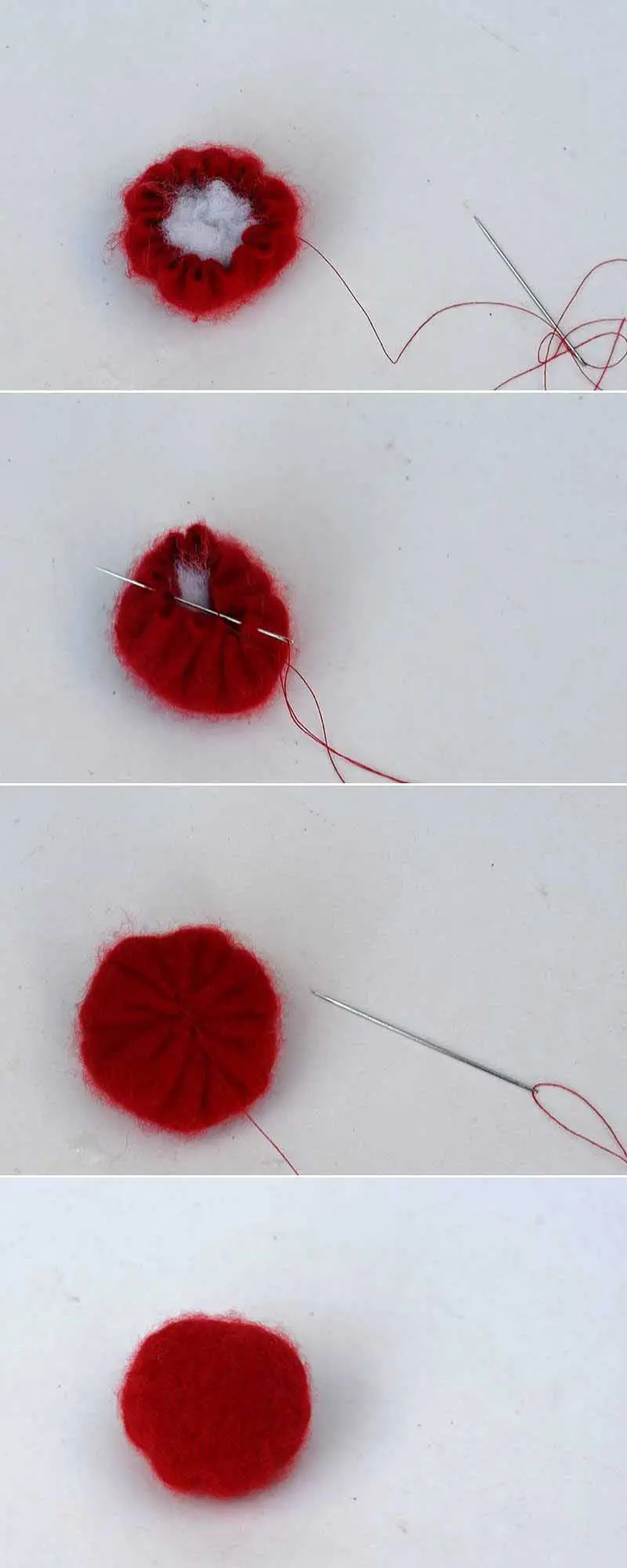 Once the wool circles had been cut, I found these sweater balls surprisingly quick to make.
It took me about 2 minutes to make each ball. Before I knew it after a couple of episodes of "The Queens Gambit", I had a whole bowl of repurposed sweater balls.
If like me you like to do something with your hands while watching TV this is a perfect craft for that, as it doesn't require much concentration.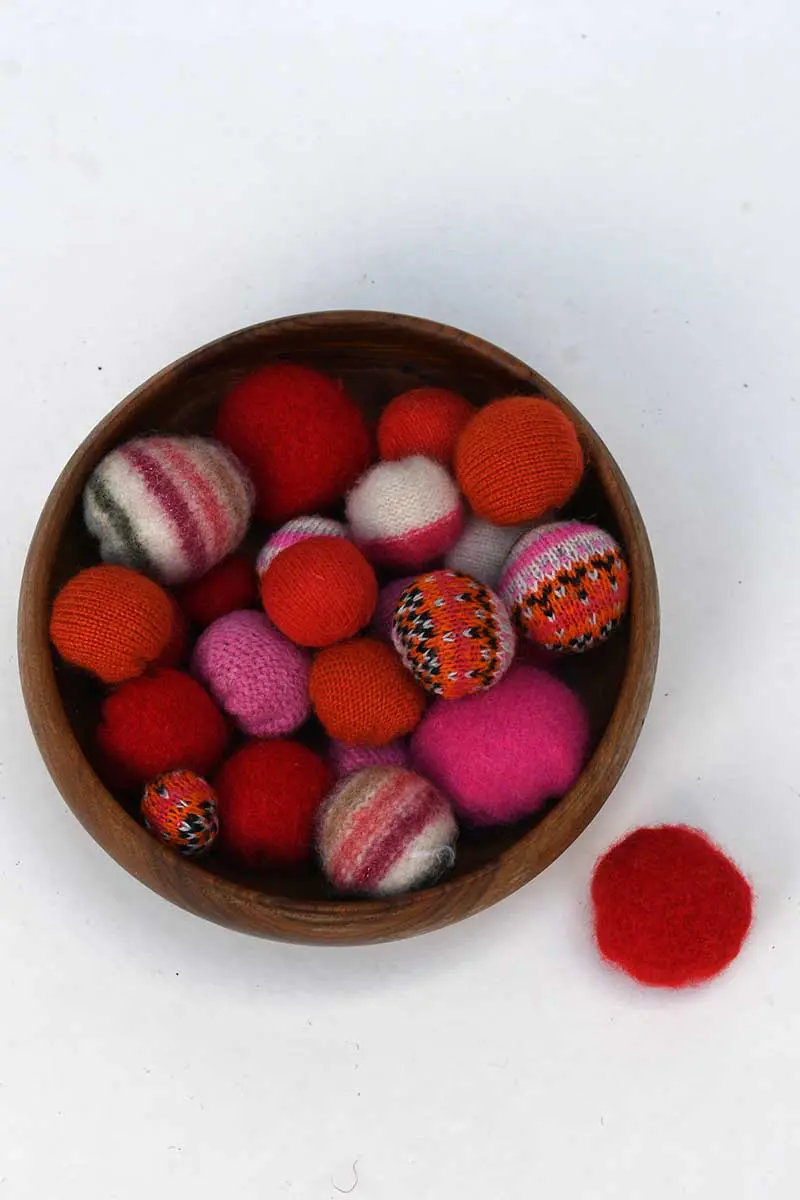 The sweater balls look fabulous as they are in a bowl, and perhaps you could leave them like that as a decoration. Especially, if you soaked the fiberfill in essential oils before stuffing the balls. Then, they would make a lovely scented decoration for the table.
I decided to turn my repurposed sweater balls into some Christmas ornaments and a Christmas garland
How To Make The Sweater Christmas Ornament
For each ornament, you will need three balls of different sizes and a craft bell.
Thread some thin twine onto an upholstery needle. Tie one end to a small craft bell. Then, thread the twine through the smallest ball. Then, the middle ball, finish with the largest ball. Next, tie the twine into a hanging loop.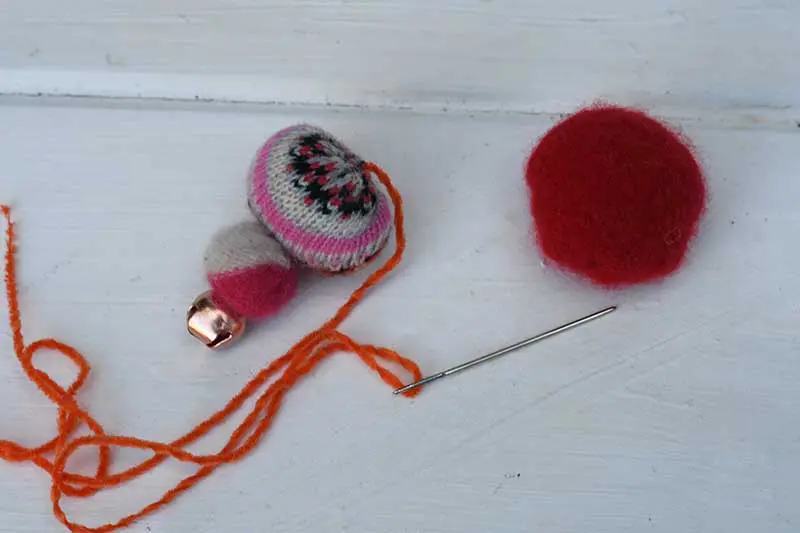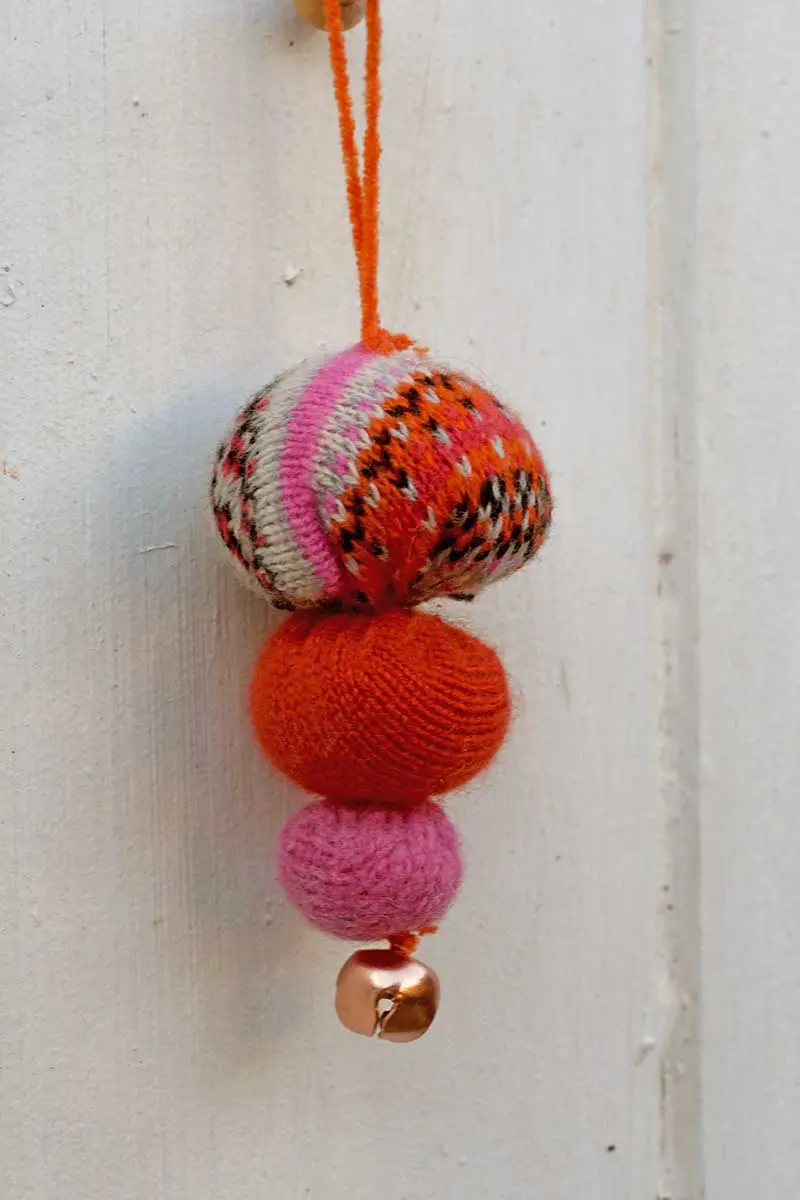 These sweater ball Christmas ornaments were so simple and fun to make. I loved playing around with the different combinations of ball colours.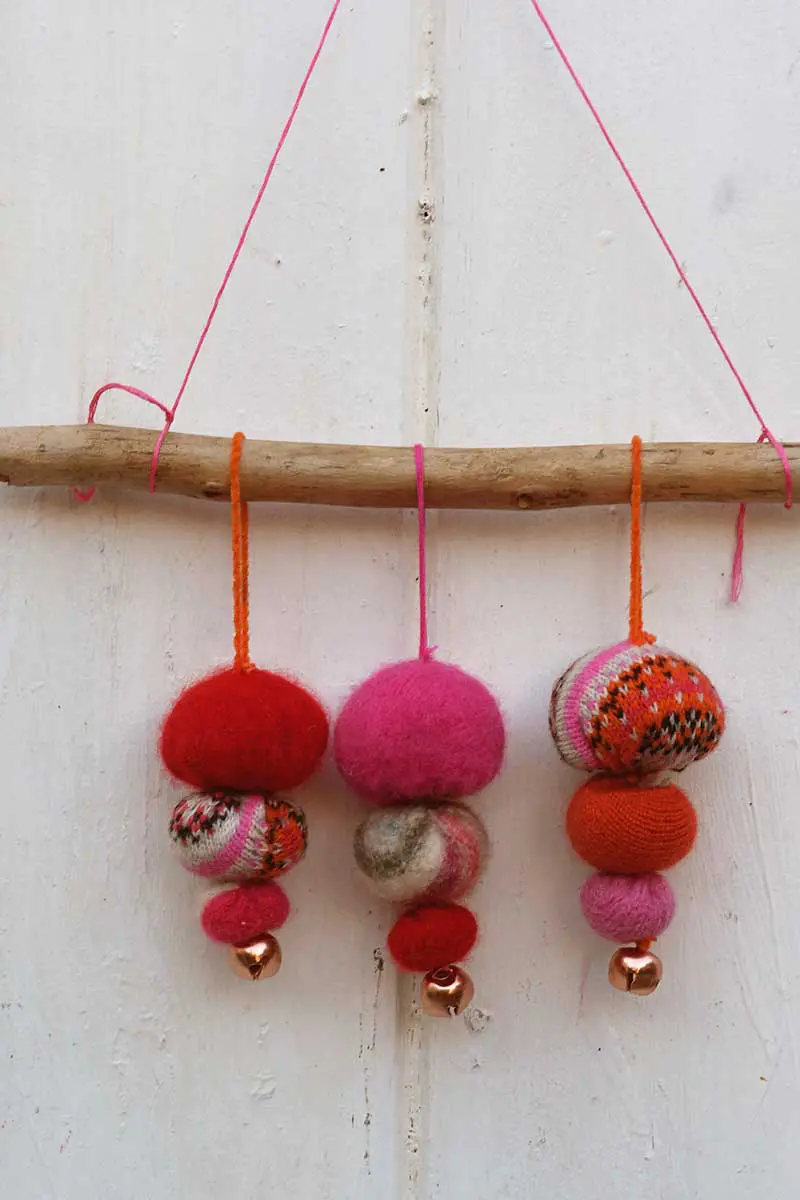 How To Make A Christmas Garland
This is made in a similar way to the ornament above. Thread an upholstery needle with twine.
Tie a craft bell to one end of the twine. Next, thread the twine through the top of a repurposed sweater ball, at the gathered end of the ball.
Then, thread the next ball onto the twine leaving a gap of about 4 to 5cm between each ball. My garland was about 20 balls long, finish off with another craft bell.
If you find that the balls are slipping around on the twine then, tie a knot in the twine before and after threading the balls. This will stop them from sliding along the twine and all bunching together at one end.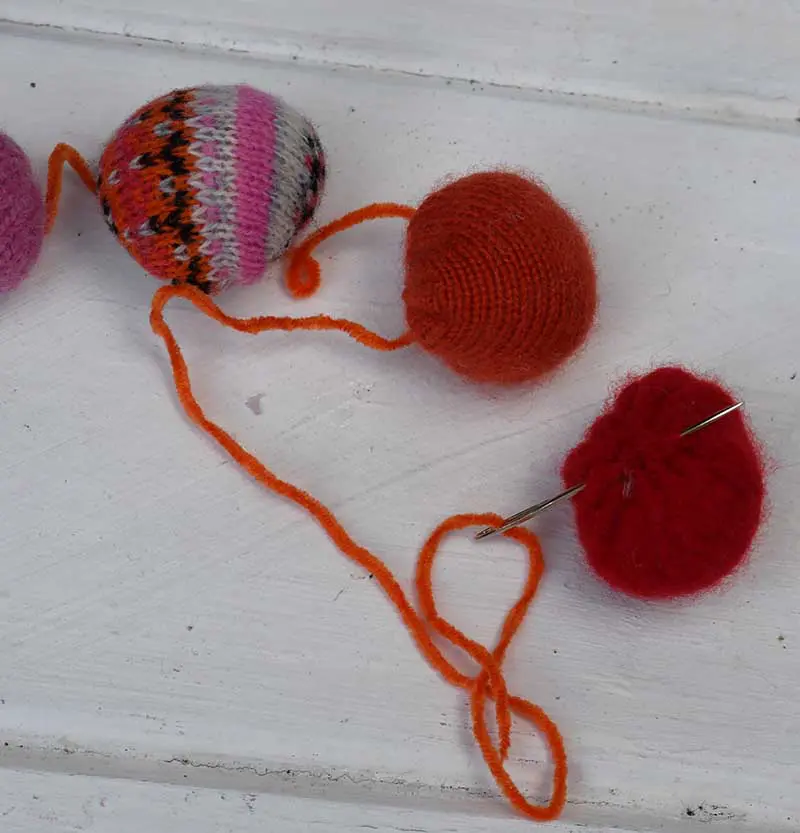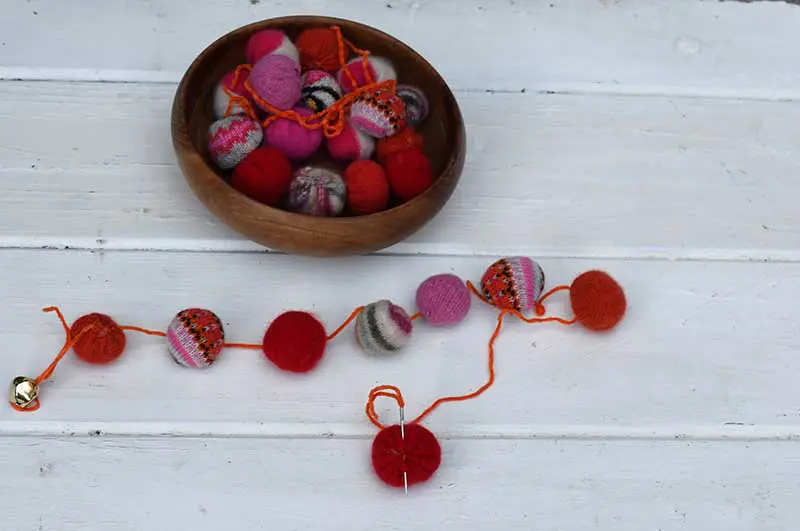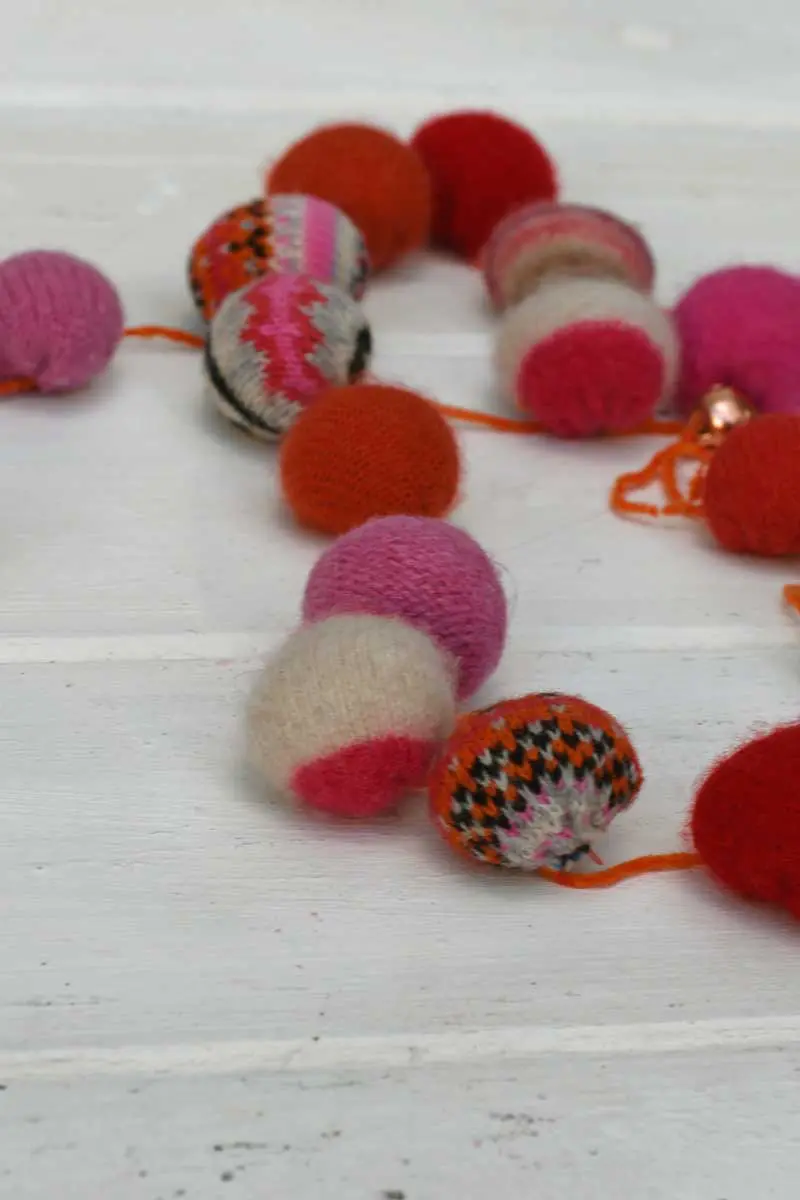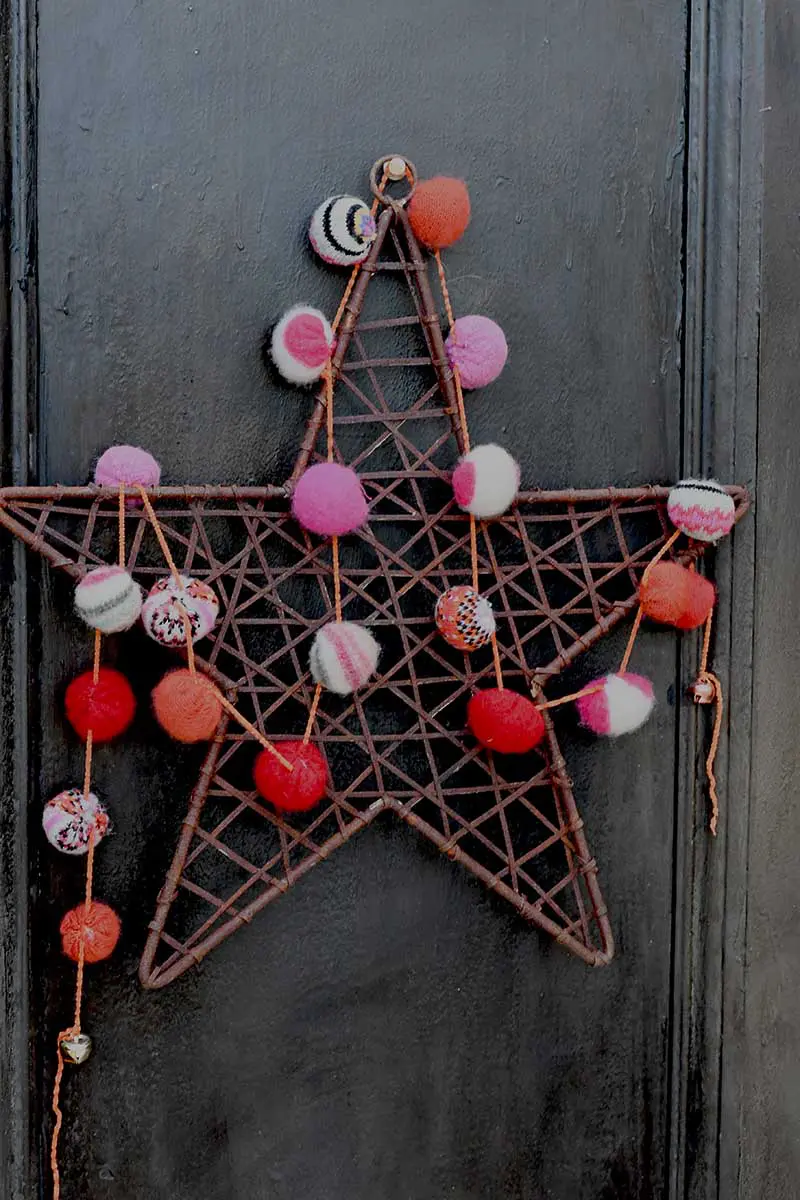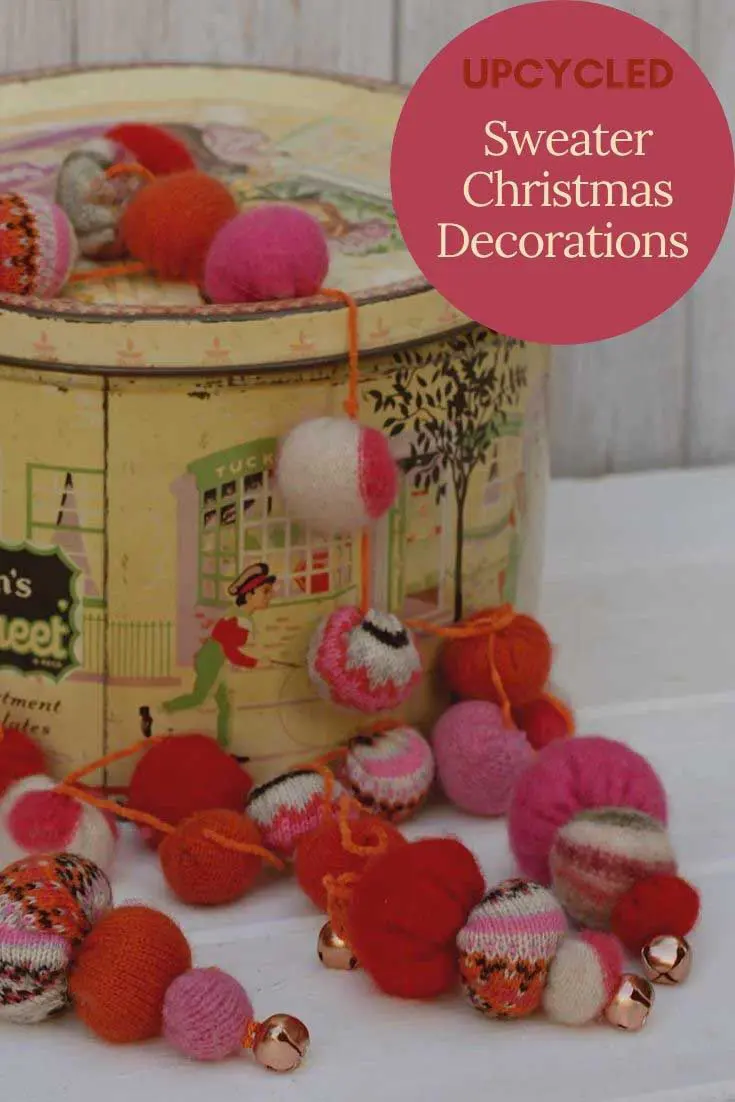 Since making these sweater balls I have made some gorgeous fabric mushrooms from fabric swatches in a very similar way.
I love repurposing sweaters into things for my home such as blankets, fun shaped pillows and even colourful rugs.
I save the smaller scraps from these larger projects for fun decorations and crafts such as these sweater balls. In the past I've used the scraps to make felt Christmas trees, Scandi felt baubles, felt roses, and sweater felt tassel decorations.
I have even made a super cute felt succulent garden from the scraps.
If you liked these repurposed sweater scraps Christmas decorations then you might want to check out these denim Christmas decorations made from jeans scraps.
If you are looking for more clever upcycling ideas check out this comprehensive list of upcycling resources. For more affordable craft ideas visit favecrafts.
You'll find more wonderful Christmas craft ideas here.